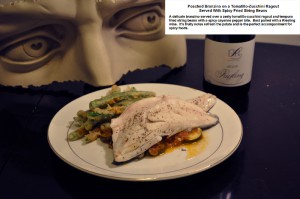 Ingredients for the
Tomatillo-Zucchini Ragout
12 tomatillos
6 plum tomatoes OR one 8oz can of diced plum tomatoes
1 onion, small dice
3 cloves garlic
2 T extra virgin olive oil
1 T sugar
1 bay leaf
2 T water
4 zucchini, thinly sliced
Salt and freshly ground pepper
Ingredients for the Branzino
8 Branzino filets
Salt and freshly ground pepper
4 oz white wine
1/4 cup water
10 black peppercorns
Ingredients for the Spicy Tempura Green Beans
1 cup flour
1 cup seltzer
1 egg
6 oz string beans
Cayenne pepper, to taste
Salt, to taste
Preparing the Tomatillo-Zucchini Ragout
Remove the tomatillos from their husks.  Cut them into quarters.
Score the bottom of the plum tomatoes with a paring knife.  Place the plum tomatoes in boiling water, remove them within 30 seconds, peel off the skin, remove the seeds and then finely chop the flesh. (Please note that you can also use canned diced tomatoes and skip this process if you prefer)
Dice the onion.
Crush the garlic cloves and dice finely
In a small saucepan, sweat the onion in half of the olive oil.
Add the garlic.
When the onions and garlic are soft but have not achieved any color, add the quartered tomatillos, the tomatoes, a bay leaf and the sugar then cover with a parchment paper lid.  Allow to simmer until all moisture is removed, remove the bay leaf and set aside.
Heat a small saute pan and add the rest of the oil.  Add the zucchini to the pan and season with salt and pepper.  Saute until soft and lightly browned.  Add the zucchini to the tomatillo sauce and set aside.
Preparing the Branzino Filets
Season the filets with salt and freshly ground pepper.
In a medium size pan, add the white wine, water and black peppercorns, allow it to come to a soft boil.  Lower the heat to a gentle simmer and add the filets.  Allow to cook for about 6 minutes, being careful not to overcook.
Preparing the Spicy Tempura String Beans
Cut the stems off the string beans.
Mix together the egg, flour and seltzer and whisk lightly to form a tempura batter.
Dredge the string beans in the batter.
Heat a deep fryer to 355 – 365 F and fry the string beans for about 1 minute or until they form a golden brown crust.
As soon as they are removed from the fryer, dust the string beans with cayenne pepper and salt.
To Serve:

Place the tomatillo-zucchini ragout in the middle of a plate with a serving spoon.
Place the branzino filet on top of the ragout.
Arrange the string beans on the side of plate beside the branzino.