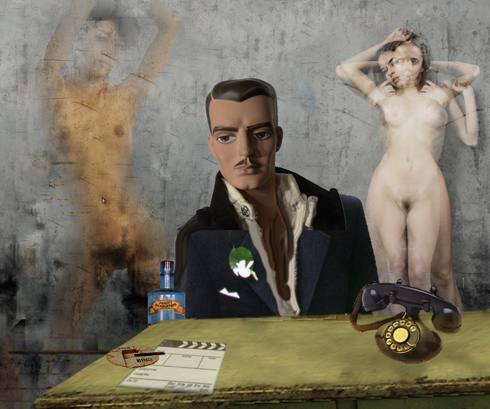 Vic Vincent's office.  Seedy, various pictures on the wall, in various degrees of attire.  Vic is chuckling as he finishes telling a joke to Monica and Molly.  Projector sound.
Vic
… So the nun finally turns to the midget and says, "I appreciate your making sure Sister Margaret is a virgin, but how do I get these billygoats out of the confessional?"  (cackles hysterically, Monica and Molly return blank stares)  Get it, "how do I get these billygoats out of the confessional?"  (cackles again, Monica feigns a ragged laugh, Molly continues to stare, winces when Monica kicks her under the table)
Molly
Well, I guess you had to have been there.
Vic
Had to have been there!  (cackles again)  You babes crack me up.  But see, it just goes to illustrate how the point system works.  Now if those nuns had been waitresses and the confessional had been a phone booth, that joke wouldn't have cracked you up.
Molly
Okay, okay.  When you're telling a joke, that makes some sense cuz all you have is words.  But if you're making a movie, it seems to me that a nun's, uh, you know, parts, are probably about the same as a waitress's …
Vic
Parts?
Molly
Uh, you know, c'mon, Monica, help me out here.
Monica
Vic, I think she means breasts and genitalia.
Vic
Genitalia?  Oh, I get it, you mean tits and pussies.  You girls really do crack me up, like what happened to the lady pilot who flew her airplane upside down?  (laughs)  Don't worry, the camera never stops, but the camera never cares.  But … well, you actually raise a profound philosophical question.  By the way, just for the record, in a narrow ontological sense …
Monica
What?
Molly
(hissing)  Don't you remember, Philosophy 101?
Monica
(hissing back)  You gotta be kidding!
Molly
(hissing)  Fake it.
Vic
Fake it?  They usually do.  Anyway, in a narrow … oh, all right, let's call it the "o" word, that kind of sense, pussies can vary considerably, not particularly between nuns and waitresses, but among women in general.  I mean, there's hairy ones and fuzzy ones and shaved ones, and all sorts of different, uh, haircuts …
Monica
We get it already!
Vic
Yeah, you college girls are sure smart.  Then there's pussies that run right down the front and pussies that nestle way down underneath.  And there's kinda floppy clits, and teeny ones, and long ones and skinny ones …And there's all shades of pink and brown, and dry ones and slippery ones, if you want to get into lubricity.
Molly
Did I miss the sign that said "Insane Asylum"?
Vic
… And clits, that bulge out and holler "grab me, please," and clits that peak out from behind their lips like modest young maidens teasing in whispers.  hey, you didn't know I was a romantic, did you?
Monica
Perhaps you could supply us with documentation later.  But for now …
Vic
Then there's young ones and old ones.  And if you wanna get into the holes themselves, their size and bend and flexibility … I mean, for chrissake, I bet that between the two of you, your pussies are more different than your noses or your ears.  All pussies look alike?  Ha!  You print that, the NAAPP would haul you into court in a minute
Monica
The who?
Vic
You know, the National Association for the Advancement of Pussyistic Purity.  (laughs hysterically while Monica and Molly scowl)  Hey, you two wanna get a government grant?  Tell them you're doing a scientific study on the differences between waitress pussy and nun pussy.  There's gotta be millions in it.  (laughs while Monica and Molly give each other looks)  But seriously …
Monica
(deadpan)  Seriously.
Vic
Yeah, seriously.  I mean, these physical differences don't count near as much as whether they're showing at all, and how much they're showing.  And according to my scientific point system, just how much is showing isn't necessarily the most important thing.  See, you gotta grasp the totality.  Just a second, I gotta write that down for my next flick (writes),  "Hey baby, c'mon and grasp my totality."  There.  So where was I?  Oh yeah.  Totality of the environment.  (laughs)  Maybe I should have gone to college.
Monica
Meaning?
Vic
There you go.  I was right about you college gals being smart.  Yeah, meaning.  Like, Sharon Stone's pussy in Basic Instinct.  She gets totally naked a whole lot, pussy and all, and she's got quite a bod, you know what I mean.  But according to the point system, that quarter-second beaver flash in the police station outscores everything in the whole rest of the movie, struttin' and fuckin' and ice-pickin' combined.
Monica
Well, I wouldn't say that …
Vic
Bullshit!  You seen the movie, right?  Right.  Whadda you remember of her skin shots?  I didn't think so.  But Sharon Stone's police station pussy is gonna live forever.  If I had a chisel, I'd put it on Mount Rushmore.  Abraham Lincoln's big stone tongue hang out to Kansas.
Monica
It wasn't that …
Vic
And why izzat?  Eh?  I'll tell you why izzat.  Meaning.  Context.  It ain't what you seen, but where you seen it, in a police station.  Points for that.  Totally unexpected.  Points again.  And I suppose a few more points for it being Sharon Stone.  I don't mean to snicker at Linda Lovelace's lovely shaved twat in Deep Throat, but she was just another cheap slut.  But you get young Mary Tyler Moore in her nun outfit doing it with the choir in that Elvis Presley movie … I tremble at the very thought.
Monica
Then why didn't Mary Tyler Moore get rich with a quick pussy flash and retire at age 18?
Vic
Because at age 18, she'd a been just another cheap slut.  She hadn't yet become Mary Tyler Moore.  As we know it.  And probably not that talented, either.
Monica
Wait a minute …
Vic
Talented at twirling tassels with her tits?  Spinning from a buttfuck to a pussyfuck in one second?  I mean, Grant Tinker might know something I don't, but I digress.  Problem is, I can't afford anyone like Sharon Stone, so I gotta take it from the other end, if you get my drift.  (wiggles in his chair, smiles)
Molly
That's disgusting!
Vic
Sorry if I've been insensitive.  You know, I have read all that sensitive man shit.  Comes in handy when you're trying to score.  Hey, we could make something real classy with you two, we'll call it College Nymphos Grasp the Totality.  You just gotta get used to the idea that you're on camera every second.
Molly
You're so gross!
MOLLY gets up to leave, MONICA reaches out and grabs her while remaining sitting, pushes her back into her seat.
Monica
Uh, I'm sorry, Vic, but we'd better call it a day.  We have to get to class.  Midterms, you know.
Vic
Hey, don't worry, you'll both work out once the cameras start rolling.  And the cameras are rolling all the time …
Monica
Later.  (grabs Molly by the wrist, drags her quickly offstage)
Vic
Hey!  You can grasp my totality anytime
(Lights out, projector sound)