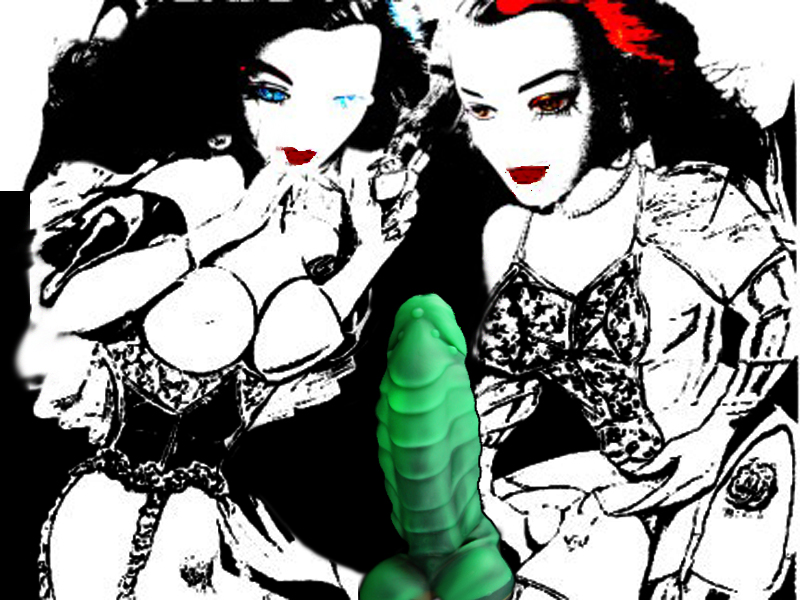 MONICA and MOLLY sitting in a dark room looking at a video of MOLLY interviewing BRANDI LYNN GOODHEAD a performer.  At rise, MOLLY is fast-forwarding the tape and stops it, BRANDI can be seen looking through a dresser drawer.  Sound of projector.
Molly
What do you think of the lighting?  It's too dark, right?
Monica
Be quiet!  I have got to hear this!
They begin to watch the video.  BRANDI is holding a large dildo.
Molly
Um, is that it?
Brandi
No, that's not it, that one's good but it's not the one   (She keeps throwing dildos and various sex toys on the floor as she speaks)  No…not that one…or that one…noooo…noooo…AHA!  This one!  The one I told you about!  (She proudly holds up a large rubber dildo with a vibrator that she turns on)  See, it vibrates and everything!
Molly
Um, is this a prop?
Brandi
No, silly, it's a dildo!
Molly
Uh, I…um…uh, I, uh, know that, actually.  What I meant was, um, uh, is it used in the movies you're in?
Brandi
No way.  This is my personal favorite, but it's not even allowed in movies!
Molly
What do you mean, not allowed?
Brandi
I mean we can't use rubber dildos, not any rubber props.  Too hard.
Molly
Too hard?
Brandi
Yeah, too hard.  You can only use silicone dildos, the ones that flop around.  Like this. (She looks around at some of the assorted sex toys laying on the floor.  She picks up a very long silicone dildo and bends it.)  See.  This passes the purity test.  Boooring!
Molly
I see…
Brandi
But if you want my opinion that's not a dildo (holds up dildo she was showing MOLLY earlier)  Now this, this is a dildo!  Check it out!  (BRANDI tries to hand the dildo to MOLLY, who recoils)
Molly
That's okay.
Brandi
What's your problem?  I keep it clean.
Molly
I'm sure that you do but…
Brandi
Nobody keeps their stuff cleaner than us porn stars.  I mean, when's the last time someone took a close up of your pussy?
Molly
Well…
Brandi
Your pussy can look like shit.  Not saying it does, I'm just saying that it can, and nobody would give a damn.  But us performers, we gotta look our best, gotta keep it clean, I mean, thousands of people are gonna be looking at ours.  Anyway, check this out.
MOLLY accepts the dildo reluctantly.  MONICA begins to laugh and MOLLY goes "Ssssh!" to her.  They continue to watch.
Molly
It's…uh…it's very interesting.
Brandi
I gather you haven't spent much time around the porn scene, have you?
Molly
Well, no, but I'm a student and I…
Brandi
A student!  Well, la-ti-da!  So what's a nice girl like you doin' in a dump like this?  "Hell Week" for sorority pledges or something?
Molly
Oh, no.  I'm not even with a sorority.
Brandi
I was just kidding with you honey.  I'm yankin' your chain.  Vic gave me the lowdown already.
Molly
Oh, I knew that, ha ha.
MONICA puts the tape on pause for a moment.  Dialogue returns to Monica and Molly on stage.
Monica
You are just too cool!
Molly
Will ya shut up?  I want your honest opinion.
Monica
Well if you want my honest opinion…
Molly
… after it's finished!  Put it back on!
Monica
Whatever.  A little fast forward.  (hits the button a few seconds)  And voila!
MONICA puts the tape back on.
Brandi
… making you nervous?
Molly
No!  Of course not!
Brandi
You seem like such a nice girl.  I know this stuff is freaking you out.  …  I'll tell you a secret if you promise not to tell, it even freaks me out a little!
Molly
I don't mean any disrespect.
Brandi
None taken, honey.  So, what do you think about all that dildo shit I was telling you?  (tape stops)
Monica
I thought you were doing the interview.
Molly
Shut up.  (video continues)
Molly (on camera)
What about dildos?
Brandi
I mean how they only let us use the limp ones.  Whatcha think?
Molly
Well…I…I hadn't really given it a lot of thought.  Why don't they let you use hard ones?
MONICA pauses the tape.
Monica
Do you two spend the whole interview talking about dildos?
Molly
Listen, cinema queen, you don't like it, you can do the next one yourself.  So shut up and watch.  It's going somewhere.
Monica
I certainly hope so.  Because if this is what our film is going to look like we might as well quit school and get work in the pornography business.
Molly
By the way, what did Vincent mean about how we'd be just fine once the cameras started rolling?
Monica
Shut up and let's watch the tape.  (MONICA puts the tape back on)
Molly
Why won't they let you use harder dildos?
Brandi
It's the penetration police.
Molly
The penetration police?
Brandi
Yeah, the penetration police.  The cops and the church and the big studios and the feminists and your mom …
Molly
My mom?
Brandi
Whatever.  They got a microscope up everybody's ass.  Making sure nobody's having any fun.
Molly
The feminists?
Brandi
Yeah.
Molly
How do you mean?
Brandi
They wanna make sure I don't get oppressed.  Thanks a lot.
Molly
Oh.  And what about AIDS?
Brandi
You get AIDS from watching smut movies?
Molly
From making …
Brandi
… making smut movies?  Gimme a break!  You're safer on the set than you are in a singles bar, I'll tell you that.  Hey, before we call it a day honey, can I say just one more thing?
Molly
Sure.  Anything.
Brandi
All the world's a stage. (she lifts her skirt up, she's not wearing panties, she spreads her legs wide for a moment and gets up, laughing hysterically)  Think about it.
The tape stops abruptly.  Lights fade.