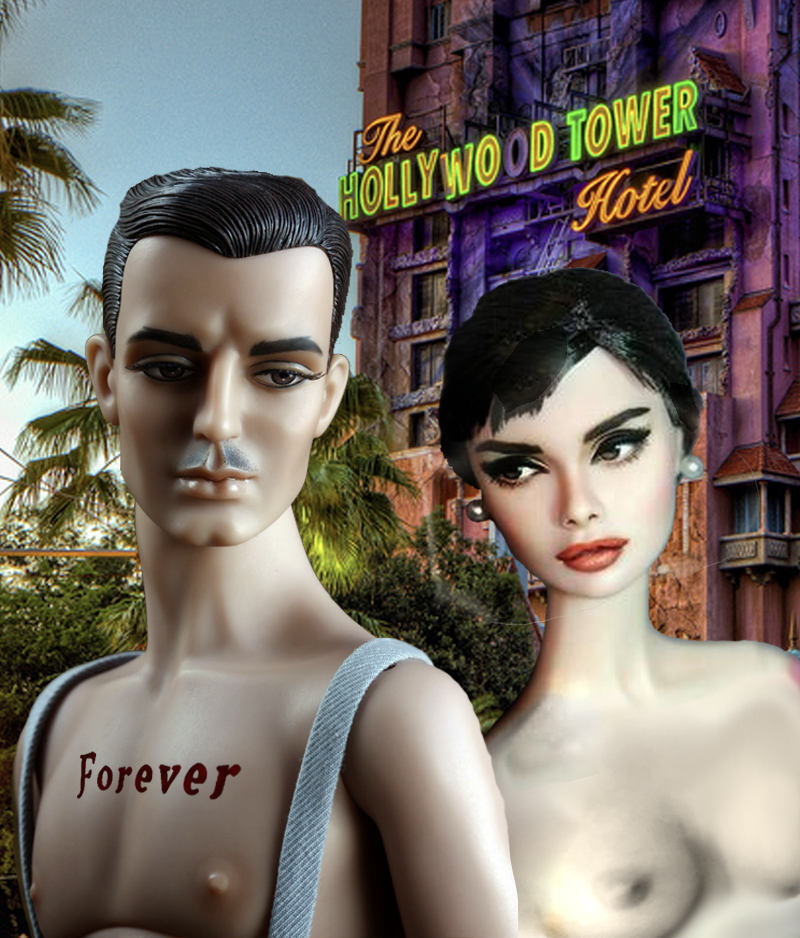 Vic Vincent's office, Molly, Monica and Vic sitting around his desk.
Vic
… So the lady librarian says to the pervert zookeeper, if all the penguins are in their cages, then what's this thing crawling up my leg?  (laughs)  Get it?  What's this thing crawling up my leg?  (laughs hysterically, while Molly and Monica give blank stares, then look at each other in bewilderment)  So (sings with arm outstretched, while waltzing around the room) bring on, bring on the wenches, tomorrow we fight in the dale, bring on, bring on the wenches, tonight is our night to have fun …
Molly
Can we get started, Vic?
Vic
Aaah!  The wenches!  Hey, that song really works.  (sits down)
Molly
So … uh, tell us, Vic, how did you get into the pornography business, instead of, say, becoming an opera singer?
Vic
Gee.  Well, you see, it's a tragic tale of a brutalized childhood.  A very rough neighborhood.  Murderers and child molesters on every corner, lurking in all the candy stores, weakening my moral fiber and all.  After a budding career in murder and child molesting, I finally descended into pornography.  Now gals, I'm counting on you to warn the youth of America.
Monica
In the candy stores?
Molly
(in Monica's ear)  Monica, it's like how Baptists hate sex because it leads to dancing!
Monica
I knew that!
Vic
So you want to get started?  I was wondering when you were going to get around to that.  I've been trying not to be too pushy cuz I'm such a sensitive guy.
Monica
We were trying to …
Vic
Oh, the interview.  No, I mean the movie.
Molly
Movie?
Monica
Well, Vic, remember I said …
Molly
Movie?  What …
Monica
Now Vic, all I said was that we'd consider …
Vic
College Bitches in Heat Do the 82nd Airborne, starring  (spreads his hands and bows towards Monica and Molly)  Signed with a wink.
Monica
All I said …
Vic
A wink and a smile, as I recall …
Monica
But that doesn't mean …
Vic
Said, schmed, mean, schmean, you winked at me … and giggled.  You winked, smiled and giggled.  That'll hold up in any court in the land.  You were even going to shave for the part.
Molly
Excuse me Mr. Vincent, but I think my partner and I should have a short consultation.
Vic
Feel free.
Molly
Alone.  If you don't mind.
Vic
What's the difference?
Molly
In private!
Vic
Private schmivate!  Here, let me read your script, just to save us all a little time.  Molly sez, what movie?  Monica sez, oh, didn't I mention that we were maybe gonna do a movie naked with Vic Vincent?  And Molly sez, no you didn't you deceitful slut.  Pardon my articulating the subtext.  So Monica sez, that little perv, all I did was give him a wink, didn't promise nothing.  And Molly sez, oh sure, you tell him that, like this isn't the most humiliating thing in my entire life.  Then Monica sez, Molly, you two-bit whore, we can get away with flashing a little tit, and we'll make a bundle with our documentary, not to mention interviews and book rights.  And Molly sez, Monica, you stupid cunt, I'm gonna kill you for getting me into this … Am I getting the gist?
Molly glares at Monica, Monica looks nervously around the room.  This goes on for a while.  Finally, Vic breaks out laughing.
That's what I thought.  Look, Monica, you're real cute and all, but your ass is way too skinny …
Monica
My what!  You  …  you  …
Vic
… and now I've gone too far, eh?  A thousand pardons, madame, your ass is the queeno supremo of all asses in the world, I dare not unveil it lest its magnificence burn the lenses out of my cameras.  Is that better?
Monica
I only meant …
Vic
Meant, schmeant!  You thought you could con me with a lousy wink?  Gimme a break, I got a hundred broads flashin' me their twats and doing this (his tongue hanging out, he makes an O with one hand, puts his finger back and forth through it)  just for a chance to get fucked on camera.
Molly
Oh god!  Okay already.  Making fun of Monica's pretensions is like shooting fish in a barrel …
Monica
Hey!
Molly
Shut up, Monica.  So if you knew we wouldn't, uh, put out, then how come we've been going through all this?  Do you pull the wings off of flies?  Are you …
Vic
You keep asking me that.
Molly
What?
Vic
Why am I doing this?
Molly
And?
Vic
Because as an upstanding member of the artistic community I have a deep sense of social obligation to further the arts and bring enlightenment to, to benighted collegians and, and …
Molly
Monica, I don't believe we're even talking to this, this …
Monica
Uh, Molly, we do have this documentary …
Vic
Uh, ladies, wenches, whatever, might I risk life and limb to get in a word edgewise?
Molly
You can slip your tiny little dick in edgewise for all I care, you, you … and you, Monica, you can shove your documentary up your excessively skinny ass!  The whole thing is off anyway.  I'm not about to fuck for the troops, and I gather you're not either, at least not these troops …
Vic
Nice shot, Molly!
Monica
Shut the fuck up, you little creep!
Vic
(clutching his heart in mock swooning)  But Monica, people will say we're in love.
Monica
(to MONICA)  And what would a low-life like you know about love?  You'd sell …
Vic slaps MONICA.  MONICA slaps Vic.  Both stare at each other for a minute, more in shock than in anger, while MOLLY puts her head down and begins crying softly.  Finally …
Vic
What would I sell?  (no response)  C'mon, what would I sell?  At least I haven't tried to sell my dearest friend into slutdom to impress the literati.  I'd have at least had the decency to hold out for cash.  And my dear Molly, even I, the loathsome Vic Vincent, must say I am truly shocked and appalled at both your uncouth language and your most unladylike demeanor.
Molly
(shouts)  Oh god, what's happening to me?  (puts her head in her hands)
Vic
(laughing)  Actually, I'm impressed, but I had to slow you down.  Listen, you two, you can do your damn documentary.  Okay?  Interviews, videos, whatever you want.  No G-strings attached.  Okay?
Molly
Are you serious?  (long pause)  Why?
Vic
Cuz here we are!  Okay?  Here we are.
Molly
(long pause, Monica and Molly look back and forth between each other and Vic)  Okay.  (to Monica)  Okay, who's our next interview?
Monica
Carmen Banana.  But you said …
Molly
You think I'm not making sense?
Monica
You're not.
Molly
Good.  To quote a great pervert scholar, "the camera never stops," so here we are.  Here we are.  Now what?  Vic, tell me something.
Vic
Yeah?
Molly
This has all been very, uh, informative and all, your little, uh, expositions about porn and, uh, genitalia, you know.  But why is it that you've never talked about your people, the people who make your films?
Vic
Whyizzit you never asked?
Molly
I'm asking.  I'm asking right now.  Who are they?  I mean, I'm talking to them and it's been, uh, highly instructive.  But who are they through the eye of the proprietor?  Are they just commodities, or …
Monica
Boring, Molly, boring.  So Vic, tell us about your casting couch.  Just what does a budding starlet have to do for you to get a role in a Vic Vincent fuck flick?
Vic
Actually, dearest Monica, what I've been dying to learn is whether you fuck your professors.  Does it make their little mustaches twirl?  Is it true that their dicks have …
Monica
How dare you!  How dare … That's none … that's none … that's …
Molly
Shut up, Monica.  You really did walk into that one, didn't you?  Sorry, Vic.  My associate's interviewing skills could use some polishing.  But what she was crudely attempting to do was understand the porn industry on a more human level, you know, show a side that the public never gets a chance to see.
Vic
You think it's any different from some stuffy old office, or a small-town college?  Why?  Because they fuck on-screen?
Molly
Well …
Vic
Okay, here's the inside story.  The names have been changed to protect the guilty.
Monica
Yes?
Vic
(speaking quickly)  Mr. A is a total asshole, but he's competent.  Nobody likes him and he has to get his pussy on the street.  Ms. B is nice but kind of dumb.  Folks like her and she gets by.  Doesn't touch drugs because she's into religion.  Ms. C is a lesbo, but she's real smart and people trust her.  Ms. D is putting her money away for college.  Mr. E is on his way out if he doesn't cut down on his drugs.  Mr. F is on his way up, and might be leaving us behind some day.  He doesn't care much about people.  Ms. G does it with Ms. C but she's actually straight.  She works hard and could go far.  I don't think she knows it and I don't know if I'm going to tell her.  Ms. E had a brutal childhood and I've got a soft spot for her 'cause I've got these fatherly tendencies …
Molly
Fatherly tendencies?
Vic
Yeah.  And …
Monica
Booooring!
Vic
Precisely my point.  Not much more interesting than any bunch of 9-to-5ers.  Except for the glamour of them fucking on-camera.
Monica
Glamour, right.  Molly, this is a total bust.  (gets up to leave, stalks back and forth, sees pictures, sees picture of Connie Walters)  Connie Walters?  The cute smart-ass roommate on "Pals"?
Vic
Yeah, I watch TV "Pals".  Me and 20 million other Americans.  What's it to ya?  (long pause)
Monica
Well, maybe not so booooring after all.  (looks hard at Vic, long pause)
Vic
(stands up, slams fist onto desk)  No, very boring!  Get your bony asses out of here!  This documentary is boring me!  You hear me?  It's over!  Fini!  Kaput!
Monica
(Molly starts to rise, Monica, still seated, grabs her arm and pulls her back down, loud whisper)  Molly, I think we've struck gold.
Vic
(sits back down, glares)  Hah!  Maybe you college girls aren't as smart as you think you are.  Says the spider to the fly.
Monica
(loud whisper)  Gold!
Vic
Back the fuck off!
Monica
From a two-bit sleaze like you?
Vic
It's not me you have to worry about.
Monica
Damn right we don't.  Molly, lets …
Vic
Turn off the camera!
Monica
The camera never stops — to quote …
Molly
Okay, the camera is off.
Monica
Molly, this could be …
Molly
The camera is off.  (turns to Vic)  Talk to us, Vic.
Vic
You don't get it!
Molly
I get it.  Maybe.  The camera is off.
Vic
This doesn't go outside the room, okay?  This is serious shit.
Monica
You can't threaten …
Molly
Shut up, Monica.  This isn't about threats.  All right, Vic, it won't go outside the room.  Tell us a story.
Vic
Okay.  You got nothing, anyway.  Okay, see, she was Connie Walberg, back then.  She was hot, we were young, and I was crazy about her.  I don't know if she was crazy about me, but liking me was good enough.  I thrilled at her very touch, in bed and out.  At the risk of sounding corny, she was the love of my life.  She did three movies for me.  I knew they were hot stuff.  Certainly my best work, if I might brag a bit.  But things were very confused, that year, so they didn't get released.  I was cut loose, and the feds were swarming all over the scene, so the usual business arrangements were a total mess.
Molly
This was when the — what did you call them — big boys?  The big boys were keeping their distance?
Vic
Right.  And for a while, I kept Connie's stuff in the can, because the difference between a good distribution deal and a bad one was … it was a lot of money.  But while I was playing it cagey, Connie left me.
Molly
Were you hurt?  Sorry, I mean, of course, I guess.  But, uh …
Vic
My heart was broke.  Okay?  My fucking heart was broke.  And Monica, if you laugh at me, I'll tear your fucking head off.
Monica
Hey …
Molly
Monica won't laugh at you.  Will you, Monica?  I'm sorry, Vic.  Go on.
Vic
It wasn't a nasty breakup or anything.  But while I was being the smart guy, she got this screen test in Hollywood, and Connie Walters was born.  She did what she had to do, and I wasn't in her league any longer.
Molly
In other words, she dumped you and you were angry, and …
Vic
Not dumped.  Not angry.  I just wasn't big enough.  That's all.  And while I was playing cagey, the feds got bored, the usual bunch of gangsters decided it was time to step back in, and I was back in business.  Then Connie got her first Hollywood part, and these two torpedoes …
Molly
Torpedoes?
Vic
You know, trigger men, hard-boys, wearing polyester suits and fedoras and broken noses — the whole shtick.  These two torpedoes showed up at my door asking for the prints.
Molly
So what did you do?
Vic
I stalled for time, said I had to get them out of storage.  Perhaps sensing my reluctance, they made it clear that they would hurt me real, real bad if I didn't come through in 24 hours.  So I called Connie that night to tell her, and she begged me not to give them up.  Today, it wouldn't be such a big deal, but back then she was just starting to make it and  …  Anyway, I didn't know what to do.  I asked her if she still loved me.  She said no.
Molly
That must have been painful.
Vic
Yeah, sure.  So I grabbed the prints, a fifth of scotch and a five-gallon can of gasoline, drove out to the beach.  It was this bizarre scene.  This big storm, and me chugging down scotch and trying to get the damn prints to burn for about an hour until I passed out.  When I woke up the next morning, I was lying on my back with the waves running up over me and a seagull staring me in the eye, and what was left of the prints had washed out to sea.  I finally managed to stagger back to my office and I waited.
Molly
And what happened?
Vic
They hurt me.  They hurt me real bad.
Molly
How did …
Vic
No more!  You want my cock size, length and width, hard and soft, degree of curve, etc., it's all engraved on my business card.  But some things …  They hurt me.  That's all.
Monica
And I suppose all this makes you some kind of hero?
Molly
Shut up, Monica.  But Vic, they didn't kill you?
Vic
I was a little surprised at that myself.  Connie must have talked to her new producers.  You think the mob has hard boys?  You don't want to meet the hard boys that work for the Hollywood studios.  Let's just say that a certain equilibrium was established.  But God.  They hurt me real bad.  (pause)
Monica
And the studios would hurt us?
Vic
That's not my concern.
Molly
And you did this even though she said she didn't love you?
Vic
(laughing hysterically)  Didn't love me?  You silly bitch!  If she'd said she loved me, I'd have known she was a lying little cunt and I'd have copied the prints and then handed them right over.  But she wouldn't bullshit me.  She was too good a friend and nobody hurts my friends!  Hey, don't you girls have some tests to study for?
Molly
I guess we do.  C'mon, Monica.  Let's go study.
Vic
One more thing.
Molly
Yes?
Vic
Monica, tell me true.  Do you really twirl their mustaches?
Monica
Bastard!  (but she's smiling as she exits)
Sound of projector, end of scene.