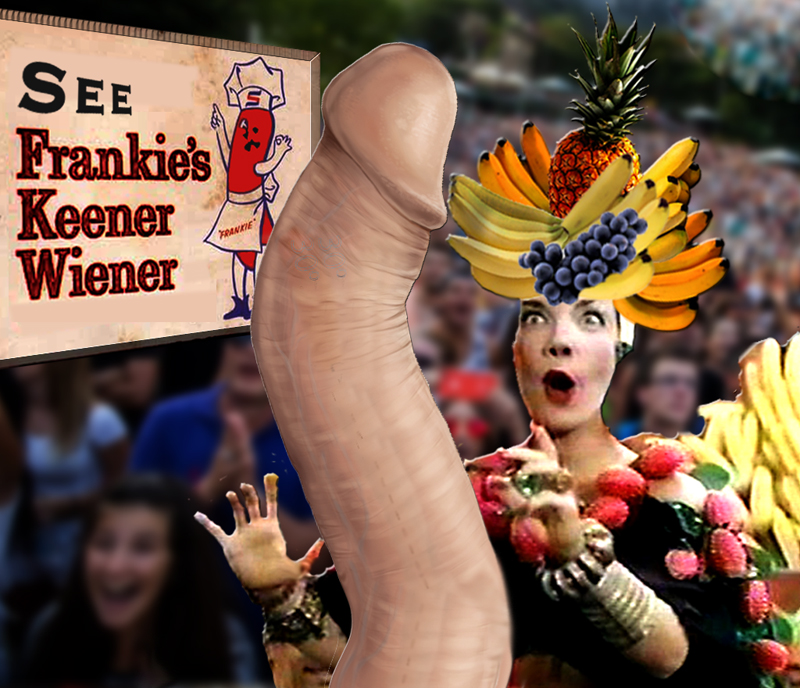 Monica and Molly watching interview with Carmen Banana.
Molly
… so is there anything you want to ask me before we start?
Monica
(Monica hits stop, angrily)  For gosh sakes, Molly, you're the filmmaker, but you're letting it get totally out of control.  I mean, do you end this one doing Britney Spears?
Molly
Hmmm.  That's a thought.  But seriously, Monica, did it ever occur to you that this has been out of control for quite some time?
Monica
Now that you mention it.  And I can't stand it!
Molly
Look, I don't know a lot about high artistic concepts and all.  I mean, my film career will probably end with me doing wedding videos.  Okay?
Monica
Cut that out!
Molly
But to quote our favorite pervert, here we are, and the camera is rolling.  …  God, Monica.  This is awkward.  Hey, have you ever wondered why I put up with you, even like you a little?
Monica
Huh?
Molly
Especially after all the shit you've put me through for this hare-brained project?
Monica
My natural grace and charm, of course.  …  Well, actually, no I hadn't.  Why are you asking?
Molly
It's because, when I'm around you — when I'm not figuring out how to murder you, that is — (Monica smiles) my world is bigger.  Behind that Long Island arrogance, you've got this real nerve.  You'll take leaps without knowing where you're going to land.  I mean, sometimes I tell myself it's because your family has money and there's always a soft pillow down below.  But it's not that soft, is it?
Monica
Hey, stop this.
Molly
No, dammit, it's too late to stop this.  Here I am in the middle of this stupid leap and — may you be eternally cursed — I'm starting to like it.  And …
Monica
You're blaming me?
Molly
You idiot!  I'm thanking you!  And I'm not going to let you walk out on the party now, I owe you that.  We'll play this show wherever it leads until they drag us off the stage!
Monica
Oh god, I've created a monster!  Let's roll the tape.  (starts the film)
Carmen
You're asking if I have any questions?  Why?
Molly
Because it might help … I mean … I don't know, I just felt like it.
Carmen
I hadn't thought about it.  I don't know.  I … I … do you think I'm pretty?
(Monica groans in the background, puts her hand over her eyes)  Yes.  Yes I do.
Carmen
Bullshit!
Molly
No!  I mean, well, since you asked, I mean, I'm not used to anyone asking me that.  Okay.  You've got too much makeup on for my taste, and I wouldn't be caught dead with my hair all curled and teased like that.  But you're pretty.  No kidding.
Carmen
You really think so?  You're nice.  You're okay.  I don't mean cause you say I'm pretty, I just think you're okay.  The camera's on, but it's like I don't feel it, you know what I mean?
Molly
Of course, uh, I mean, dammit, actually I don't.
Carmen
Hey, would you mind terribly if I told you a story?
Molly
A story?  Why not?  What story?
Carmen
The story of Frankie the Keener Wiener.
Molly
(laughs)  Who?
Carmen
Frankie the Keener Wiener.  How'd he get that name, you ask.
Molly
How'd he get that name?
Carmen
Glad you asked.  Well, first time on a Vic Vincent set, he pulls out his dick for a scene with Danielle Deviltail, we're just, uh, warming up, you might say, Danny takes off her lace panties, Frankie's already getting a hard-on with that big, long dick of his, and all of a sudden the last three inches of it kind of bend right up, and Frankie starts making it wag a little, left and right, kind of like a little dog.  Danny says, "Wow, that's pretty keen," and the rest is history.
Molly
Oh, by the way — not to interrupt — but how'd you get the name Carmen Banana.
Carmen
Oh, that!  I was doing this bit, once, with one of those fruity hats like some old movie star used to wear, she did those stupid old musicals, Carmen Miranga, she was.  So one of the wax bananas falls off in the middle of this big three-way scene and my pussy was momentarily unoccupied, so I take this banana and, uh.  They had to cut the scene, but the name kind of stuck.
Molly
What's your real name?
Carmen
Carmen Banana is my real name.
Molly
I mean, like, you know.
Carmen
Yeah, I know.  My real name is Carmen Banana, and I am for real.  Got it?
Molly
But hey, uh … all right.  I got it.  Sorry.  But you were saying about Frankie …
Carmen
That's okay.  Anyway, I'm starting to do this scene with Frankie for "Wild Sluts on Wall Street," — you know the one …
Molly
I don't recall.
Carmen
That's okay.  So we've got this whole script of him doing this stuff with my tits and fucking me on a desktop.  Stop me if this get boring, by the way.  (pause)  So I'm pulling my panties off, and he makes to kiss my ear, and he whispers in my ear, "Carmen, I don't know if I can get it up."  He's looking all upset.  Well, I knew he was upset.  I'd walked into the dressing room a few days before, and he was just staring into the mirror and crying.
Monica
(hits stop button and laughs)  Crying because he couldn't get it up.
Molly
Oh Monica, that's cold!  (hits play button)
Molly (on tape)
Cause he couldn't, uh, get it up?
Carmen
Nah, that other day his wiener was as happy as Lassie's tail.  Nah.  One of the sound guys told me later he'd heard some relative of Frankie's had just died or something.  …  So he tells me he can't get it up, and he starts rubbing my left tit and … hey, what turns me on isn't what turns on the guys watching this shit.  A lot of the time, when they're working my tits, they treat them like they was knobs on a washing machine or something.  But Frankie, well, same with Frankie most of the time cause he thinks he's some kind of hot shit star.  But this day, he's rubbing them nice and slow, and it actually felt nice.  A nice soft touch.  And the way he kind of nuzzled my ear real slow, and whispering my name.  So I'm thinking, poor guy, I'll help him get it up, and, well, it was the damnedest thing.  It was like the cameras weren't there at all, and it was just me and Frankie, and we were just being nice to each other.  It was like we were — what do they call it — making love.  Yeah.  Making love.
Molly
Love?
Carmen
I mean, I've gone with guys that said they were in love with me.  Slam bam, thank you ma'am.  Wiggle my tits around for two minutes then go for the gold.  But this …
Molly
With those cameras and everyone watching …
Carmen
So?  I been beat up in private too many times, honey.  Ain't no such thing as private.  Reverend Butthole and his marching nazi gospel choir are everywhere whether or not the doors are closed or the lights are on or whatever.  Whether there's cameras rolling or not.  Nah.  But somehow we stole that moment right out from under their noses.  And I do mean stole.
Molly
And you fell in love?
Carmen
Nah.  After five minutes, old Billie the Kid came in on cue to stick his dick in my mouth, and I could sort of feel Frankie freeze up and it was gone.  They even released the shoot.  They had to splice in some guys coming on my face and have the sound guy add in my — whaddya call it — cries of ecstasy and all, cause I was way too quiet.  But Vic sent it to the distributors.  He said he liked … I don't even remember it happening, but I saw it on the tape … the way I kept giving these little giggles, that they were a nice touch.  But hey, the funny thing is that somehow my whole life has been different ever since.
Molly
How has it been different?
Carmen
Hard to say, and it sort of comes and goes, but it's this feeling, like I'm on camera all the time, that right now I'm this actress playing an actress doing this interview.  Like I know you've got your camera rolling right now, but we're all on camera, even your camera is on camera, and everything is fake.  But if everything is fake, then … I know this has gotta sound real stupid, especially coming from somebody like me, but if everything is fake, then isn't everything real?  Know what I mean?
Molly
I don't get it.
Carmen
I don't get it either, actually.  This is so embarrassing …
Molly
You feel embarrassed?  Listen to this.  My roommate and co-producer of this documentary is going to think I've completely flipped my lid, and the dean of the film school wants to call me and grill me about "misappropriation of department resources," and I'm here babbling like an idiot.  But here we are.
Monica
(stops the tape)  Misappropriation of department resources?
Molly
I gave you the letter this morning.  Didn't you read it?
Monica
And me?
Molly
Have you checked your mailbox?
Monica
If you've gotten us into trouble …
Molly
It gets worse.  I'll fast-forward to the end.  A lot of this we'll have to cut, it's just me and Carmen tossing this stuff around, and it's kind of repetitive.  But I think it picks up here.
Molly (on tape)
… and then what happened?
Carmen
Well, the scene was a total bust cause we blew a fuse right in the middle and everybody's dick was limp when the lights came back on.  You can only do so much splicing, you know.  So we're doing a retake and Johnnie sticks it in me again, from behind, and the fuse blows again, and I tell Johnnie, hold it right there, dammit, and the lights come back on and Vic says, let's start over, goddammit to fucking hell, and Johnnie hollers out, I'm stuck!  Help me, I'm stuck.  It's fallen in and I can't get it out.  And Frankie is standing there naked, so I grab his Mister Keener, and I holler out, oh god, now I'm stuck too.  So Frankie grabs Brandi's snatch and screams, it's got me, it's got me, eeeek, now I'm stuck.  And Brandi leans over and sticks her hand down the cameraman's pants, and, well, we're all cracking up and grabbing each other until there's about eight of us hopping around, all acting like we're stuck together, chanting, perverts and sickos and queers, oh my, perverts and sickos and queers, oh my, until we all fall together in one silly, howling, hysterical heap.  And Vic is just sitting there with this little smile on his face like he was some fucking buddha.
Sound of projector, end of scene.