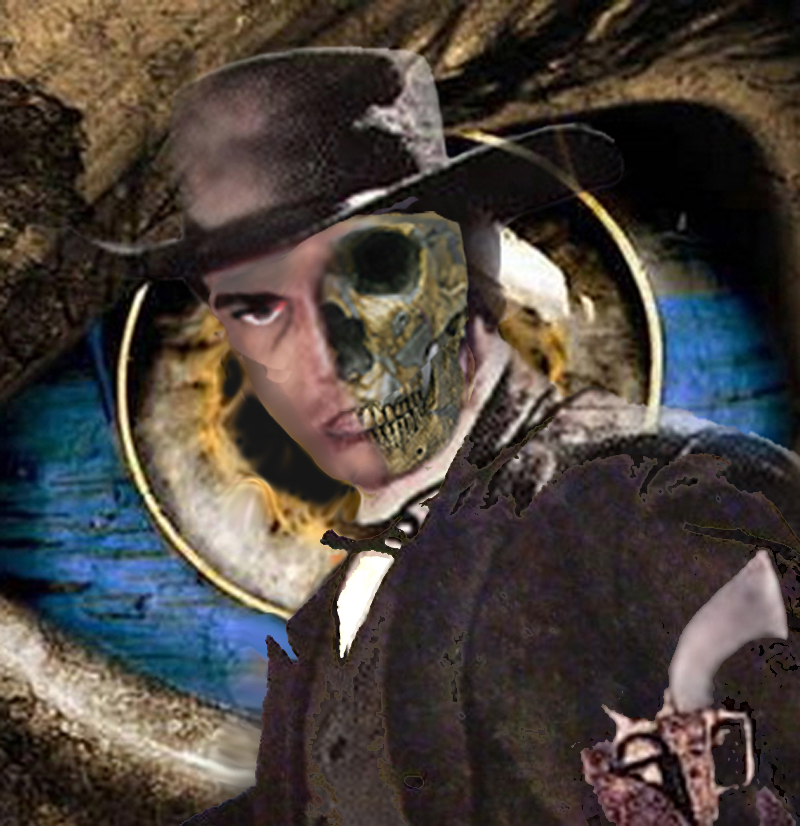 A room with 2 chairs. A man sits in one, his face in shadows, absently fondling a large revolver, aiming it, moving it in an arc, checking the barrel. There is a knock at the door. He puts the pistol down beside the chair, away from the audience, his hand hovers over it.
Jake
Welcome to my parlor …
Amanda
(enters)  Oh, thank god you were in!  I mean, that you're here!
Jake
Well. I'd hate to put you to any trouble.
Amanda
I mean, that you're still alive.  I mean, that I'm not too late.
Jake
Nope.  Just late enough.  For a woman of your caliber.  (laughs menacingly)  Take a seat, please.  (kicks out the 2nd chair)  I'd advise against sudden movements.  I be faster than the fastest snake.  And oh, I don't rattle first.
Amanda
(sits)  Okay, okay, I guess I really should slow down.  I, I, I know I'm not making much sense.  And I can tell that you're a right powerful and important person, and it's such a great honor that you've even allowed me into your presence and all, but there's something I've got to tell you, and I don't quite know where to start …
Jake
How about cackling while you tie me to the railroad tracks?  Or try "Aha, I've got you now!"  Personally, I'm rather fond of the sawmill and that big whirling buzzsaw, but then I've always been a classical kind of guy.  Traditional values and all that.  Or …
Amanda
Would you just shut the fuck up!  I mean, oh god, I'm so sorry, I didn't mean to … uh, well, to begin with, where am I?  Please.
Jake
Where are you?
Amanda
I mean, this big door was open, and I walk through these huge dark halls, and I climb all these stairs, and I'm like drawn to the light at the end of this hallway, and I walk through this door … but I have no idea …
Jake
And you were sent to confuse me to death?
Amanda
… and I don't even have the slightest idea who you are … It's just, I mean, I've never done anything like this before and …
Jake
Never?  That's not what I've heard, my dear.  Your reputation does precede you.
Amanda
"My dear" your ass!  I'm just trying to save your life!
Jake
Well that's a relief!  My last two visitors were Jehovah's Witnesses, and as much as I hate having to shoot callers …
Amanda
(shouting)  Save.  Your.  Life.  Got that?  Should I repeat myself?  Save.  Your.  Life.  Comprende?
Jake holds up his palm, and Amanda goes silent for a moment.
Jake
Pardon my discourtesy.  After all, Bloody Lane with the Tits of Death isn't known for playing with her food.  Let's start over.  Knock knock.  Who's there?  I'm just here to save your life.  I'm just here to save your life who?  I'm here to save your life tada, tada … (long pause, extends left hand)  Well, c'mon, dammit.  It's bad enough playing straight man.  You want me writing punch lines too?  Knock knock what?
Amanda
Look, get serious, Clyde.  You've let me get this far, so no more games, okay?
Jake
Touché.  But was you who came a'knocking, so to speak.  Okay?
Amanda
Well, double touché for you.  Hmmm.  I guess as long as you don't pick up a phone … I reckon we're safe.  And whatever you were thinking of saying — better not.  Maybe we've still got time so here goes.  See, I work at this psychic hotline.  And yes, it's utterly fake, but the point is that I'm not.  Fake, that is.  And this afternoon, when you called, I saw you being killed …
Jake
Called?  Saw me being killed?  Tout le mort!  When I called, you say?
Amanda
Right.  I don't even know how I found this place, but the door was open, and then I walked down these halls, and I half expected to find you here dead.
Jake
My dear Miss, uh?
Amanda
It's Amanda …
Jake
I'm Jake, by the way.  Amanda, Jake.  Jake, Amanda.  So pleased to meet each other, I'm sure.  And you said get serious?  Then shut up and seriously don't move a muscle.  That includes blinking.  Just look away.  Look away, I won't say it again.  (Amanda looks away) Good.  Now don't move.  (Jake rises, puts his hand on her left breast, she tenses, he squeezes)  Do not move.  (pauses a moment, does the same with the right breast, sits back down).  Yep, they're real all right.  Now that we've been properly introduced …
Amanda
(hissing)  The point is that I'm the real McCoy.
Jake
The point is that you were trying to tell me something.
Amanda
Okay.  Okay.  To the point.  (pause)  I see things.  I feel things.  Things happen.  Strange things.  What they mean isn't always real clear — whether they're premonitions, or spirits, or … Oh, I don't know.  But even if I usually don't know what they mean, it usually turns out they mean something.
Jake
So?
Amanda
So I'm on the phone today, and it's been a bad one, psychic vision-wise, don't ask, and I get this call, and you're sitting at the phone, and this guy with a gun comes up behind you and blows your head off, blood sprays  …  I see it in my head just like I was at the damn movies.  And …
Jake
Sorry to be so slow, but I'm starting to get the picture.  Number one, we've established that you haven't come here to kill me, whether I deserve it or not.  We're clear on that?  C'est verite?
Amanda
What?  Haven't you heard a word …
Jake
Bear with me, my dear.  There are complexities.  Do you even know who or what I am?
Amanda
Jake?  Otherwise, not the foggiest.  I just …
Jake
Clearly.  You just go wandering around walking through strange doors …
Amanda
You don't have to make fun …
Jake
… since you're only trying to save my life.  I know.  But you see me being killed, so you come trotting over to save me with no idea who I am or where this is.  Well, Ms. Amanda who sees all, perhaps I can enlighten you.  See, I'm the minister of environmental protection.  Northeast quadrant.  The generalissimo, el comandante, el queso grande, that's big cheese to you, gal.  The most powerful man in this so-called neck of the woods.  And any idea what I do?
Amanda
Protect the environment?
Jake
Very good.  Now for extra credit, what exactly does that mean?  Don't know?  Take off two points.  Anyway, part of my job is making sure nobody knows what that means.  The title is a joke.  After the big burn, we're sitting around some board meeting, drunk as lords, and some dame says, "Why don't we call ourselves the Ministry of Environmental Protection," and we all start laughing our asses off.  Thus and forever it was named.  Environment is everything, after all.  Cities, fields, wastelands.  I build.  I destroy.  And I even protect what I have created on those days when I feel like protecting it.  Thus your answer is correct.  Partially.  C-plus.  So what else you know?
Amanda
That visions of death follow me everywhere.  I know it was crazy, coming over here …
Jake
So you run around chasing these visions …
Amanda
No, I don't.  Do you think I'm nuts?
Jake
You just said … Oh, a good straight line is such a terrible thing to waste … but how do you think you got in here, into the Ministry?  Do doors just magically open up?
Amanda
Yeah, that did kind of weird me out.  Door wide open.  Not a soul around.  Gee, I don't know.  Is good help that hard to get?
Jake
Ha!  I like that.  And it is that hard to get.  But no, it's because I told security to clear out, told them I was throwing another orgy with my aerobics instructors.  Security's used to it.  Lord, if I'd really known who you were, I'd have released the hounds.
Amanda
I really wish I could make better sense of all this. but …  It's like some curse.  I'm trapped in some nightmare.  Usually  …  look, sometimes I see all this stuff, mostly bad stuff, like a bad movie in my head.  I see people are going to die, and they die, or they've already died.  But I can't change the channel.  I can only scream.  Or go mad with terror.  Or rage.  But this time, it was so strange, somehow I knew — I didn't just kind of feel it, I knew — that I was part of this.  Involved.  (Jake about to speak, Amanda raises a hand, Jake remains silent)  Still, I thought if this time I could use this curse to save a single human life, well … nobody talks about redemption, anymore, I guess that's too corny, or maybe folks just figure we're all damned no matter what.  But redemption!  If somehow I could change something, at least my time on earth wouldn't be just this living hell.  And this open door was calling me … Why?
Jake
I harbored a misconception.  I wanted it open …
Jake pauses, adjusts his chair, slowly turns his head.  As his face comes for the first time into the light, Amanda sees that it is indeed the face in her vision — the face of the killer.
… because I thought YOU had been sent to kill ME!
Amanda
Oh my god!