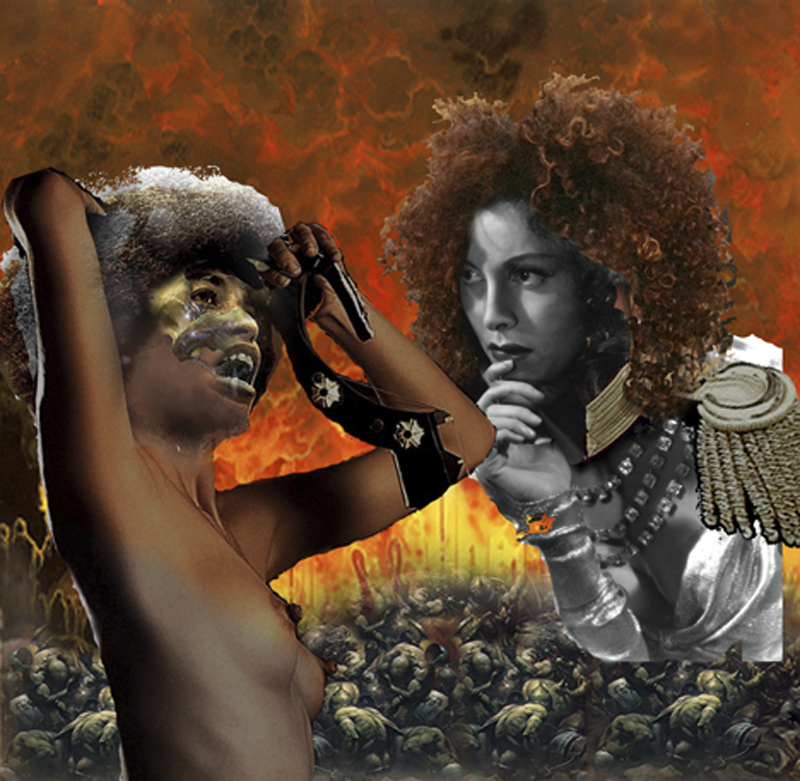 Two Black women in an underground ruin sitting at a small table. Lucille wears some kind of semi-military garb, Althea is just scruffy, except for her helmet.
Althea
So did they even get close?
Lucille
Late afternoon on a clear day. Young'uns took the first ranks, all hopped up about dying just like grownups. The old, crippled and sick brought up the rear. Gunner squads waited until they be well within range, one hand on their triggers, the other on their dicks. Another 40,000 be gone. No, Althea, they didn't get close.
Althea
Comrade Lucille, I don't mean to be presumptuous …
Lucille
But …
Althea
Yeah. But, can't we strategize these attacks better? You know, basic tactics, like using cover of darkness, coordinating the charge, targeting the gaps, feints and diversions, special teams for penetration and demolition, stuff like that? I mean, we weren't even armed! That bespeaks a low level of political consciousness.
Lucille
You pushin' the Boston model?
Althea
Not exactly.
Lucille
Not exactly. Boston's rap sheet on you was quite succinct. Quote:  Highly talented but can be a royal pain in the ass. Unquote.
Althea
Boston didn't quite get …
Lucille
Look, honeychile. Don't you be lecturing me about what they get, eh? You don't get shit. For sure we don't plan these runs. The timing is set by hunger. Order established by capacity to advance. Those go forward who are willing to go forward. Welcome to the godalmighty Supreme Revolutionary Headquarters!
Althea
In Boston we tried …
Lucille
And in Boston you died …
Althea
But at least we died trying …
Lucille
Boston says they sent you here to report. So report. The state of the Boston wing is?
Althea
Moving methodically to victory. Our forces achieving hegemony among the three main factions, the few deviationist tendencies increasingly isolated …
Lucille
Which means that your Vanguard National Movement is expecting to bushwhack the other groups. Correct?
Althea
I suppose one could interpret it that way.
Lucille
And how's that going?
Althea
While there seems to be a temporary artificial equilibrium in mobilized strength among the factions, the Vanguard National Movement has successfully exposed their cowardly opportunism and expects that when …
Lucille
Just what the fuck are they doing?
Althea
Rallying advanced elements and …
Lucille
Comrade, do you think I got no idea what's the real deal? You oughtta be wondering whether I'm trying to spec out Boston, or trying to spec out you. But perhaps my inquiry could be more particular. What does the Vanguard National Movement eat?
Althea
What we eat?
Lucille
What you eat.
Althea
Naturally, we combine tactical flexibility in acquiring supplies with our people's natural creativity to …
Lucille
What do you eat?
Althea
Uh, rats.
Lucille
I see. Fresh rats or moldy old maggoty rats.
Althea
It's hard to say …
Lucille
But I'm sure your diet exhibits tactical flexibility and natural creativity. I don't suppose you could give me an equally forthright account of your struggle for hegemony? Concrete acts.
Althea
We've begun …
Lucille
You for sure know that filing a sham report with HQ is a 3rd-level deviation. Even if the official reprimand is delivered with sharp bloody sticks instead of bullets?
Althea
(sobs) We scurry through the cellars and fight it out with whatever weapons we can make, a few that even shoot. We keep killing them, but we are fewer and fewer … (shouts) I don't even know if any of us are still alive right now! This message they gave me to convey … oh, no … it couldn't be that … it was so important …
Lucille
… they thought you were worth saving, they sent you here to save your sorry life.
Althea
No, they said … it was important … you had to be told …
Lucille
As though I didn't have my own connections. (breaks out in hysterical laughter, which turns into a sob, gets control) Althea, my dear, you stand accursed in the very worst way.
Althea
Accused of what?
Lucille
Accursed! … Accursed! Accursed! To live. To wonder why you were spared when you are no better, no more clever …
Althea
No, my report …
Lucille
Doubly accursed! Cursed to wonder and wander, when it all would have been so simple if an incendiary round had just ripped between your lovely eyes. Oh my precious sister!
Althea
You're mad!
Lucille
And that's a problem because?
Althea
I've heard about you. Elitist tendencies, collaborationism, opportunism, refusal —flat out refusal — to provide our people with revolutionary leadership. Case in point, today. Another 40,000 comrades, our brothers and sisters, our children, torn to pieces, cut down like animals. And you sit here unmoved that the fires lighting our skies are their burning bodies, and …
Lucille interrupts her with a right to the jaw, sits back down while Althea rolls around slowly on the floor and finally tries to pull herself back up.
Lucille
I wanted straight talk from you. I'll give you the same. To restate what you should know, the perspective of the godalmighty Supreme Revolutionary Headquarters is that it's better they die out there charging that wall than die cutting each other to ribbons in here day after day after day. You got a problem with that?
Althea
(one hand clutching her chair) What the fuck you talking about?
Lucille
Do you know what it was like in here after everything went to hell, while the Ministry kept tightening the perimeter, with us all crammed into lower Manhattan? Fuck your high conceptual framework. Mobs of drug-crazed kids with machine guns cruised around in caravans turning every street into a free fire zone. Men slashed the throats of wives and girlfriends and children and then their own, despairing of their destroyed manhood. Whole blocks were dying slow from disease. Half the community walked around in a constant rage ready to kill anyone in their path, the rest living in constant terror And then they burned Brooklyn, hundreds of thousands of us swimming over — yes swimming —from burning Brooklyn. The stronger trying to pick their way across a raft of the drowned bodies of the weaker before the currents pulled them all into the ocean — forced to choose between the water and the flames.
Althea
(finally pulling herself into her chair, slumping against the table) That's why we built the wall.
Lucille
Dumkopf! We didn't build the wall — they did! White dollars, white troops, white construction teams. And our politicians claiming credit like it was some damned community development project, some new senior center or swimming pool. Then, the first time folks tried to cross over — to return to their families, to look for work, just to go scratch around for food, the scraps of wrath — they were gunned down by snipers. Snipers on both sides of the wall! Black and white both! Didn't they teach you anything about those days, before the gunners?
Althea
No. They didn't teach us any of that.
Lucille
I know. That's not your bad.   Why I don't just order you to do a single-handed General Custer. I mean, it's not your fault that the Vanguard didn't teach you more than the Little Golden Book of the people united who will never be defeated. But it's for damn sure your bad that you never dug any deeper, that you swallowed it so easy when the lies were everywhere around you, those inflicted by the Ministry, those inflicted by the African Improvement Society, and those inflicted by the Orthodox Revolutionary Headquarters. Ever listen? Just listen, listen to the occasional rumbling beneath your feet, ever wonder what it means?
Althea
I wonder about the duplicity of the godalmighty Supreme Revolutionary Headquarters.
Lucille
Don't press your luck. So just how should our community die?
Althea
Revolution is the alternative to both your false options.
Lucille
Right. You mean like Boston? The perspective of the godalmighty Supreme Revolutionary Headquarters is that it's better that some die out there charging that wall than that we all die slashing each other to ribbons in here day after day after day. Please address that?
Althea
Dead is dead, goddamn you! Dead is dead! What difference does it make, how we die? It may as well be …
Lucille
The point, chile, is how we live. Maybe you don't notice, but we've got a certain dignity around here. Those that died today, they're our heroes, our chosen ones. They choose to starve so the rest of the community might eat. And when they finally get too weak, most of them, when they get so weak they can barely make the run at all, then they go for the gusto. Prunes the population and keeps up the notion of resistance at the same time.
Althea
That's sick!
Lucille
Yes, it is. Way sicker than you know. But because of their noble sacrifice, we maintain some semblance of a dignified life, enough that we can keep organizing for a better day, so that if opportunity arose, there'd be enough of us left in condition to actually do something. Smaller and smaller, we get, but we maintain some cohesion, some hope
Althea
Hope for what?
Lucille
I don't know. I just want us ready. I listen for the trains.
Althea
And you, madam commander, if you're so goddamn noble, how come you never signed up for the final run.
Lucille
Oh, but once I did.