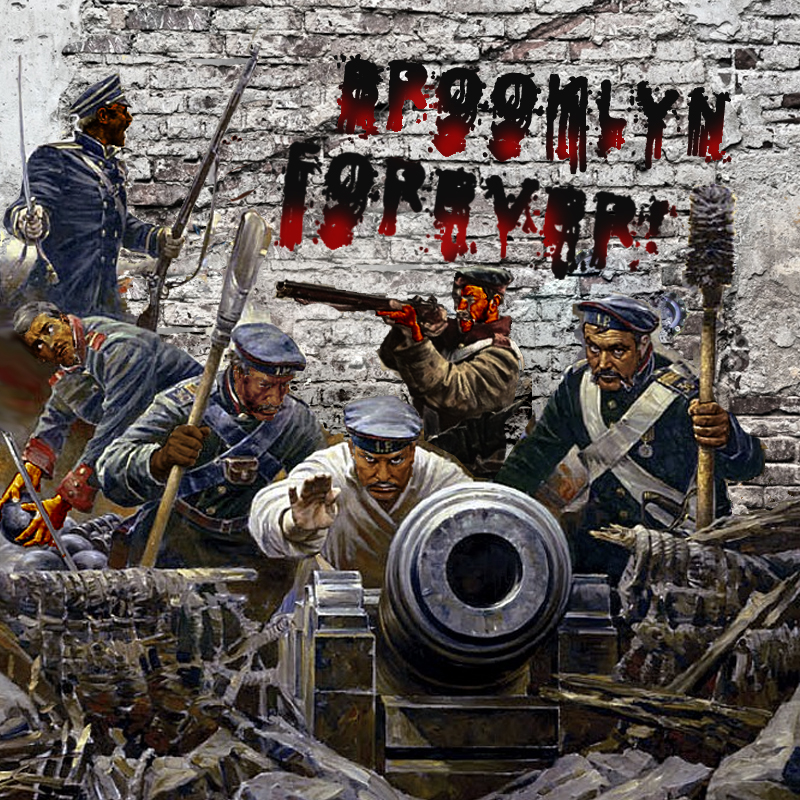 Henry and Malcolm continue their conversation at the wall.
Malcolm
Interesting?  If the whole damn Empire State Building came crashing down on your fool head, you'd find that interesting?
Henry
Well, wouldn't it be?  You gotta admit …
Malcolm
But what about my head?  I don't deserve …
Henry
Hang on there, Slippery Jim, seconds ago you were complaining that it was all just the deranged ravings of a crazy old coot, so what's to worry?  Couldn't happen, remember?  Malcolm, as much as we differ, I am deeply, deeply disappointed at your lack of conviction.
Malcolm
That's not the point.  What I don't deserve is being forced to work with a deranged, a senile, a, a …  It's just not right.  It makes a mockery of our mission.  You're unstable.  While you sit here babbling about your insane hobby, they could be getting ready for another attack.  You can't see a thing behind all that smoke …
Henry
Chill out, Slick.
Malcolm
… for all you know, thousands could be heading our way right this minute.
Henry
Son, you're starting to get on my nerves.  First off, we'd hear them, they make sure we know they're coming.
Malcolm
Suppose they change their tactics …
Henry
They don't and won't.  And, if there was gonna be another wave, spontaneous aftershock, in technical terms, it'd have happened by now.  You got this high noon mind frame, but frankly the key to this job is handling the boredom — and staying alert at the same time.  We've most likely got a few months to kill before the natives start getting restless again.  You play chess?
Malcolm
Why do they send in the helicopters, anyway?  If they didn't flame the bodies, we'd have a clear field of fire, but now …
Henry
They didn't use to.  But then they'd get good and ripe and, depending on the wind, that could be a mite unpleasant for the neighbors.  Ever play hearts?
Malcolm
I think I hear something out there.  Maybe we should …
Henry
Two-handed pinochle?
Malcolm
I'm serious.  Maybe we should fire through the smoke and see what's …
Henry
Cooking?  And have all the gunners up and down the wall firing at ghosts?  You could try canasta?
Malcolm
They're crazy out there.  We should be getting ready right now just in case.  They're totally unpredictable.  We have no idea …
Henry
We?  We?  We?  As Tonto said to the Lone Ranger, what you mean we?  You better get into the rhythm of all this, son.  Cuz if you don't, you'll be sitting here watching, day after day after day, all wired up, seeing them crazy niggers behind every brick and rise and ruin.  Way before the next charge, you'll be totally bugfuck crazy.  A rat will knock over a tin can, and you'll start blasting.  A thunderstorm will set the shadows to dancing, and you'll see the hordes of hell coming at you.  Or you'll get numb, start thinking they're never coming, and when they finally do, you'll be watching them pull your arms and legs off and still not believe it's real — I've seen it happen.  How about checkers?
Malcolm
No no no!
Henry
Damn.  This could be a real long summer.  Anyway, after a few months, a few guys will wander out onto some of the heaps.  You can take target practice if you want, but single shot only, cuz you don't want to get everyone all alarmed over nothing.  It's understood that single shots don't set off any alarms.  You lose points for that.  I can usually slip in maybe a hundred shots at that Empire motherfucker around that stretch, one at a time.  I try to keep them all in a 6-inch spread, maximize damage.  But lone loonies mean it's time to start getting alert, and you gotta shift gears.  See, if you're gonna last out here, you learn to hang loose and stay alert at the same time for when all of a sudden it's time to start making whoopee.  So don't you be giving me no young twerp lectures about lunatic crazy when you haven't even seen the sun go down out here.  … Any good at backgammon?
Malcolm
At least I don't hear little voices in my head telling me to shoot down tall buildings.
Henry
Where you from, son?
Malcolm
I'm not your son!  …  From the enclave a mile northwest of here.  And I studied …
Henry
Okay, Lamont, spare me …
Malcolm
Did you know my psychology of pathology scores were so high that I beat out over a hundred other applicants for gunner?  So I know all about …
Henry
And just what is it that you don't know?  Exploring that might be the path of wisdom.
Malcolm
Like how?
Henry
Your words say you got all the answers, but your eyes tell me something else.  Things don't make sense.  To you, I don't make sense, yet I been here a long time.  Crazy niggers try to storm the wall, but they don't learn as well as lab rats.  You hear rumblings down below, and I don't just mean down below in your gut.  You can't really be as tight a tight-ass as you make out, can you?
Malcolm
Hey, it's not like I have nothing to learn …
Henry
Your humility is most touching.  Look, one of the rules they don't teach is that as long as your guns speak true, anything coming out of your mouth is off the record.  The masters understand that us being able to talk about shit is actually necessary for us vets staying functional year after year.  That's why it doesn't matter you reporting me, your report would never make the record.  The real record is just too terrible.
Malcolm
Okay, okay.  But … so Henry, you've been talking off the record.  Right?
Henry
So it's Henry now, eh?  But yeah, I never talk on the record.  So what's bothering you besides me?
Malcolm
Well, now, just off the record, you understand … yeah, of course.  Okay, here's the main thing I don't quite get.  It's that I know that the official role of us gunners is to protect the community and all, but it doesn't quite make sense.  You know what I mean?  The community isn't paying us.  The white people are paying us.  But we're supposedly here protecting the community from the white people.
Henry
I guess you're not quite as big a dummy as I was starting to think.  So what of it?
Malcolm
Yeah, well, it's hard to talk about.  Hard to figure out.  But if the whites really want to get rid of these crazy niggers, why don't they let us take the attack to them, instead of just waiting around for the next wave?  We've got the firepower.  We've got the technology.  We could just …
Henry
We again?
Malcolm
All right, they.  They have the means to destroy every living thing in there if they wanted to.  So what the hell are we doing out here?
Henry
"They" now?
Malcolm
Damn you, old man!  As you said, things don't make sense.
Henry
Point taken.  Do you, not we or they, do you want to wipe them out?
Malcolm
Off the record?  Well, worse things could happen.  I mean, that's where it's all going to end, anyway.  Then I wouldn't be stuck in some ruins gagging on burning bodies and having to listen to some old crazy man.  My personal opinion, yeah, kill 'em all and be done with it.  I'd put these guns on armored personnel carriers and …
Henry
… and if those crazy niggers captured an APC?  Have you noticed that not only don't these guns move, they can't swivel in more than a 180 degree arc?  In other words, you can't turn them around.  The so-called natural order of things rests on a very narrow foundation.  My fucking around with the Empire State Building, that don't matter.  It goes way beyond that, yet it's ridiculously simple.  The powers that be, they want the community alive and, if not kicking, at least breathing.  Under control, sure.  But not dead.  Why do you think it's lasted this long already?
Malcolm
I guess desperate people can be pretty resourceful.  Catch fish in the river?  A few gardens.  Pigeon stew and rat soup?  I don't know.
Henry
The community is alive because the Ministry wants it alive.  Food shipments arrive every month, but never quite enough to sustain a community that size.  Instead of wasting time on psych stuff, maybe you should have focused on economics.  Not that economics isn't all lies too, but its lies are a tad more interesting.
Malcolm
Food shipments?  Now you're talking crazy again.  No contact is allowed …
Henry
Or folks being shipped out.  I'll bet they didn't tell you about that at the academy either, did they?  How did they describe the supreme policy?  I'm a little fuzzy there.  The basic manual?
Malcolm
"The foundation of modern society is that cultural currents must be free to follow their natural authentic destiny without contamination from either dominant or submissive cultures."
Henry
Exactly.  All bullshit.
Malcolm
What you're saying is impossible …
Henry
Y'know, if you listen real careful late at night, you can hear the trains rumbling down below.  You're young, so you probably never heard subway trains, but there's nothing quite like it.  Now, what they're carrying in or out, I couldn't tell you.  I hear stories sometimes, and they might be the gods' own truth, or they might be amazing tales.  But one thing's for sure.  They haven't finished us yet, and it sure as hell ain't 'cuz they can't!
Malcolm
Haven't finished us?  What you mean us, Black man?  You talk like you're one of them.  I mean …  (points into the community)
Henry
See, your "us" keeps getting all confused.  As it should.  Don't know why they haven't destroyed us or them or whatever, don't much care.  We gunners are just playing in a much larger game, Mongo, and that "we" is the only "we" that counts.  I don't even know what the game is.  Where we're different is that I'm comfortable with the not-adding-up, but you kind of freak.  And in the end, freaking will make you nuts!  How's that, Mr. smartypants psychology genius?
Malcolm
The "us" is in your voice, not your dictionary …
Henry
Good point.  Did you know I grew up about a half mile over that way?  (points into the community)
Malcolm
What you talking about?  Even at your age, the wall must have already been up.
Henry
Of course.  I grew up in there, in its shadow, so to speak.
Malcolm
Couldn't have.  Nobody gets out of there alive.
Henry
Oh right.  You're not going anywhere, are you?  I didn't think so.  Then gather round you people, a story I will tell.
Malcolm
Like I could stop you.
Henry
See, I was just a kid when the wall went up, but it didn't seem to matter much.  I was a real tough kid, toughest kid on my block.  Not the meanest kid, mind you.  There were a lot meaner.  But I was the toughest.  I was part of this gang, but I only fought when I chose to fight.  Insult my mother, I didn't care because the old whore was long dead.  I hurt people when there was something to gain from hurting people, never for sport.  I ended up the leader because I simply avoided doing the stupid shit that got all the hotshots dead.  The wall didn't matter, the other side was just a different neighborhood as far as I cared.  What mattered was whether another gang was taking liberties with our turf.  More and more guns were turning up in our neighborhoods, fancy guns, special ammo, and lots of it.  We didn't understand that, it being special ammo, the supply was easy to cut off.  Anyway, all these gangs were playing like it was Stalingrad or something.
Malcolm
Stallin' who?
Henry
Fighting pitched battles house-to-house, cellar-to-cellar, like each was a kingdom.  Ancient history, like Waterloo and Gettysburg and shit.  Don't give me that gaping stare.  You think I never read a book?  And the old folks were just trying to keep their families alive, or they were drinking or doping themselves to death, or they were slicing each other up with razors and shit. So our block had this old lady who was kind of a spiritualist healer-type, or an old witch if you believe in that stuff.  A mother to the motherless, adviser to the lovelorn, whatever.  So she got shot, murdered one night, don't know why, don't know by who.  So I did some thinking.  You surprised, academy boy?  I did some thinking.  Thought this shit's gotta end.  But who the hell am I to end anything?  My gang is no bigger than any other in this war of all against all.  But of course you understand the concept of field of fire, don't you?  (Malcolm gestures out to the burning bodies)
Of course.  So we take this old shack standing under the remains of some concrete highway, and we brick it up on the inside, so it still looks like an old shack, but bullet proof.  And then the block across the street, we burn it down.  To the ground.  Nothing standing.  Most perfect killing ground you could imagine.  And I sent out word that we had this really gigantic dope stash imported all the way from New Jersey.  And the other gangs came after it.  Or they tried.  Oh, how they tried.  Cutting each other down in their rabid greed, and walking straight into our guns.  And when they were heaped up dead out there, more gangs figured they'd move in.  Their bodies joined the heap like some La Brea gun pits.  We wandered through the remains, picking up the guns, gave them out to every single man, woman and child on our turf.  We were supreme!  There's some big word for it, hitchy, hedgy, hegemonic, that's it.  And we had peace.  We were free.  It was unbelievable.
Malcolm
Free?
Henry
To starve in peace, as it were.  Some time later, I get a visit from some fancy old nigger wearing a shiny suit, and mind you, nobody wore suits in our neck of the woods.  This stranger, he asks me, was I proud of myself?  I said that, gee, I hadn't thought about it too much in a philosophical sense, but yeah, sort of.  He asks me to follow him into this van.  I say no, I don't go with perverts.  He leaves.  Two nights later, I wake up in this cell, and the old guy walks in and says welcome to the academy.  I say fuck your academy.  So I get told I can either die right then or I can learn a useful profession.  I hadn't planned on dying that day, so …
Malcolm
So Horatio gets his guns and marries the boss's daughter.
Henry
Actually, I did.  Point is, there's all sorts of back and forth between inside the wall and outside.  Them inside got their myths they gotta maintain, and them outside got theirs.  But nothing works without that back and forth.  Nothing makes sense, and nothing works.  So I'm no answer man, I'm just your gunner man.  And do me a favor, son.  I don't personally care if you want to kill everyone out there or not, cuz you got no say in any event.  But you be real, real careful.  I get tired of breaking in new partners so damn often.  So how about some gin rummy?