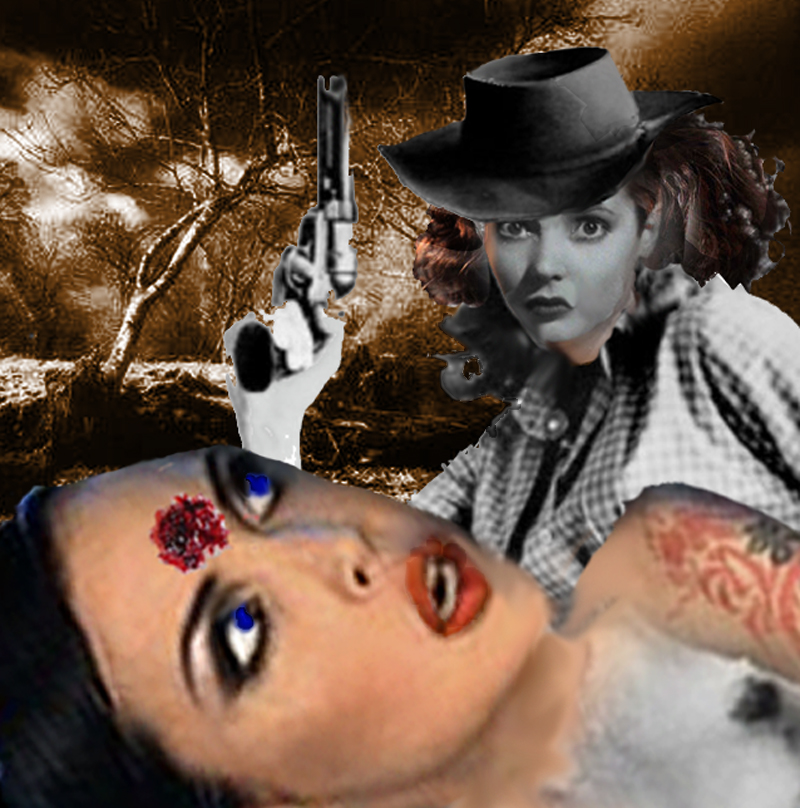 A blood-spattered Amanda stands before Jake, holding his .44 revolver at her side.
Jake
Shot her six times? I'm impressed.
Amanda
Not so impressive, only hit her twice, once right between the eyes. She got off four, but never able to focus, her last two, she was already dead. Like a snake.
Jake
(cheerfully) Well, between the eyes has always worked pretty good for me.
Amanda
(screaming and throwing the gun hard into the wall next to Jake's head) You fucking bastard! You smirking sonofabitch! I didn't want this!
Jake
(shouting) Welcome to my parlor, Amanda! You wanted to be part of it? Welcome to my parlor!
Amanda
Goddamn you! If you hadn't come back …
Jake
But I had to come back. You know that. I could have taken her, you know, kept that blood off your lovely hands. By the way, how come you didn't just fry her with a lightning bolt? Only two hits out of six, you were taking a pretty big risk out there.
Amanda
You were listening?  Oh my god …
Jake
I don't play amateur hour, kiddo.
Amanda
You were listening in all along?
Jake
Of course I listened. You think I don't have this whole place wired? I'm something of a raving paranoid myself — delusions of people being out to kill me, that sort of thing — and being paranoid, I figured you weren't quite so simple either.
Amanda
You must think I'm …
Jake
Some kind of killer queen?
Amanda
Some kind of killer freak!
Jake
Maybe that's one of your endearing charms, cherie. Look who you're talking to. So why didn't you use your lightning?
Amanda
Not reliable. I've been on a streak today, but lightning isn't like using a scalpel or reading people's heads, and frankly I've been bluffing my ass off. And as you said, too much is riding on your tower.
Jake
You believe?
Amanda
Maybe.
Jake
Hmmm. That was far too easy. Way too fast.
Amanda
With all my moorings ripped loose, what's to slow me down? Like converting on my road to Damascus. Anyway, thank god it's over.
Jake
Afraid not. There's a bit more killing to get done. (snatches his gun back) O'Leary making this move is exactly what I've been waiting for. Now I've got license to kill, and I won't miss …
Amanda
Jake?
Jake
Oh no you don't! You've played your part. His ass is mine, and he's near, very, very near. He'll assume the sound of shots means I'm dead, and he's just waiting for the call. Do a … you know, your psychic thing, can you count how many folks are in this building? Can you do that?
Amanda
Maybe. (pause) Three. Whoa. You, me, Bloody Lane is off the screen, so who's number 3? How did you …?
Jake
O'Leary is inside. Thinks he's cleverly infiltrated the place. Doesn't know I deliberately fed him what he thinks is my secret entrance. He's set it up to be the one to discover my body and tearfully announce my tragic demise. And take over my operation. As a temporary emergency measure, of course. Right now, he's waiting for the call from Lane. And this time it's personal. Frankly, my dear, I do give a damn. I'm going to enjoy this! (reloads his gun)
Amanda
Jake? Hang on a minute. I don't think O'Leary is going anywhere. About your tower, you poor, poor man. I didn't finish that, uh, biblical part. The rest of it goes: And the Lord came down to see the city and the tower, which the children of men builded. And the Lord said, Behold, the people is one, and they have all one language; and this they begin to do: and now nothing will be restrained from them, which they have imagined to do. Go to, let us go down, and there confound their language, that they may not understand one another's speech. But the killer angel Michael spoke: oh Lord, accursed they be to challenge thy glory, yet some among them are wickedly clever, and may strive to make reason of their confounded languages, and raise their tower even yet.
Jake
I don't think I'm going to like this version …
Amanda
You shouldn't. So the Lord said, you speak truth, my most trusted servant, so to damn their attempt, not only shall I rend their language into many, but I will cast upon their minds that the many languages they speak are all as one, and thus will they be condemned to chaos, thinking they understand when they understand not. The blessed will only be those who know they understand not. So the Lord scattered them abroad from thence upon the face of all the earth: and they left off to build the city. Therefore is the name of it called Babel; because the Lord did there confound the language of all the earth: and from thence did the Lord scatter them abroad upon the face of all the earth.
Your tower will never happen.
Jake
But you said it yourself, that I was reaching unto heaven.
Amanda
And such is your crime! In the eyes of the destroyers. Your vision is false! Jake, I didn't want to tell you, but when I touched you and saw your tower, I saw something terrible. Yes, I saw a plain of shining white stretching across dead Africa as far as the eye could see, but it was a white plain of crushed skulls, the skulls of those destroyed like the dead slaves of the pharaoh, the skulls of those burned and withered while building it.
Jake
No!
Amanda
I see the sun shining, but it's the fierce blinding glow at the instant of explosion. Up this close, the shining silvery walls are cracked and brittle, crumbling under my very gaze.  I look up in terror, my eyes going up and up as the terror grows until finally I have to walk away lest I begin screaming and never stop. I finally turn away. Still it's huge, but the once towering spires are now broken and twisted and scorched. Nothing moves except the shimmer of radiation rising from the scorched, crushed bones. There is no life inside. The workers are all dead. The massive ramps leading up the sides are littered with their bones. The machinery inside no longer moves, all rusting and melted and rotting away, as the lower floors fill with powdered bone and shifting sand. The sand holds no footprints, no living soul has been there for years. Nothing will ever live there.  Nothing can be built there. It's all, it's all … (Jake hides his face in his hands) Welcome to my parlor, Jake. Welcome to mine. Right now, I wish you did doubt my visions. I wish I was blind like sometimes you wish you were dead. But we're neither, and that's our hell.
Jake
But not yet, right? Tell me, nobody else sees this, sees what you saw, do they?
Amanda
I don't think so. Not yet.
Jake
How long until, until it's over? Hell taking over the earth.
Amanda
No idea, no idea at all. If at all. Time's too slippery, past, present, future strewn all over.
Jake
(laughing, slightly hysterically) Then there's still hope, isn't there!
Amanda
Not for your tower.
Jake
I wasn't talking about that goddamned tower.
Amanda
For you?
Jake
For any of us. And what's your hope?
Amanda
I don't know. But maybe it's like how they say a shark dies if it doesn't keep moving. Well, I was dying.  Then I saw you, saw you completely wrong, as it turned out, but it got me up and I started walking. Towards some murderous carny barker, the great deceiver. Nothing about you is real …
Jake
Two mirrors a'gawking at each other. I move. I rule. I build. I kill.  And I gleefully admit I understand not. In the end, I don't give a rat's ass about that tower. Maybe it being fake makes it better still. As long as the other destroyers see the tower growing, or think they see it growing, their hands are stayed, they'll keep out of my way, at the least they'll fear me.  As well they might.  For one thing, you weren't in the mix. We've gone off-script, and destiny is damned. Hope is still in play. That's all I seek. And amusement.
Amanda
Power?
Jake
Power is fun too. But right now (hefts his pistol) there's a matter of bloody vengeance. Amanda, when I come back, I hope you'll still be here. I want you to stay.
Amanda
Why, Jake?
Jake
(shouting) Because you amuse me, dammit! Because you amuse me. I haven't had so much fun since we tipped over the outhouse. Just be around, I don't care what you do. Just be around. You'll be my lucky piece.
Amanda
Good luck or bad?
Jake
Don't care. Maybe like the song goes, if it wasn't for bad luck, I'd have no luck at all..
Amanda
Jake, I'm dangerous. I have this habit of … uh … freaking people out. People die around me and … and I really am quite mad.
Jake
You and me both. Come to think of it, that's an even better foundation for a relationship than mutually assured destruction.
Amanda
At least you're one smooth-talking devil. And if the darkness overtakes us all?
Jake
Then I roast in hell forever.
Amanda
Jake?
Jake
What?
Amanda
Wait till the phone rings before you take him. That's the moment to come up behind. That's your best play.
Jake
(pauses, raises his eyebrows) Okay. (picks up the phone) Security? … Restore full coverage for all incoming. We're back in business … No hindrance for anyone leaving, at least for one, no, make that two hours. … Got it? (hangs up, turns to Amanda) Please stay?
(their hands reach out and touch, he exits)
Amanda
(pauses) Go to, my beautiful dreamer. Go to. (pauses, then reaches for the phone)