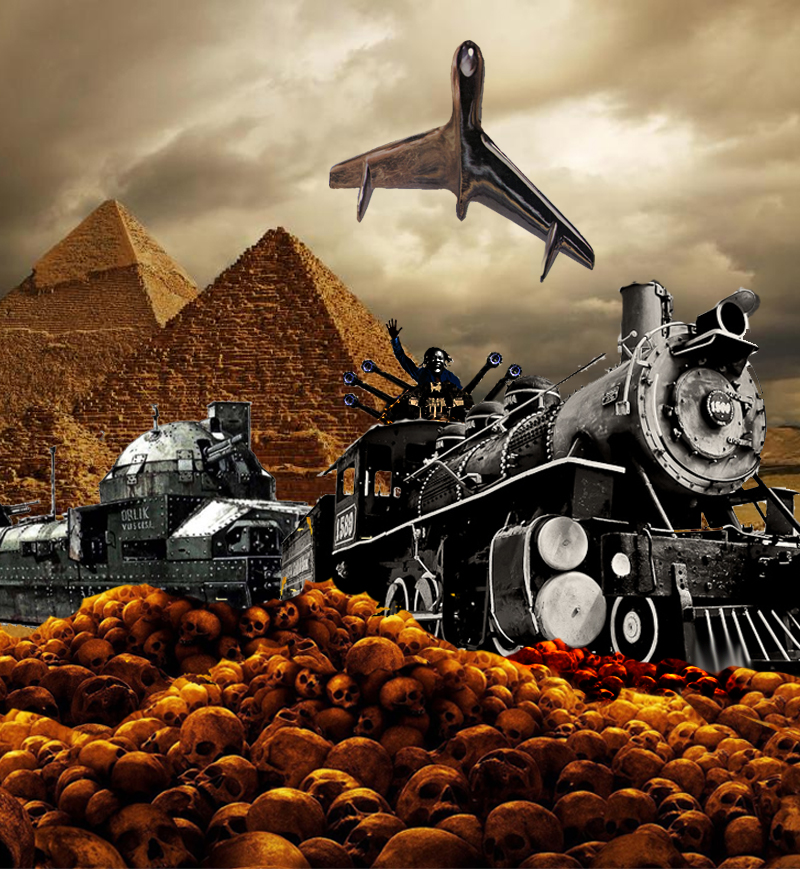 Jake and Amanda continue their conversation.
Amanda
This Shining Tower, what're you talking about?
Jake
My Shining Tower, yeah. A mile high and gleaming, springing out of the barren wastes of scorched northern Africa. My monument of hope for all of mankind.
Amanda
I never heard …
Jake
Cuz it didn't make the 10 o'clock news? No, it wasn't on the 10 o'clock news. And who controls the 10 o'clock news? Wink, wink.
Amanda
This is your beautiful dream? You the killer?
Jake
And that disqualifies me how, hitchhiker?  It's the ultimate dream I kill for … That look on your face, you think I'm raving?
Amanda
Well, you are raving.
Jake
Of course I'm raving. But then you're hardly someone who should be making judgments about raving, should you?
Amanda
Can't argue with that. At least you know where your dreams come from. Leastways they don't make you all crazy. Not like the things I see.
Jake
Mine just scare the living hell out of me. And I am crazy. In so many ways. And you know it. You know it, damn you. Could even be, that's why you're here. Eh? (laughs) Death is climbing the stairs, and here we are discussing dreams. Give me your clinical diagnosis of that!
Amanda
I guess we're both sort of tetched in the head, now you mention it. Alright, drive on.
Jake
I'm humbly grateful. So picture this, hitchhiker. Picture. Shining white sand in every direction, as far as the eye can see. A blinding sun, so bright you dare not look.  Refuge is found in the shadow, black as black.  Follow the shadow to where it meets the tower's base, shining silver, tinted with blue where it reflects the sky, and your eyes go up. And they keep going up and up and up, until your neck is straining as you look ever skyward, you can't believe it's so high, what seems an almost solid mass of silver, gleaming almost as though lit from within. It's so huge, you grow too dizzy to stand.  You have to turn around and walk away, over the white sand. You finally turn to look again, and now you can grasp it all, and it's so beautiful. Out of that ascending mass rise shining spires thinner and thinner as they reach for the sky, so thin, so high that you wonder how it is they don't fall. Now you pick out details, huge walkways and even roadways, vast highways, up the sides, all of shining silver, massive decks and turrets jutting madly all over. Thousands upon thousands of people are inside, all scurrying with resolute purpose, building to keep it going ever higher, but they are invisible to your distant eye. You only see what they have built. The only motion is the shimmer of the heat of the sun coming off the desert sand. You stand there and think, mankind built this. We did this. And if we can do this … Oh, Amanda, if you could only see it!
Amanda
(she stands, reaches out and touches Jake's head, recoils in horror) It's like I've heard this story before. "And the whole earth was of one language, and of one speech. And it came to pass, as they journeyed from the east, that they found a plain in the land of Shinar; and they dwelt there. And they said one to another, Go to, let us make brick, and burn them thoroughly. And they had brick for stone, and slime had they for mortar. And they said, Go to, let us build us a city and a tower, whose top may reach unto heaven; and let us make us a name, lest we be scattered abroad upon the face of the whole earth." You've heard this?
Jake
The bible? Tower of Babel.
Amanda
(pauses) Is it? Them words just popped into my head. Oh Jake, Jake, you poor man. You really are reaching unto heaven, aren't you? You really are.
Jake
Heaven can wait. The assassin — what's the status?
Amanda
(closes her eyes briefly) All I get is this icy feeling. Just ice. And pain. Closer. Nooooo! (shakes violently for a moment) Tell me about her.
Jake
O'Leary sent her.
Amanda
She's still climbing, Jake. Is that pertinent? … And who's O'Leary?
Jake
O'Leary. The killer of dreams! I only kill people, you see. But you wouldn't have the slightest idea what I'm talking about, any more than you knew who I was before you wandered through that door. Yet you live in O'Leary's shadow. We all live in his shadow. Did you know that? No you didn't know that.
Amanda
No, I didn't know that. But, uh, Jake, Miss Gun Barrel Tits. Minutes away.
Jake
Minutes? An eternity. I'll fill you in now. He's midwest minister of environmental protection, one of my counterparts. O'Leary's the one that did Chicago …
Amanda
Chicago, that awful accident. Wasn't … oh lord no!
Jake
Oh lord yes! If it works for his warlords, don't fix it. If it doesn't work, then destroy it. Destroy it all! The world gets smaller and smaller and deader and deader, but as long as it outlives him by one minute, no problem. As far as he's concerned, somebody else can turn off the lights. That's why I decided to build the tower in Africa. Because Africa has already been completely scorched. So building it there spits in his eye.
Amanda
And you! I hear your words, but don't quite feel  … You're just this man sitting in the dark, and you're crazy, and I'm crazy, and I feel … and I feel … (screams)
Jake
And maybe now you get an inkling of why I sit in the dark waiting for death?
Amanda
More than an inkling …
Jake
O'Leary himself is quite the monster, but more horrible is that there could even be an O'Leary, with such power, capable of such horror, and beloved. Beloved by so many. Not in spite of his horror, but because of it. My dream has to be bigger. We're in a war of dreams, dreams against nightmares. The closer my killer gets, the more I rave …
Amanda
And your tower does what?
Jake
Hope. Different from all the reshuffling and rearranging and renaming and cannibalizing that passes for progress. Something new and beautiful. Something that promises us a future. Something impossible. It has to be impossible, because humanity's future is impossible. People aren't evil …
Amanda
No, they're very …
Jake
Don't say it, I guess in some way they're very, very evil. But in any event, death is all they can see, it's their only choice …
Amanda
While for you sudden death is only one possibility? So you reach unto heaven as the bullets approach from just down the hall. But if you get riddled, damn you, damn you, damn you. If you get riddled, then where's my hope? Goddamn you, you flash it then snatch it away. God, what have you done to me? I didn't know (screams) … You've got to get offstage. Quick!
Jake
No, damn YOU! Get offstage, down that way. (points) You have no business here. This is my game, and I know her quirks.  She can be fast as a lizard, but not very accurate. Or accurate as a laser, but not so fast. Her deadliness lies in her tracking system and her killer instinct, but the tracking system isn't perfected, and the long climb will dull her for half a minute. My gamble is that her first shot misses if she goes for speed, and I kill her with my first shot. If she goes for full tracking, then I get in the first shot and I never miss. I figure the odds are on my side. My death wish comes and goes with my mood, but right now I'm rolling in puppies. I must have my amusement! (picks up his gun, slams it on the table)
Amanda
No! If you're so fired up to be amused, then you should go interrogate some usual suspects. But you are not to kill her. You hear me?
Jake
And let her kill the dream? Sacre bleu! If that's your game. Maybe I should have shot you right away. Maybe you're not what you seem …
Amanda
Your dream deserves better than a crapshoot. My every fiber tells me save you, no matter … It's my purpose now, and of course I'm not what I seem. Nobody is what they seem. But it's my play now! I can handle her.
Jake
Bloody Lane? For a nickel she'd cut you down in a second.
Amanda
True. But nobody's yet offered her that nickel. I repeat, I don't want her killed.
Jake
And why not, of all the dying people in the world?
Amanda
I just don't. I feel something with her I don't understand. Maybe it's just that I need to save somebody today. Maybe it's not just you. Look, I swear she won't kill your dreams of heaven. I can stop her.
Jake
You stupid bitch! She's trained all her life. And let me tell you about heaven!  The stairway to heaven is slick with blood. The bloody realpolitik behind that heaven is that I'm building the tower with slave labor shipped from inside the walls and worked to death. To death! Hear me? And that's the only reason I keep anyone alive.
Amanda
(growing increasingly angry)  And your gunners to keep them dead.
Jake
Oh, finally the crazy woman is catching on. The math get a little twisted sometimes, but yes, I keep them alive and I keep them dead. The tower gets built, one minute I'm going at it hammer and tongs against all comers, and next the tea-sipping orchid sniffers come aboard like it was their idea all along, and we chat about the myth of progress. If the tower fails, my so-called friends kill me. I got no illusions about that. But for now, those wretches behind the walls are my only hope. No food, they all die and I have no labor. But too much food and the African Improvement Society has no incentive to force them to the tower, and I have no labor. If they weren't driven by starvation, the Blacks would be perfectly happy to hop and frolic among their ruins and plot at their leisure how to hang me from a lamppost. And the gunners? Couldn't do anything without the gunners.
Amanda
Cuz you'd be stuck without a dance partner?
Jake
Cuz they give me a tool of scientific measurement. A pressure valve. How often and in what numbers they rush the wall gets pumped into the program and it tells me whether to nudge up the food shipments or cut back a mite. Calculating the death rate is all quite scientific. Speaking of religions.
Amanda
That's obscene.
Jake
Woo woo! Oh yes, my darling gunners do their part to keep everyone's religion alive and kicking. And fuck the beauty of it. It keeps everything going and who gives a shit about the aesthetics? And yes, you're right, I get a dance partner. Can't beat that.
Amanda
Yet you reach unto heaven.
Jake
Enough of that heaven shit!
Amanda
Or what? You're gonna shoot me?
Jake
The day is still young and you're getting to be a royal pain in the ass, and I'm hardly short on bullets. (grins maliciously) You stupid cunt! I should have shot you through the head the minute you walked through that door. It's retards like you that have got to be obliterated, all sensitive-like, without the sense god gave a goose … (leering madly, he slaps her)
Amanda
You miserable fuck! … you hadn't ought …  I should (she stands, long pause, her expression changes from rage to wonder) Oh you sneaky little weasel. (smiles) I get it. In your script, this is where I slap that stupid grin off your face and light out in a rage, cursing under my breath that you're a rotten bastard who deserves to die clutching your guts in agony with "killed by tits" etched on your tombstone. Unh-unh, Jake. I'm not that easy. I stay and you leave. Period.
Jake
You think I'm your typical mass murderer with a heart of gold?
Amanda
Give me a rusty butter knife and I'll check. But for now … look, Jake, we've only got a minute, and we can't fiddle around. I hate to ask this, but … all right, here's the deal. Do you believe in my visions? Yes or no? Right now. Yes or no?
Jake
And bigfoot and Tinkerbell and the American way and …
Amanda
Damn you!
Jake
Stand in line!
Amanda
Double damn you! Do you believe in my visions? Yes or no?
Jake
I, I don't know …
Amanda
(she shouts, thunder rumbles in the background) My visions? Yes or no!
Jake
(long pause) Yes. Yes, I believe in your visions.
Amanda
Okay. She's close, terribly close. (approaches Jake, puts her hand on his head) You get offstage right pronto. Do something amusing, molest small animals or something.
Jake
But what about …
Amanda
I'll be okay. She's not after me. Get offstage, count your nads and make sure there's still two, but get offstage. It's my play right now. (She stares him down. Jake exits with his gun. Amanda sits in Jake's chair, her face in shadows) Go to, you murderous beautiful dreamer.