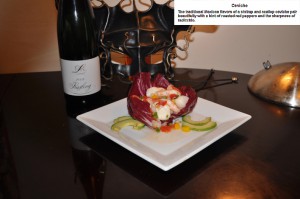 2 lbs shrimp
2 lbs scallops
6 limes
2 lemons
1 plum tomato, diced
1 small yellow onion, diced
1 green sweet pepper, diced
1 banana pepper, diced
1 jalapeno pepper, small dice
4 oz roasted red peppers, cut in small strips
1 T extra virgin olive oil
Salt and freshly ground pepper, to taste
32 radicchio leaves, washed and left whole (about 4 radicchios)
4 avocadoes, cut in wedges, for garnish (optional)
Cilantro or parsley, finely chopped, for garnish (optional)
Preparing the Ceviche
Clean the shrimp and remove the veins.
Clean the scallops and remove the beards.
Squeeze the juice from the limes and lemons into a non-reactive bowl.
Gently mix the scallops and shrimp into the bowl with the lemon/lime juice and refrigerate for 1 hour.
Mix together the rest of the ingredients, except for the avocadoes and the herbs.
After the shrimp and scallops have marinated for one hour, add the vegetable mixture to the bowl.
Allow to refrigerate for at least 3 hours.  The ceviche is done when the shrimp turn opaque.
Wash the radicchio leaves.
To Plate:
Place 4 radicchio leaves in the center of the plate, carefully arrange them so that they look like a flower.
Spoon the ceviche into the radicchio leaves.
Garnish the sides of the plate with the avocado slices.
Sprinkle with the chopped cilantro or parsley.
Serves 8