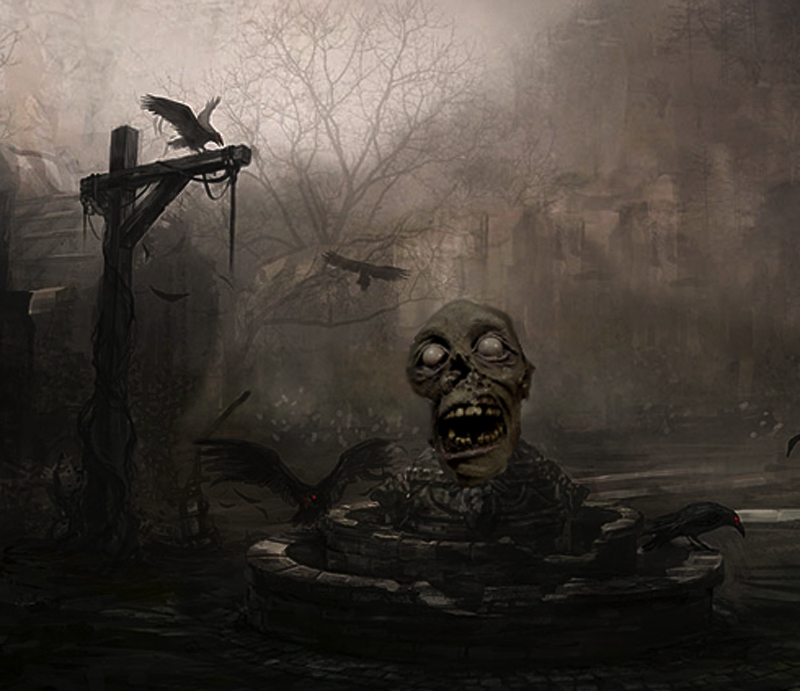 Henry and Winston sitting by the wall, Winston sitting erect, Henry sort of slumped. During the course of this scene, Henry becomes increasingly tense.
Winston
… quite an honor to be working with you, sir.
Henry
The name is Henry, kid. Sit back, relax, get yourself comfortable.
Winston
The name is Winston, sir … uh, I mean Henry.
Henry
The pleasure is all mine, I'm sure. We don't gotta be so formal out here. Gotta learn to relax. After yesterday's action, won't be no action for months.
Winston
Then what happened to … you know … the guy I'm replacing? I thought he, uh, got it last night.
Henry
Young whatsisname? Well, that'll go down in the report as an unrelated accident.
Winston
Accident?
Henry
Yeah. He accidentally went nuts in the middle of the night, accidentally grabbed a pistol, and accidentally ran out into the ruins screaming, "Come out you dastardly cowards!" over and over and shooting into the air until he whooped out this great big scream. Somebody must have been accidentally pissed off at him waking them up.
Winston
He wasn't supposed to go out there, was he?
Henry
I'll check the regulations, but I don't think so. He had difficulties with relaxation. Anyway, come sun-up, there's his head sitting on a rock about 150 feet out there, grinning like a possum eating shit. Welcome to the wall, son.
Winston
Only 150 feet? Commander Breckridge said they never got closer than 400 yards unless it was a full-fledged kamikaze rush.
Henry
Shit changes. Don't sweat it.
Winston
But our report …
Henry
Fill one out if that'll keep you amused, but don't bug me about reports. I used to be curious whether anybody read that shit, so I started making up all sorts of tales. Cosmic voices, the tread of mysterious creatures, eyes glowing in the night, lights in the sky. The earth shaking beneath my feet, ha, ha, ha, ha, ha. You'd think they'd throw a conniption, but I never heard a word back about any of it. They really didn't care. So you gotta lighten up.
Winston
I see. In fact, I feel lighter already. Maybe …
Henry
Hey, have you heard this one? Shababa walks into this bar and the bartender asks, "What are those two bulges in the front of your trousers?" "Well gee," says Shababa, "They're hand grenades. Next time that Kassim comes feeling up my balls, I'll blow his goddamn fingers off!"
Winston
Isn't that against regulations, the one about unauthorized ordinance or something? I mean, shouldn't Shababa have been suspended? And wouldn't Kassim have been scheduled for counseling?
Henry
Dummy, it was a joke! You might at least pretend to laugh.
Winston
Heh, heh, heh. I see. You're trying to make an analogy between our situation out here on the wall and …
Henry
No, I'm trying to help you lighten up. Like why did the chicken cross over the wall?
Winston
I didn't think a chicken could … Oh, I get it. Heh, heh.
Henry
Oy vey! Dear lord, Why do I have all the luck? Look, kid …
Winston
Winston, sir.
Henry
Yeah, sure. Look, what you gotta be doing is getting acclimated. Get adjusted out here — how it feels, how it sounds, all times of day, all kinds of weather. Study them ruins real careful, the broken skyscrapers and the rubble heaps, the dips and mounds and splintered bones and ashes …
Winston
I see. Perhaps I could produce a map highlighting the key terrain features with circles and arrows pointing out …
Henry
No good, kid, er, Winston, kid. Maps don't tell you nothing about the important stuff, the stuff that means livin' and dyin'.
Winston
And what would that be, sir, uh, Henry?
Henry
… the shadows. Most of all, the shadows.
Winston
What do you mean, the shadows?
Henry
(speaking ever more quickly) The shadows … Most everything out there is dead — nothing green grows, the very earth poisoned. No bird dares fly overhead. Only the shadows come alive, especially at sunset, they come creeping towards us seeking a hungry lover's embrace. An angry, betrayed, hungry lover whispering for vengeance. A coolness comes over you, spreads from your insides. The voices start whispering, join us, join us, come join us. Your body tingles. You fear what would happen if you even tried to stand. You don't move.
Winston
Did this ever hap …
Henry
Clouds bring violent storms.  The sky explodes, shadows dance and leap alive with the psychotic twitching of a broken spine. Thunderclaps blast and then crackle above like the echo of our guns. Clouds part, the mad dance ends, and now the moon itself shimmers down, swollen with greenish venom like some monstrous spider casting feathery gossamer ghostly webs that your crazed mind sees writhing madly in some death agony. If only a single strand were to touch you, you're sure, it would be forever. And you know it's just a matter of time.
Winston
Sir, I'm beginning to …
Henry
Something caresses the back of your hand. Your scream is strangled, no sound escapes your gaping mouth. Your heart hammers as if to explode. You await the dawn in a frozen joker's scream, as tears roll down your petrified cheeks. (calms down) Yeah, you gotta learn to relax.
Winston
I truly appreciate the opportunity. And just how do you relax?
Henry
How's about we sing? C'mon. (sings to tune of Mademoiselle from Armantiers) "The first marine went over the wall, parley voo!" Cmon, dammit. This'll help you relax.  (louder) "The second marine went over the wall, parley vooooo!" You seek the wisdom of the ages, eh, son?
Winston
To the extent I'm capable, sir, I mean Henry … er … Henry, sir.
Henry
(sings louder yet) "The third marine went over the wall, got shot in the ass with a cannon ball, hinky dinky parley voo!" (laughs maniacally)
Winston
(short, forced laugh) Heh, heh, very good, sir. But if you could explain …
Henry
How'd I get so good at relaxing out here, you ask? Oh yeah, that … Well, y'see, kid, I've got me this hobby …
Lights out, sound of machine gun.  Omnes exeunt.

— End —