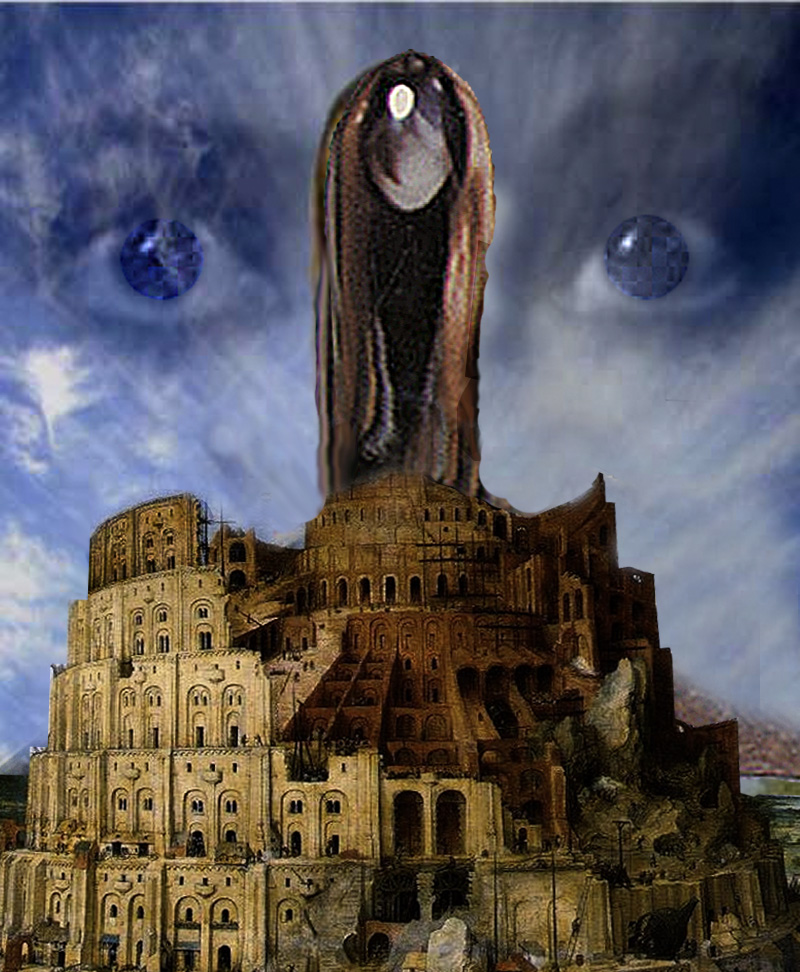 Jake and Amanda continue their conversation.
Amanda
Sitting here just waiting to die! Crack wise about that, oh fastest of unrattled snakes, oh Jake the destroyer, god of fire, acceptor of sacrifices, master of death and annihilation, you sub-literate demon. The gods roar with delight while you lurk in the shadows and a woman with gun barrel tits comes to blow your brains out. Then you dare mock me like some mad scientist with his fiendish plan for world conquest …
Jake
(rising) Then look upon me in awe, puny earthling!
Jakes waves his right hand and the building shakes, wind howls, mysterious scratching and growling noises come from below. Amanda shrinks back into her chair, her eyes wide.
I do have my moments, my special effects as it were …
Amanda
You … you …
Jake
… the hungry wolf waiting for Goldilocks, or was that Little Red Riding Hood?
Amanda
(stands up, angry) Gee, grandma, what a great big ego you have! (lightning flashes, loud thunderclap) (she screams) Stop already!
Jake appears stunned. Very long pause. Amanda is surprised to find herself standing, is embarrassed, slowly sits down.
Jake
Twarn't me, ma'am.
Amanda
I didn't mean … oh no, I didn't …
Jake
You see anyone else around? (sings, his arms out, looking around) Blue skies, nothing but blue skies, comin' my way. (stops singing) Hmmm. I've always felt that mutually assured destruction was the foundation of any good relationship, but this …
Amanda
I'm sorry, I didn't mean …
Jake
Unh-uh, don't spoil it. I'll not mock you if you don't mock my plan for world conquest.
Amanda
(a slight brief smile) Fiendish plan.
Jake
Merci. For all those talents of mine that you have so generously enumerated, and by the way, you missed my charming modesty. Yes, much to think on.
Amanda
I … I … I guess that if you were hankering to hurt me you would have …
Jake
Bad logic, yet true. Meanwhile, I recollect you asking why I was sitting in the shadows waiting for a woman with gun barrel tits to blow my brains out. Let's try this. Do you ever get tired? Tired in your spirit?
Amanda
Come again?
Jake
You ever do much hitchhiking?
Amanda
No. Never.
Jake
Hmmm. I did, back when. Out West. The thing is that hitchhikers and their drivers have the damnedest conversations. The freedom of talking to somebody you know you'll never see again. Deepest thoughts. Pour-out-your-soul meanderings. Crazy conversations, dangerous conversations sometimes. I've had a couple where guys talked about having murdered people. And of course, the hitchhiker has to politely listen.
Amanda
So you're the driver here?
Jake
Something like that. Pardon my incoherence, but something about you I don't get, and I don't just mean the unusual circumstances of our meeting. Hey, I'd bet that the biggest moment in your life is your now standing here in my presence. Any other day, you'd still be out in the street, staring at the Ministry's awesome steel-studded oak doors, my hidden sharpshooters sighted in on your tender bosom awaiting a false move.
Amanda
Any other day I'd be busy prophesying people's magic lottery numbers.
Jake
I stand corrected. But right now, I'm so very, very tired. I'm even kind of disappointed that you're not here to kill me. Or at least try.
Amanda
Mr. Jake, you may not be disappointed.
Jake
It may all be hopeless.
Amanda
Mr. Jake, your assassin really is heading this way. We've got trouble a'plenty.
Jake
Do you have dreams?
Amanda
Of course I have dreams. All sorts. And then I wake up screaming. Are your doors still open? Guards all gone?
Jake
I have dreams …
Amanda
She just moseyed in the front door …
Jake
Never a dull moment. (hits a button) There. It's a long walk up with the elevators turned off. And only one lung. Dreams, I was saying. You being nobody, of course, yours don't count.
Amanda
You arrogant …
Jake
Your flattery is most touching, my dear, but power matters. I make dreams actually happen. The entire world is my canvas, and my canvas is what you think is home. I'm really quite the artiste. My deputies define reality. We sit around a big table, shooting the shit like wouldn't it be funny if … and the next day, it is, as we sit around and cackle and laugh like drunken frat rats watching old Hercules movies.
Amanda
You're dumb enough to think anyone believes your deputies?
Jake
You're dumb enough to think it matters if they do? If anyone interrupted the delicate flow of my brush, my brush would turn into a chainsaw and …
Amanda
And if I was to interrupt the flow of your brush?
Jake
I think I like you. I pray you don't.
Amanda
So what's your problem, oh great wizard?
Jake
To tell you the truth, hitchhiker, it's all dying. I dream of a free world, but none dare mar my canvas. I want to free the prisoners trapped inside the walls. I want to free the prisoners outside the walls. I want to free myself. But I command the gunners who keep all of us prisoners.
Amanda
You command the gunners?
Jake
I command all sorts of things. Any building can look like the Taj Mahal. Phantom divisions can march the streets in rush hour traffic. Real divisions do march the streets and people can't tell the difference between the phantom tanks and the steel ones until they open fire and the blood runs. Unless I decide to use phantom blood. I build beautiful phantom factories, I run factories of concrete and steel. The phantom factories are more productive. Yes, I command the gunners. To kill those I would set free.
Amanda
Set free?
Jake
And I can only watch it all crumble. You called me Jake the destroyer. You have no idea how true that is. And how sad. Money, sex, power, got 'em. Fame, as much or as little as I want. Hopes, dreams, those are the commodities in short supply. Pay no attention to the man behind the curtains. His dreams are dying.
Amanda
So now you wait in the shadows for your assassin?
Jake
Well … hey, how'd you like to come up and see my etchings?
Amanda
You're crazier than a shithouse rat. How'd you like one good kick in the balls?
Jake
(laughs hysterically) And I will be dipped in shit, you got a point there. You know, some days, I actually believe my schemes are worth something. Other days, I can only groove on their artistry. See my latest. The essence of life. Or death. (points to a screen) Today's action at the wall.
Jake hits a button and gets up. Music begins, something like "One of These Days" by Pink Floyd. We see Henry and Malcolm at their guns on one side of the stage, pantomiming firing silently in slow motion. Jake dances, from minuet to disco to obscene gestures.
Thus it begins, spreading out of its dark core, the gunners snap to the alert … it oozes around the rubble, pours through what's left of the streets … Ooh! Ooh! Here's a really cool part. I turn off the guns here and here (he points) for five seconds. See how it flows! Now the guns kick back in, but the pattern is broken, slowly reforming … now the action is winding down … I just love those last throbs as the final kamikazes die.
Music winds down, Jake is exhausted in orgasmic exhaustion, sits back down.
Beautiful and sad. Then there are better days when what keeps me alive is my Shining Tower. And more and more even that isn't enough. The artistry isn't enough. I don't know what is. If this Bloody Lane were only going to kill me, I'm not sure I'd care at all. Maybe the kick of an old-fashioned high noon gunfight inspires me more than either the art or the Shining Tower or anything else. Keeps me amused. Maybe I'm becoming completely incoherent.
Amanda
Your Shining Tower?
Jake
I guess that's what counts. If I can't kill Lane to save myself, I'll still kill her to save my tower. And at least it's something interesting …