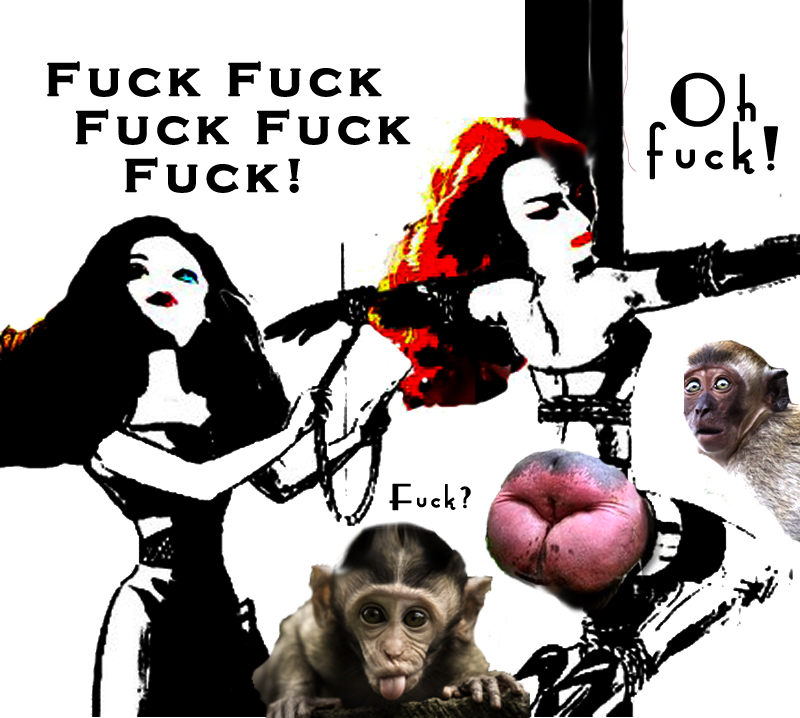 MOLLY and MONICA's dorm room in the dark, in the shadows, Molly puts down a bottle of vodka.
Molly
Fuck, shit, motherfuck, fucking asshole, sonofabitch…
Monica
Uh, Molly…
Molly
Ssshhh!  I'm practicing.  Now I've gotta start over.  Fuck, shit, motherfuck, ass-licking, shit-eating…
Monica
I'm sorry to interrupt you, Molly, but when did you develop Tourettes Syndrome?  Is this kind of episode dangerous?  Do I need to put a stick in your mouth to keep you from swallowing your tongue?
Molly
Your thinking of epilepsy, not Tourettes Syndrome, slut puppy!  Anyway, this is not epilepsy or Tourettes syndrome, it's nothing short of liberation.  In fact, it's nothing short of revolution!  Now if you would excuse me, I'm busy practicing my goddamn cursing, you dumb ass, cocksmokin', smegma sucking, big red monkey-butt!
Monica
My, my, aren't you the cunning linguist!  Little Molly sure is coming out of her shell.  Who will she dress up like next, Madonna?  Britney?
Molly
Has anyone ever told you how much fun you're not?
Monica
I just don't understand the point of this outburst.
Molly
The point is that I'm not going to hide in the corner like a scared little church mouse the next time Vic Vincent pulls his hornier than thou routine with us.  I can't wait to see his expression when I get right up in his face and say "Suck my dick, bitch!"  So if this offends your delicate sensibilities, I suggest that you take your skinny ass elsewhere, because I have serious work to do.  I need my cursing to be perfect by sunrise…now where the hell was I?  (sighs loudly)  Shit, fuck, motherfuck, ass-muncher…
Monica
Serious?  You call this serious?  You're making a fool of yourself!  I'm here to make a documentary, I'm not here to become one of those freaks!  You're dragging us down to their level…you're…you're…
Molly
One of these days, Monica, I'm gonna hold you down and bend you over and then I'm gonna stick a can of Raid up your ass to kill the bug living up there!
Monica
Fuck you!
Molly
Fuck you?  Is that all you have to say?  Fuck you?  You call that a clever retort?  Any eight-year-old kid in a playground can say "Fuck you"!  I called you a, oh what was it again?  I think it was a dumb ass, cocksmokin', smegma sucking, hmm, I can't quite remember the rest.
Monica
Big red monkey-butt!
Molly
That's right!  Big red monkey-butt!  I come up with something as inspired as that and all you can say back to me is "Fuck you"?  You call yourself a film maker and yet you have no creativity at all.  I weep for you Monica.
Monica
Fuck you, you fucking, fucked up, fucking fuckface!
Molly
It's getting better, but I think you're focusing too much on the word "fuck", granted, it is still one of the great classical curses, as is "shit", but as Shakespeare once said, "There's more obscenities on heaven and earth, my dear Monica, than are dreamt of in your tight-ass, white bread, bourgeois pornography."
Monica
Somewhere Shakespeare is spinning in his grave.
Molly
Our mothers are spinning in our graves, and they're not even dead yet!
Monica
Why don't you just keep my mother out of it!
Molly
Oooh!  Have I hit a sore spot with you?  I didn't know your dear mother was so precious to you, Monica.  What with all the times you've called her a big fucking bag of bitch.
Monica
I never said that about my mother!
Molly
Maybe not sober, but you oughtta hear yourself after you've guzzled the entire Sigma Chi drinking team under the table, it's like (mimicking a drunk Monica) "You think that I have it so easy, Molly.  You don't know what it was like, growing up with that big fucking bag of bitch of a mother of mine!"
Monica
Look, I don't even remember whose cum is on my chin when I wake up the next morning, let alone whatever stupid shit I said to you.  Try not to take me so seriously when I'm in that condition.
Molly
That's the only time I can take you seriously.  At least when you're totally shit-faced you stop trying to impress everyone and let go.
Monica
I don't think I ever impress you, do I?
Molly
Not the way you wish you did, but I am impressed by your tenacity.  It's the only reason I got dragged into this fucked-up fucking mess with you here.
Monica
It was my idea, wasn't it?
Molly
Fuck, yeah!
Monica
But you weren't kicking and screaming too bad when I dragged you in.
Molly
Well, I guess.
Monica
(slowing starting to smile)  Oh, fuck me up the ass with a big fucking donkey cock for coming up with this suck-ass idea!  And fuck you up the ass with a cactus for listening to me, you syphilitic lizard licker.
Molly
Now you're getting the idea, big red monkey-butt!
Monica
Cuntfaced gang-bang champion of the Shit City, Iowa 4-H club!
Molly
Winner of the Miss America cock-munching competition!
Both rolling on their beds laughing, abruptly, a knocking at the window, "Shave and a haircut, six bits"
Monica
Molly?
Molly
Yes?
Monica
I'm scared.
Sound of projector running out, end of scene.