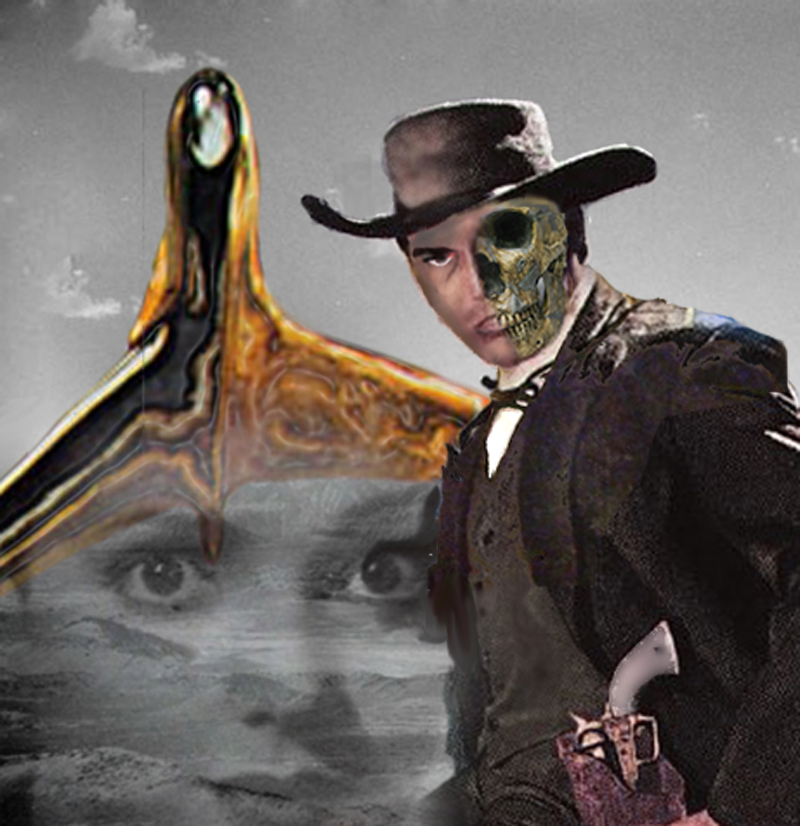 Amanda and Jake continue their conversation.  Amanda is staring at Jake in terror while he speaks.
Jake
And if you're not here to kill me, that leaves a very interesting question.  Is she still coming?  I'd assume so.  And …
Amanda
She?
Jake
Bloody Lane.
Amanda
Who?
Jake
Egad!  Did you think I grabbed your exquisite heaving bosoms because I was suddenly overcome by their promises of ecstasy?
Amanda
Maybe I should be going …
Jake
Maybe you shouldn't.  You know about Amazons, don't you?
Amanda
They fought Achilles before the gates of Troy, and …
Jake
I didn't think so.  But then you have led a sheltered life, haven't you?  Pardon my copping a cheap feel, but I had to make sure you weren't an Amazon.
Amanda
I recall they had one breast cut off so it wouldn't interfere with shooting a bow.
Jake
Okay, you're on the right track.  But there have been what might debatably be called improvements.  In the latest model, nothing actually gets cut off.  The skin on their breasts is injected with a hardening agent, botox for the lethal set, and gun barrels are implanted inside.  Then one lung is replaced by an ammo feed and their whole bodies are wired up to manage fire control.  Their eyes are gun sights and their world is seen through cross-hairs.  They say Bloody Lane is the best, brings a whole new excitement to being close, if you get my drift.  So here I am, all set for an enchanting evening of sex and death, and you come prancing in like Little Red Riding Hood.
Amanda
You wanted to be killed?
Jake
Or fucked.
Jake reaches down and brings up his pistol, sights down the barrel, then puts it back down.  Amanda clenches the arms of her chair in terror.
Amanda
Maybe it's time to go …
Jake
Au contraire!  You hear your mother calling? … Tonight you were going to do your hair?  (Amanda starts to stand)  You sit the fuck down right now!  You stay!  You're not going anywhere.  (she sits)  From what you've told me, I'll bet a whole lot of people don't take you very seriously.  Please confirm.
Amanda
(nods)  I'm a woman, so what else is new …
Jake
Lady, you might think me an unspeakable cad.  Hell, I am an unspeakable cad.  But whatever you think, you wouldn't say I'm not taking you seriously.  Please confirm.
Amanda
(nods)  Yeah.  So? …
Jake
So let's get serious.  We got some heavy palavering to do.  Any thoughts?
Amanda
Something's real wrong here, that's for sure.  I figure I fit in, but no idea how.  Right now I'm terrified because, oh well … See, there's this old story — I'm sure you've heard it — but it haunts me all the time.  It goes something like, oh, this ancient Middle Eastern guy has heard that Death is looking for him, and he's walking through the bazaar …
Jake
Not as bizarre as this is, what's …
Amanda
That feel job wasn't for free.  You want thoughts, you're gonna get thoughts.  Confirm?
Jake
(nods with a smile)  Confirmed …
Amanda
Anyway, this ancient guy is walking through this bazaar, and he sees Death.  Scares him shitless.  So he goes running off to Damascus 200 miles away, and who does he meet up with?  Mr. Death, and old Death, he says, "Gee whiz, I was told to reap you here in Damascus, but this is sure a surprise cuz I saw you in that bazaar way over yonder the other day."  And I guess Death croaks him or something.
Jake
I've heard something like that.
Amanda
So I was godawful scared — coming over here trying to save you — that I was going to get you killed instead.  And now I see, now I see, now I see …
Jake
You about turned to stone when my face turned into the light, didn't you?  I of course thought it was my astonishingly handsome visage …
Amanda
I didn't mean …
Jake
So speak straight.
Amanda
All right.  Let me give it a try.  It's like … I didn't realize … I'm not here to kill you, I swear.
Jake
We've established that.  So go on.  I'm not here to kill you, but …
Amanda
(looks away, clutches herself)  That vision I told you about, that was for real.  And I was somehow drawn to you.  But there's been some horrible mistake.  I thought … oh god, I've been such a fool … I thought you were the victim, and … (looks to the door, looks back to Jake, straightens up, slumps back in her chair, hides her face in her hands)  then I see your face and I find that you're the murderer.  Here I am trying to save a goddamn murderer.  (begins sobbing into her hands)
Jake
(Jake begins laughing uproariously, shaking his head, grinning widely)  Damn right I'm a murderer.  Biggest goddamn murderer in the whole northeast.  The Barry Bonds of murderers.  The fucking Angel of Death!  So I'm a murderer, eh.  Is that all?  That's your best shot?  You were embarrassed to tell me I was a killer?  C'mon now, say something bad about me.
Amanda
You were sitting here just waiting to die.