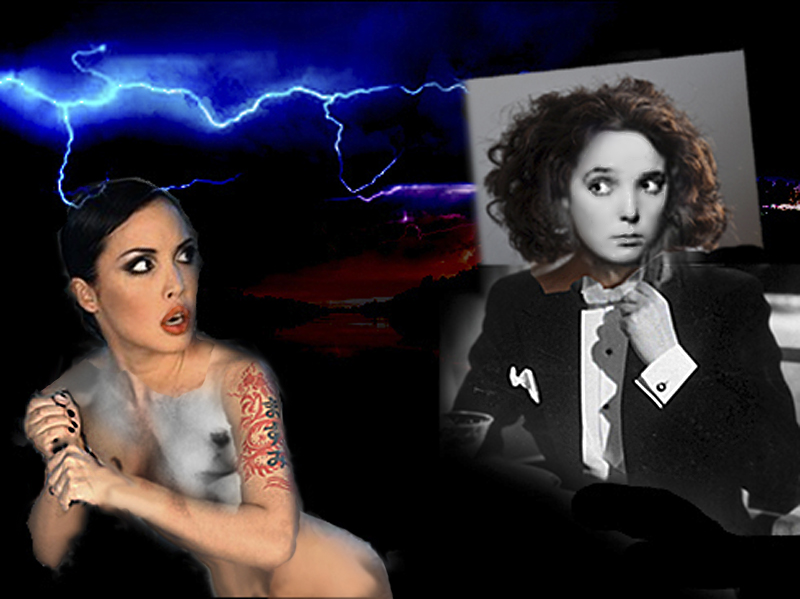 Amanda sitting in shadows. She stands up, her head jerks around as though slapped. She looks stunned for a long moment. Sits back down, her face again in shadows. Lane strides through the door, faces Amanda squarely, her legs slightly bent and apart like Matt Dillon.
Lane
Dead man! Prepare to meet your doom.
Amanda
Welcome to Jake's parlor, Lane. Great opening line. (sits forward, her face now out of the shadows)
Lane
You … he … he was to have been alone. Who are you?
Amanda
They call me Amanda. Make yourself to home.
Lane
How did you … Where's Jake?
Amanda
Probably gathering his rosebuds while he may.
Lane
Honey, you might call me Lane. But others call me death. You got one chance to fork him over.
Amanda
Actually, Lane, I think you're perhaps, uh, a bit misinformed. If I told you, you'd be the one to die.
Lane
Then you do know what I can do. That you're staring at your doom.
Amanda
Dearie, you must give me the number of your writer. By the way, so are you, staring at doom, that is. You caught me at a really, really bad time, and I'm in a very bad mood. And faster. So fast I'm in a whole other time zone. (smiles) What are you talking about? Hey, what is this? Just a damn minute.
Lane
What are you …
Amanda
See what I mean?
Lane
… talking about. Hey, what … is … this?
Amanda
I can do this all day long.
Lane
Just a damn minute … Hey!
Amanda
See? Different time zone. So don't tangle ass with me, assassin lady, I'm wired in ways you can't imagine, got born that way, from what I'm told about the doctor trying to spank me. So you should try very hard to, uh, accentuate the positive, eliminate the negative, lest you mess with my Ms. In-between. It's time we talked, get to know each other, us two freaks. Now pull up a chair and get cozy. C'mon, it won't bite. You can even point your tits at me, don't matter, by the time you even think to fire, you're already dead. (Lane slowly and cautiously sits in the other chair)
Lane
Who the hell are you, anyway?
Amanda
A freak who wandered into something she didn't understand. … Actually, I'm a freak like you. Lonely like you … don't say you aren't. Hurting. And I feel something between us, something I don't often feel.
Lane
And you start doing lonely hearts with every assassin who comes a'knocking? Jeez, why am I even listening to this crap?
Amanda
Two reasons. One (puts up one finger), you think you have some killing to do, but now you don't know what you're up against. And right now I'm your lead to Jake. (Lane nods her head) Two (Amanda puts up a second finger), you, Bloody Lane, are a bloody freak. You're intrigued by me, eh? Don't say you aren't. And like they say, freaksterhood is powerful. One or two, makes no difference really, as long as we talk. Seems like today is some kind of turning point and you're the unlucky 10 millionth customer.
Lane
You said I had two reasons. I'll play along if you also got two reasons for why you're doing this. You risking my guns for a slithering reptile like Jake.
Amanda
One (puts up one finger), Jake amuses me. (Lane opens her mouth, tilts her head) Don't ask. Two (Amanda puts up a second finger) You have beautiful eyes. The pain only makes them more beautiful.
Lane
And I'm supposed to …
Amanda
Well, you didn't say "good reasons." You ever do much hitchhiking?
Lane
Huh?
Amanda
You see, hitchhikers and the drivers who pick them up have the damnedest conversations. The freedom of talking to somebody they know they'll never see again, the whiff of danger in riding with a total stranger. So now we're gonna play "hitchhiker."
Lane
Uh, go on.
Amanda
Thank you. So here's the rules: you're the hitchhiker and I'm the driver. I say, "wanna lift," and you say, "thanks, buddy." Driver gets first move. I babble on about whatever crazy shit is on my mind, and you sit there and listen. Politely.
Lane
Yeah?
Amanda
Then it's your turn. You get to talk about whatever you want to get off your exquisitely wired chest, so to speak. Okay?
Lane
And then?
Amanda
I'll be goddamned if I know. But anyway. Howdy, stranger. Wanna lift? (pause) C'mon!
Lane
All right. Thanks, buddy.
Amanda
Very good! What's to lose, eh, hitchhiker? So here goes. You know, when I was a little kid, I mean like three years old, I played with my hands and fingers a lot …
Lane
What the fuck!
Amanda
Shut up, I've gotta watch the road. … played like they were toys. Most kids do at some point, I guess. Like if you put a couple of fingertips close together but not touching, it looks like they're touching, like there's this aura around them. Or if you look at your hands and let your eyes go in and out of focus, each hand turns into two hands, and then they merge back and forth.
Lane
Keep talking.
Amanda
I love a captive audience. It's all a matter of focus, of course. We eventually stop seeing those second images. Like forgetting you're wearing glasses. No big deal. But at age three, I believed I had four hands and that everything had auras and doubles, and I grew up not knowing better. Got smacked a few times, early on, and learned to keep my little mouth shut, but I kept on seeing it. Thing with me, I never outgrew it.
Lane
So what was the big deal?
Amanda
The images stopped matching. Instead of one hand being two, it'd be three or four, and one would be wiggling fingers and one would be a fist. And the sensations from my hands, they'd jump around too like I could feel having four hands. Or more. It wasn't until I was in junior high that I learned about eyes focusing and all that, but by then, it all seemed perfectly natural, just way different from anyone else. And I knew it. You think that's weird, I started sometimes seeing other people that way too, slipping and sliding through time every whichaway, with the slips and slides getting bigger and bigger all the time. And then I noticed that some of these slips and slides — don't recall how I noticed this, but lord have mercy — some of these slips and slides weren't things I was just seeing, but things I was wanting. And then one day there was this thunderstorm, and I was looking out the window, thinking it would be kind of cool if lightning hit this old shed in the back yard. And the lightning did.
Lane
So what's the big deal? A big coincidence, granted, but still …
Amanda
Four times. Eh? (speaking quickly in a monotone) And there were a couple of school bullies who picked on me. Called me freak, of all things. Well, they had accidents that weren't accidents, and just cuz they were assholes, they didn't deserve to die that way, and I flipped out. All because of a decision I made oh so innocently when I was three, to believe what I saw. For years, I tried to keep a lid on, to see just like everyone else was seeing. But it never worked 100%. It just left me all crazy in the head. Trying to talk to folks about this and them trying to convince me I was perfectly normal, while they were sure I was nuts, me sometimes believing I was almost normal, that the power was gone, until something would happen to snap me back. Sometimes I'd find other people in my head, and me actually taking comfort in believing that I was merely a clinical batshit crazy case, that it was all paranoid delusions and multiple personality disorders and maniac depression and brain damage all rolled into one. But it's not. And then the visions started. Today it was that mother in the ravine with her neck broken and a part of the car driven through her chest and the screaming baby and … minutes later a vision of murder, but this time I knew where, and I thought I could … Maybe that's what brought us together.
Lane
How touching. And why me?
Amanda
Ten millionth customer? Something in Jake, you being his significant other? I don't know. Anyway, your turn.
Lane
Well, okay. But what …
Amanda
The only rule is that you speak.
Lane
Yes. All I see is targets and crosshairs in the here and now. Real crosshairs. Embedded into my eyes and wired into my guns. My whole body is crisscrossed with sensors, the edges of my hands are embedded with steel, and it all feels as natural as natural could be.
Amanda
What happens if you're late getting a lube job or something? Like the Tin Man. Doesn't that worry you?
Lane
Naaah. I worry about my ribs.
Amanda
Your ribs?
Lane
Yeah, they haven't been right for years. You mind if I ramble on?
Amanda
Oh, I insist. I reckon you're still waiting for Jake, but fair is fair.
Lane
My damn ribs. Goes back to my first job. I was young and eager and stupid, wearing a pair of .357 magnum Jayne Mansfields that I had never tested. So I picked up my mark and talked myself into his hotel room. He thought he was some real stud, so it was easy to get him into the sack, him telling me all about how important he was and that someone was out to get him, and while we were snuggling up close I gave him both barrels. The hollow points fucked him up real good, to be sure, but the recoil broke three of my ribs. I switched to the Audrey Hepburn Junior model after that, found that accuracy could compensate for the smaller caliber, the wisdom of age, you might say, but my ribs have never been the same. Hurt when it rains like I was some old geezer, that kind of thing.
Amanda
Why did you do it?
Lane
Do what?
Amanda
Have them … why did you decide to become an assassin?
Lane
Chance to kill men and have it most of the time legal.
Amanda
But don't you miss the, uh, the feel?
Lane
When's the last time you got laid, honey? (Amanda frowns) That's what I thought. So what's the big difference? Besides, I feel all sorts of things. I just feel 'em different. (Lane stands, gestures to Amanda, Amanda stands) Here. Feel this. (Lane takes Amanda's hand, pulls it towards her, Amanda jerks it away) C'mon, dearie. Pretend you're grabbing the latest kitchen appliance. (Amanda reaches up and holds one of Lane's breasts) Now I'm locking on. (Lane slowly moves her eyes from side to side. Amanda finally jerks her hand away.)
Amanda
It's like it's alive. It's alive!
Lane
I bet yours don't do that.
Amanda
No, I guess not.
Lane
Fair is fair, you said. It just hit me, dearie, (starts laughing) am I conning you by letting us ramble on, or is some trap about to snap shut on me?
Amanda
Game over! That's what! I think it's time for you to get out. Leave and never come back. (shouts) Leave now!
Lane
But we're still playing. And is your saying that some kind of ploy to get me to stay out of contrariness, or to get me to leave, thinking it's some kind of ploy to get me to stay, or … fuck it. When in doubt, stand pat. Since we're playing true confessions, wanna hear why I like killing men? Or how …
Amanda
Details may vary according to the individual, but I'm sure killing men has its satisfactions. Sorry, Lane, I kind of like you, and I'd love us girls to keep sharing, really, maybe in another lifetime … No. There's no time! Please get out. For your sake, sister. Please. I don't want this to happen! I pray my vision is false! I want to make something turn out different! Oh goddammit, not now! Not now!
Amanda slams very hard into Lane, knocks her to the floor, as Jake enters. Amanda thrusts a hand toward Jake, he takes a step, then stops. Lane slowly gets to her feet, but Amanda is now standing between them, glaring fiercely though trembling. There is a rumbling in the background. Is it distant thunder, or trains?
Jake
Oh my, I see we have company.
Amanda
Jake, meet Lane, Lane, Jake. I like her, Jake. You and she would make a lovely couple.
Lane is swaying from side to side like a cobra, rips her shirt open to expose her breasts. Amanda sways in synch to maintain her position in-between. Jake's arm is extended out to his side like in a TV western, his pistol now in a holster on his thigh, but he doesn't move at all. The swaying of Lane and Amanda never stops throughout the confrontation.
Jake
Amanda, still alive. I'm impressed.
Lane
Not for long if she doesn't step aside.
Amanda
Lane, in the split second from killing me to zoning in on Jake, you're dead. He's that fast, and his .44's will rip right through me and tear you apart even before my body hits the ground. Your little Hepburns haven't got the caliber to do the same.
Jake
Amanda, step aside.
Amanda
Sorry, Jake, your only play is to kill us both. I'd rather you didn't.
Lane
And now? We can't just …
Jake
… just keep playing Ms. Monkey In-Between? No offense.
Amanda
None taken. Lane, the score is advantage Jake. You still live because Jake is such a really sweet fellow and has a sentimental reluctance to kill me just to get at you. However, HOWEVER, you can't like being in the position where your life depends on Jake's sentimental reluctance, while you have no winning play.
Lane
You'd die for that snake?
Amanda
Yes. I thought we'd established that. After all, I'm a freak and really quite mad. Do you doubt that?
Lane
Not really.
Amanda
Jake, Lane is going to leave, even if she doesn't quite know it yet. Call it psychic, or call it the only rational resolution, doesn't matter which.
Jake
You stake a lot on my sentimental reluctance.
Amanda
You once talked about something new and beautiful. Something that promises us a future. Something impossible. Suppose killing me kills that vision, you master of death and annihilation.
Jake
She's here to kill me!
Amanda
Yet you haven't opened fire yet, have you? Why not, if something inside you wasn't reverberating at least a little … Lane, I fear that his reluctance is starting to weaken. Now is the moment … for both of us.
Lane
I respectfully withdraw. Till next time.
Amanda
And never, ever come back. You hear me? Never! No "next time."
Lane
(angrily jerks her open shirt over her breasts, heads for the exit. Amanda maintains her in-between position. Lane turns halfway.) Next time, I kill anything that moves. No time for games. No time for anything. I'll be the driver and I will be back!
Lane exits, Amanda goes to Jake, grabs his gun, runs to the same door.
Amanda
Goddammit, goddammit! I wish she hadn't said that. (Amanda steps out the door, we hear 10 shots mixed in rapid succession, four sharp, six loud, last 2 shots are sharp ones. A pause, blood-spattered Amanda slowly returns) I wish she hadn't said "next time," I told her. She hadn't oughtta said that.