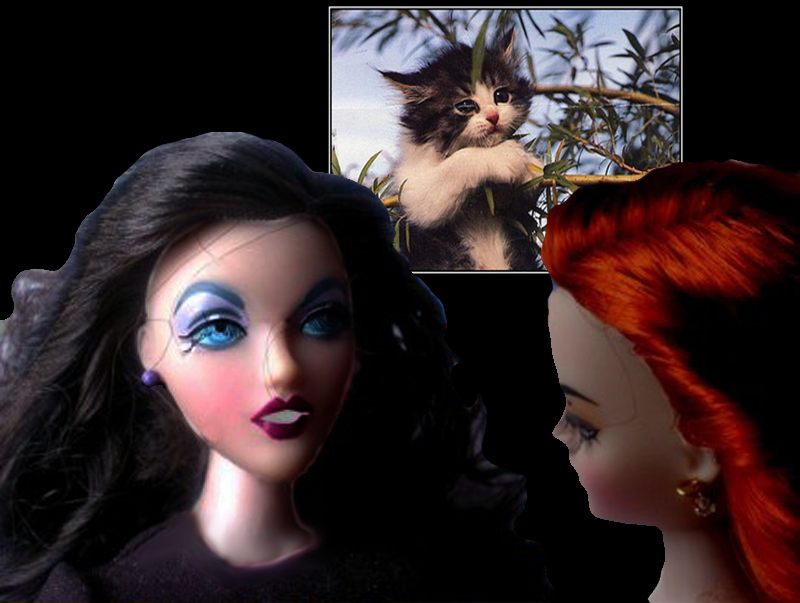 Setting: MOLLY and MONICA's dorm room.  At rise:  MOLLY and MONICA are sitting on their beds, the lights are dim and they are watching a video which is being shown on a screen for the audience.  MOLLY's reaction becomes increasingly disgusted while they watch, while MONICA's is wide eyed fascination.  The set on the video shows a church with naked ninjas, then turns into video with FRANKIE and DANIELLE doin' it.
Sister Constance
Father Francisco, your large hot throbbing member makes me almost forget that I am a nun.
Father Francisco
But Sister Constance, to not share the bounty of your heaving bosom with the servants of god would truly be a sacrilege.
Sister Constance
Father, you are so wise, so let god's will be done!
Father Francisco
Har har harrrr.  Oh god!
Sister Constance
Jesus!
Father Francisco
God!
Sister Constance
Jesus!
Father Francisco
God!
Sister Constance
Jesus!
Father Francisco
Goddddd!
Sister Constance
Jeeeeesus!
MOLLY abruptly turns off the tape.
Monica
Hey!  We're just getting to the good part!
Molly
This is just too gross!  No more.  No more.
Monica
Oh, you're such a baby!  Like you've never seen a porno movie before.
Molly
Well … uh.
Monica
Or feeelthy magazines?
Molly
Playboy.
Monica
You've never looked at people … ?  (MONICA makes an "in-out" motion using her fingers)
Molly
Oh my God, I can't believe how disgusting you are!
Monica
And I can't believe what a sheltered life you've led.  How are we supposed to do this documentary on the porn industry if you can't even watch a movie?
Molly
You're right.  It was a mistake.  I should never have let you talk me into doing this.
Monica
Hey, you're not backing out on me, are you?
Molly
Well, kind of …
Monica
Prissy little bitch!  No way you're getting out of this, so don't even think about it!
Molly
But the more I think about it the more it seems, oh what's the word I'm looking for?  Risky.  That's it, it's too risky.
Monica
Of course it's risky.  It's edgy!
Molly
Edgy?
Monica
Edgy.  What separates the dull from the delicious, my friend!
Molly
(She takes the tape out of the VCR)  This is edgy?  Up and Cumming, even the title is sickening!  Did you hear them?  "I like to lick!"  "Oh, yeah then why don't you come over here and lick me!  Slobber, drool, drool!"  Besides, it's degrading to women!
Monica
Exactly!  We'll delve deep into the psyche of the porn star!  What's it like having your body, nay, your very soul, laid naked before the camera?  Performing sick and perverted acts of sexual debauchery under the hot lights, with the moist breath of the panting, sweaty crew thick in the air all around?  Warm musky goo dripping from your every orifice!  Molly, this will be authentic, raw, powerful, no-holds barred stuff.  Together we will expose pornography!  (MOLLY begins to chuckle)  What?  What's so funny?
Molly
I just got this picture of us both wearing raincoats and then … never mind.   (Scowls, speaks sarcastically)  Oh it's all so edgy.  (pause)  So why is this Vincent guy meeting with us anyway?  Yeah, what's this big shot porn producer want with two nobody college students.
Monica
I unleashed upon him the sheer force of my personality.
Molly
That poor man!  But hey, what's the real deal?
Monica
Okay!  You're just too clever.  I said we could get him some leads through our connections in the film department.
Molly
Leads?  You gotta be kidding!  Connections?  Hah!  And why would he want them, anyway?
Monica
Who knows what goes through his twisted mind?  Maybe he wants to become a college professor and ball all his students.
Molly
You think I'm gonna buy …
Monica
Oh, your whole "I'm so suspicious of how Monica got us these interviews" act is so five minutes ago, Molly!  It's a done deal, and anyway, I know how to handle his type.
Molly
Really?
Monica
Really, yourself.  Look, Molly, why don't you, as they say, just lie back and enjoy it.  Okay?
Molly
We're getting in too deep, I can feel it already!  (starts to sob)
Monica
Not much deeper than about six inches!  Hey, what's wrong?
Molly
I guess I've been freaked out all day.  That knocking at the window last night.
Monica
Knocking?  What knocking?
Molly
A knocking at the window.  Like this (MOLLY taps the sound of "Shave and a Haircut, Six Bits").
Monica
(Laughing)  No way.  You must have been dreaming.
Molly
Yeah, I suppose.
Monica
C'mon.  Lay back and enjoy it.  (She puts the tape back on, lays back, her legs up on some furniture, her legs spread, her hand on her crotch)  Hmmm, interesting, verrry interesting … Clinically speaking, of course.
Molly
(Molly puts her hands over her face)  Ewwwww!
Lights fade.  Sound of a projector clacking after the film has run out.