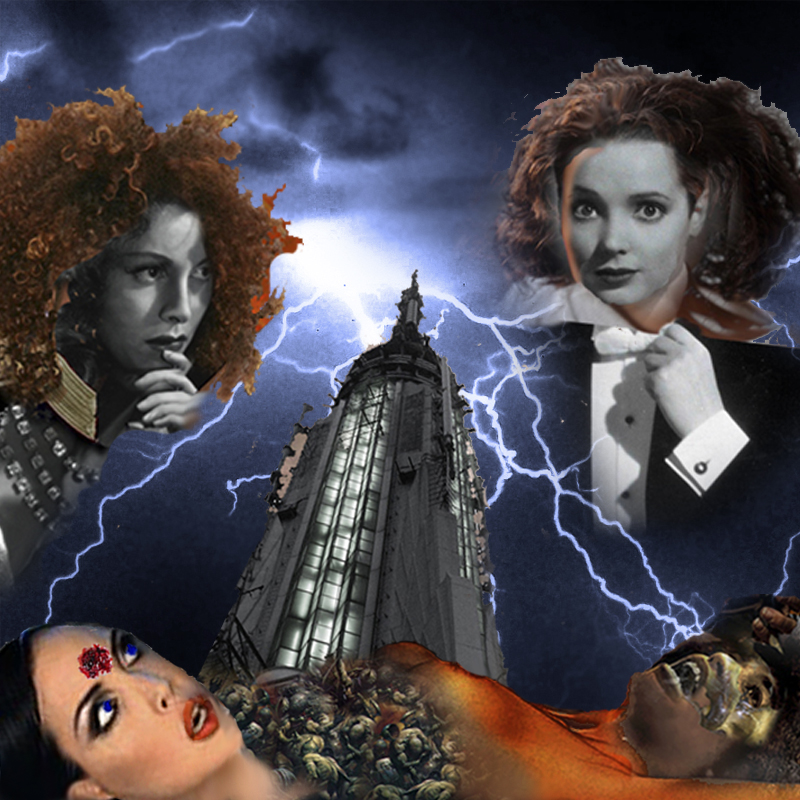 Lucille sits in the near dark, the dead body of Althea sprawled grotesquely before her. A light glows in the corner. Amanda's voice is offstage.
Amanda
It's done. Even shot through the head, she was turning to fire, her breasts reaching for me, before she fell …. It was close. I hadn't imagined a gun would be so loud … It was horrible.
Lucille
The important thing is that it's done. She couldn't have been allowed …
Amanda
Lucille, it was so terrible. Her lying there like that, her beautiful eyes staring up at nothing, all that blood … Tell me true, did you ever have the life's blood of another woman on your hands?
Lucille
(stands, takes a dirty throw rug and casually tosses it over Althea's body) No … How did you figure all this out, anyway?
Amanda
I didn't figure anything, the spirits really did guide my footsteps. Or was it you?
Lucille
Not me, babe. All out of the blue. Jake? Or, or …
Amanda
Does it matter?
Lucille
Guess not. Hey, are you okay?
Amanda
I'm okay. Jake asked me to stay.
Lucille
Intriguing. Will you?
Amanda
Dunno. Maybe. It has possibilities. I think so. I'll miss Nancy, she couldn't … Maybe someday. (tears well up)
Lucille
I'd be worrying about you. Jake's enemies will become yours and you're not trained for this. You're no politician. You're no gunfighter. Those people play daggers under the table all the time. … You care too much.
Amanda
And you think that makes me weak. … Oh yes you do. But does caring make you weak? The rest I can learn … Besides, he amuses me. He amuses me a lot. Lucille, be straight. With yourself, I mean.  I think I'm reading you pretty clear. I think maybe now you're the one caring too much. Caring about what this might do to me. That my heart might get hardened, that I'll become like them …
Lucille
Well …
Amanda
… or worse, that I might become like you. And you love who I am and how I am right now. Eh?
Lucille
There could be a, umm, a grain of truth to that.
Amanda
From Lucille of the godalmighty Supreme Revolutionary Headquarters, I'll take that as guilty, guilty, guilty. But I'm not even who I was this morning. I can't undo this day. I chose this day. Eagerly. Wouldn't undo it even if I could, even if what I've done is now tearing my heart out. Which it is. Just like things you've done are tearing yours out.
Lucille
You couldn't possibly know …
Amanda
Look, I'm not doing this without you. But if you stay with that "couldn't know" bullshit, you're throwing out Chicago! Us white monsters couldn't know the heart of you Black savages or vice versa?
Lucille
It's just that you haven't … you aren't …
Amanda
Precisely. And that's the wall that will kill us all. Who cares if I could possibly know? Knowing is way over-rated anyhow. Look, I have no idea what I'm capable of. I'm just thinking I might get closer to … I could learn things. Maybe things we have to know, maybe things that are too horrible to know. Lucille, what do you know about the tower?
Lucille
Nothing really.
Amanda
Good. Trust me, keep it that way. (Lucille's eyes widen in horror) I'm sorry, I guess you can't. But suppose I stumble on some way out of this forced death march. I'd pay a heavy price for that. And as I may have mentioned, Jake does amuse me.
Lucille
And suppose nothing happens.
Amanda
Isn't that your line? I don't know. Lucille, I got a feeling I'm in for some rough times, but the only thing I really need to know is that you're with me.
Lucille
I'm with you. Can't say I like it, but I'm with you all the way, cuz I know you're with me all the way.
Amanda
Besides, maybe it'll be fun.
Lucille
Fun? You are crazy.
Amanda
We've already established that.
Lucille
And suppose you reach the center of Jake's machine and there's nothing there. With fewer of us every year and the tower crumbles and you go to your grave ground up in the gears. Then what?
Amanda
(pause) Then I roast in hell forever. (light in corner goes out)
Lucille
You and me both, sister. You and me both.