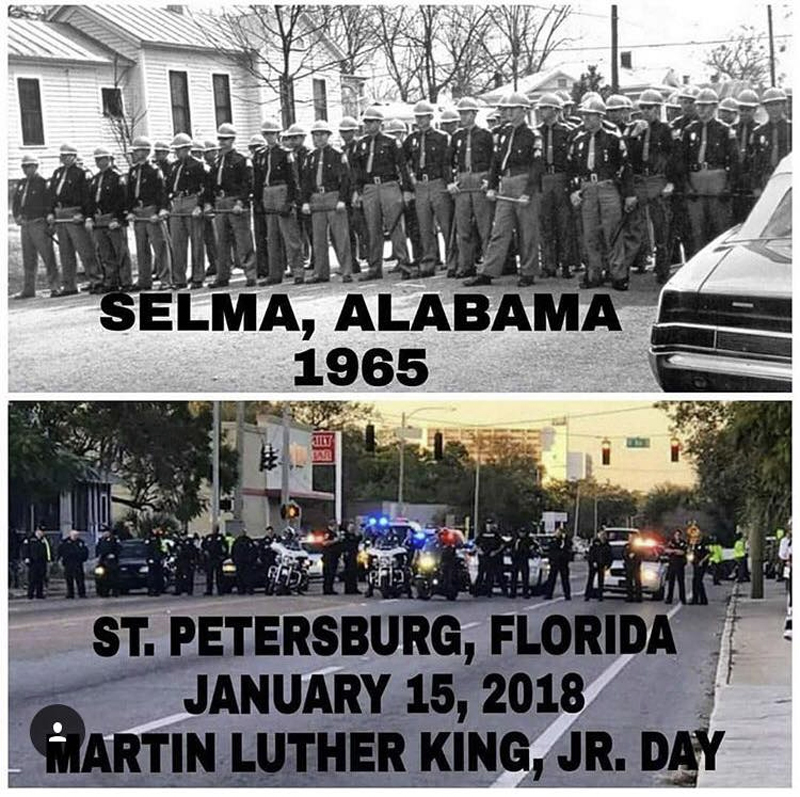 "The white man does not abide by law in the ghetto. Day in and day out he violates welfare laws to deprive the poor of their meager allotments; he flagrantly violates building codes and regulations; his police make a mockery of law; he violates laws on equal employment and education and the provision of public services. The slums are a handiwork of a vicious system of the white society."
— Martin Luther King
September 1967
ST. PETERSBURG, FL, January 18 — The fight continues to this day. The fight, that is, over the legacy of Martin Luther King, Jr. — King as the uncompromising fighter for social justice, vs. King as the liberal reformer who implored his followers to "turn the other cheek" while "perfecting" the American system of colonialism and worldwide slaughter.
That fight played out on Monday, January 15, on the streets of St. Petersburg, and today in the hallowed chambers of the St. Petersburg City Council.
The MLK celebration has always been an important day for the South Side's small businesses, with vendors selling their wares along the march route and at the after-march parties that traditionally followed.  For some, MLK Day sales make up 50% of their yearly income.  Not this year.  Citing "public safety," the police had sent out notices that anyone vending without a license (most of the usual vendors) would face $143 fines each time they were stopped by an officer.
Without warning, entire streets were shut down for blocks around, to both vehicle and foot traffic.  The snarling police legions forcibly prevented people from leaving their own neighborhoods, and from even getting to their homes.  "For blocks and blocks and blocks, just police cars and yellow tape. People actually thought a crime had happened," said one community organizer.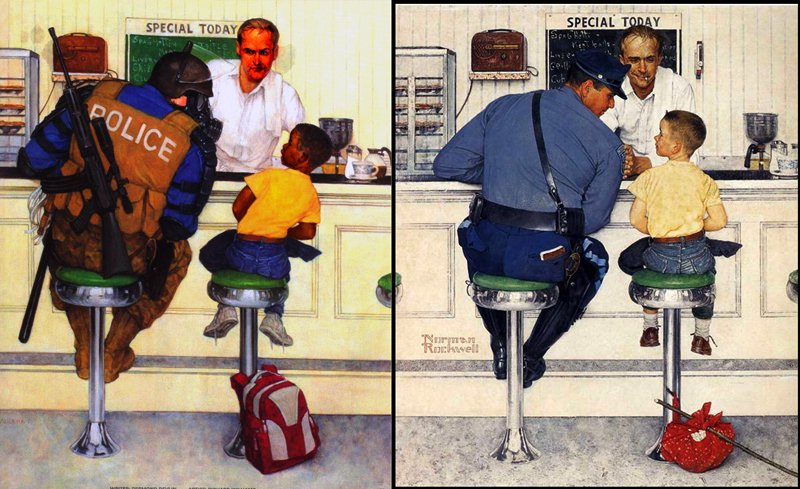 Brother John Mohammad, president of the Childs Park Neighborhood Association, uploaded a video of himself being harassed by a white police officer accusing him of "trespass" in his own neighborhood!  That video went viral, and dozens of angry South Side residents packed City Hall on January 18 to express their outrage at the disrespect shown to the Black community during the MLK's day of celebration.
A chorus of outrage.
"The police operation was reminiscent of the sundown laws, Black Codes and Jim Crow practices that Dr. King gave his life fighting to abolish."
"What if I needed to get to a hospital, or to an elderly family member? … totally locked in … couldn't get an ambulance or medical care to come."
"It was like a crime scene."
"The community was ambushed."
"Psychological trauma and police violence."
"The South Side was put under lockdown."
"Entire Blacktown was punished."
"Collective punishment and collective containment, the tools of tyrants and dictators."
"Roads blocked miles away from the parade."
"Occupied territory."
"Military-type zone, you couldn't move."
"You felt like a caged animal, flashing red and blue lights were blinding."
"Couldn't get gas."
"It was a police state, South Side residents were contained like animals."
"I couldn't even get to my home."
One comment epitomized the protestors' dilemma.  "I had a barbecue, and friends couldn't even get to my home."  Yet "I voted for you Mayor Kriseman, and I don't want to take that vote back."
There were requests, and plenty of suggestions:
"Build trust by collaboration and partnerships."
"Create a police review board."
"Hold workshops."
"Police needed more training."
"Move the dialogue towards a solution."
"Talk, come together."
"We must not erode the trust we have in our law enforcement."
But despite the outrage, nothing was demanded and shockingly little of substance was even asked for.  Yet one comment above lingered in the air:  "I voted for you Mayor Kriseman, and I don't want to take that vote back."
Beyond Outrage.
A radically different perspective was offered by three speakers from the Uhuru movement's Communities United for Reparations and Economic Development (CURED), which had been founded to continue what had been fought for in last summer's campaign of Jesse Nevel for Mayor, and Akilé Anai for City Council District 6.
"I don't care what white liberals say," said Black Power 96 radio station manager Diakiesse Lungisani, taking the mic before the squirming Council members.  "Dr. Martin Luther King is ours and is still ours. White people don't even celebrate Martin Luther King Day.  Police containment is what we experienced this past Monday, which is a standard of colonialism."
Next up was Jesse Nevel, co-chair of CURED and chair of the Uhuru Solidarity Movement.  "I am here to denounce the aggressive display of police containment of St. Pete's Black community on the South Side by the St. Petersburg police.  I'm also here to support those who spoke before me who suggested there's got to be a better way.  What we saw this week was the policy and agenda of the Kriseman administration, and I'm here to speak on behalf of white people in this city who are outraged at this Ring of Steel around the Southside.  White people are not going to be pawns in your agenda, which is like putting a White People Only sign above progress.  You do not speak for me.  You do not speak for white people in this city."
CURED Chair Akilé Anai put forward their demands:  "We demand reparations and economic development for the Black community.  We demand the return of the Tropicana Field baseball stadium to the Black community.  We demand that they return that land so we can use it for genuine economic development, to build affordable housing, so we can feed, clothe and house ourselves.  Kriseman and the Democratic Party have turned their backs on these demands.  They and the sellouts in our community like Police Chief Anthony Holloway — who is clearly white power in Black face — willingly and dumbly carry out the dictates of the Kriseman regime.  We were encircled on MLK Day.  We couldn't get into our community, and we couldn't get out.  This is military strategy and tactics.  It is colonialism and we won't stand for it anymore.  We demand Black community control of the police, so we can prevent these thugs from invading our community and brutalizing us, murdering us.  We reject Kriseman, we reject the Democratic Party, and we're voting for ourselves!"
In the aftermath, Holloway himself underscored the priorities of the Kriseman administration, by offering no apologies for the lockdown.  "Am I going to apologize for keeping us safe? Am I going to apologize for the plan working like it always worked?  No, I am not."  His only vow was to communicate better.
Meanwhile, as reported by ABC Action News, "Mayor Rick Kriseman said moving forward the chief will have to brief him on plans for future events in the city. The mayor also said they will start a task force of community members to help plan and organize the event for next year. Kriseman said he wants to make sure the city addresses the concerns about such a heavy police presence in St. Pete."
Green Support.
"More of the same bullshit!" explained Rose Roby, co-chair of the Pinellas County Green Party and a member of the CURED Executive Board.  "These same community leaders who helped elect Kriseman will now gather and complain, and Kriseman will smile and nod, and they'll come up with a few cosmetic measures so these leaders will be a little less embarrassed next year.  But white power will still be the power occupying the South Side, and it's long-term goal is to gentrify the Black community completely out of St. Petersburg.  As CURED demands, what we need is full Black community control of the police.  That is an essential part of empowering the Black community in every way, from Black economic development, to Black community control of their schools and to Black Power!
"I have reviewed the platform of the Green Party of Florida.  It calls for 'The creation and funding of civilian police review boards that have the power of subpoena.'  That is good, but it hardly goes far enough.  Police departments are totally out of control and are not about to submit to any review board as long as White Power is in control.  I intend to propose that we add to the Green Party of Florida platform an uncompromising plank calling for full Black community control of the police.  We can do no less."
— Jeff Roby
January 18, 2018