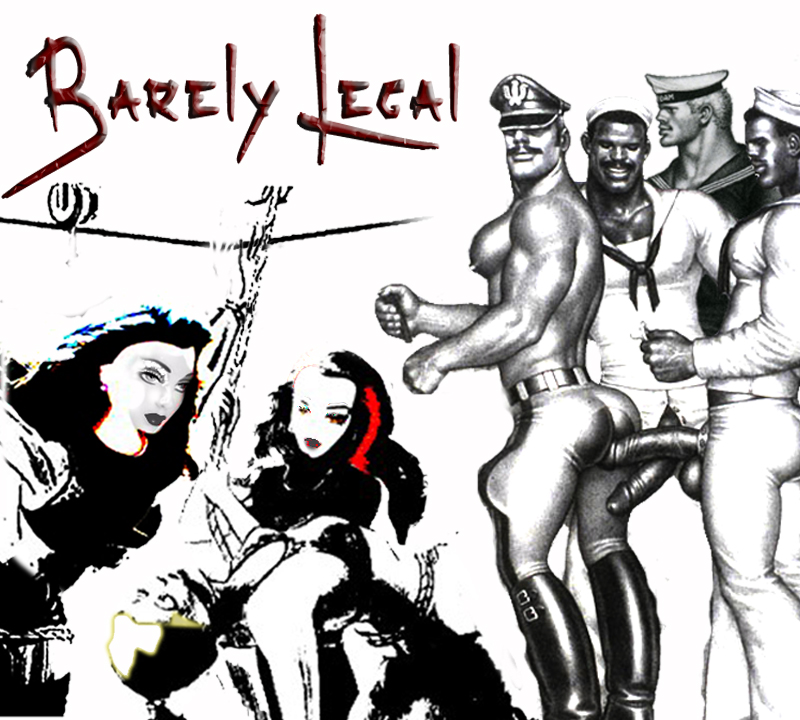 Vic Vincent's office, Monica, Molly, Vince sitting around.
Vic
… So the bearded lady turns to the rubber man and says, "You think you've got it bad, whenever I need a shave I have to go to the dentist!"  Get it, go to the dentist?  (laughs gleefully while Monica and Molly stare blankly, gets up and starts dancing around the room, to the tune of "Satisfaction")  Dum-dum, da-da-dum, dum-dum, dum-dum, da-da-dum, dum-dum, (singing) I can't get no.  Satisfaction.  I can't get no.  Girl reaction.  (voice goes up and up)  But I try, and I try, and I try, and I try-ie-ie …"
Molly
Uh, let ,me guess here.  You can't get no satisfaction?
Vic
(sits down)  Hey, I knew you college girls were smart.  That's exactly it.  Satisfaction.  If everyone had it, I'd be out of business.
Monica
So you're just filling this need and if you weren't doing it …
Vic
And then I'm supposed to say some stupid shit about how I'm just some capitalist responding to free market forces and if people didn't want to buy my product, etc., etc., etc.
Monica
Isn't that how you justify your business?
Vic
I don't justify shit.
Monica
But don't you … I mean …
Vic
(leans and whispers)  You're selling cheap.
Monica
What?
Vic
Here I am, letting you gawk at the big hairy beaver of the smut business, and here you are asking me dumbass questions you've already got the answers to.  So let's walk on the wild side.  You've got to take it off, take it all off.  Journalistically speaking, of course.  So you, Molly, you ever gone to a triple-x video joint?
Molly
Excuse me, Mr. Vincent, but Monica and I are trying to conduct … I mean, uh …
Monica
What Molly's trying to say is that we are the ones doing the interview.  This is a serious study.
Vic
Hey, I'll show you mine if you show me yours.
Monica
Pervert!
Vic
Hath not a pervert eyes?  Hath not a pervert hands, senses, affections, passions?  If you squeeze my prick does it not squirt?  If you tickle my balls, do I not laugh?  If you piss on us do I not, oh, you know.
Molly
Okay, I have.  I've been in one.  Once!
Monica
Molly!  Vic, what she's trying to say …
Molly
I'll say what I'm trying to say, if you don't mind.  Yes, I have!  It was on a dare.  I was young.  It was one of the grossest …
Monica
Molly, chill out.  We are the film-makers here!.  This is unprofessional.
Vic
Don't chill out.  See, Mon, at least Molly's starting to take me seriously.  So think back on that youthful indiscretion.  How'd you feel?  C'mon.  I'm on stage, you're on stage.
Molly
I am not …
Vic
You think you're not on stage as much as Brandi Goodhead taking it up the chocolate highway?  C'mon, so did you — accidentally of course —wander into the queer section?
Molly
Monica, I think we have to run off to class.  Mon-i-ca!
Monica
Molly, we can get class notes from Alan.  Yes, Alan will fill us in.
Molly
No, I really think we need to go.  Now.
Monica
Molly, stay put!  (to Vic)  Damn you, Vincent,  How many times do I have to tell you, the deal is that we interview you!
Vic
Molly.  The queer section?
Molly
I am not a …
Vic
Queer guys section.  Gay, for any PC's in the audience.  You know, sailor hats and chains and washboard asses, huge hairy dicks hanging out.  That section.
Monica
Molly, remember who you are!  (she stares in horror at the following exchange)
Molly
Ohhhh.  That section.  I sort of recall … uh, no.
Vic
(clasps his hands to his chest and rolls his eyes)  My mother was right.  I shoulda been a dentist.  You sort of recall?  So were you turned on when you first walked in there?
Molly
You animal!
Vic
Okay, page 59 of the Sensitive Man's Almanac.  I know that this is difficult for you, Ms. Molly, and I fully respect your sensitivities as a woman, but perhaps you would feel better about yourself if you could openly and honestly express your true feelings …
Molly
Fuck you, you miserable son of a bitch!
Vic
Oh, those feelings.  Well, perhaps I should stick with a more traditional approach.  (glowers)  Hey, c'mon, bitch, don't just lie there.  You gotta move around some here, or word'll get out that you're a lousy lay.  Nothing worse than a straight pussy that don't even move.  C'mon … Yeah, you were turned on.
Molly
I'll kill you, you rotten son of a bitch.
Vic
Excellent.  This flow of genuine emotion is very therapeutic.  And were you just as turned on after 10 minutes staring at donkey dong heaven?  And did you come during that 10 minutes?
Molly
Why are you doing this to me?  (starts sobbing)
Vic
You didn't come, but were less turned on, after standing there …
Monica
Where's that list of questions you had?
Molly
Shut up, Monica.  Yes, I was less turned on.  (still sobbing)
Monica
(stands)  You're dragging us both …
Vic
My dearest Miss Sweetcakes, I do believe that Molly is handling herself rather well without a chaperone!  She's clearly the one who's got the balls in this family, and probably the brains as well.  (to Molly)  I don't mind, Molly.  Hey, Molly, you're asking a good question.  (Molly continues sobbing)  Hey, Molly.  (finally shouts)  Hey, Molly!  You're asking a good question!  I'm sorry!  Why I'm doing this!  That's a real good question!  This movie is really moving along now.  The plot thickens.  I'm sorry.
Molly
Sorry!  You're sorry?  Isn't this exactly how you get off?
Vic
See, I'm trying to use that, whatchacallit, Socratic method …
Monica
Care for some hemlock?
Vic
Shaken, not stirred.  And I think you've learned something.
Monica
Like what?
Vic
About satisfaction.  How do you sell dicks and pussy when everyone is surrounded by dicks and pussy?  How do you keep selling dicks and pussy like it's new when all these dicks and pussies start looking the same after 10 minutes?  You think I'm not an artist to last this long in this business?  A regular Prickasso.
Monica
I hope you don't mind my digressing here …
Vic
Hey, we're consenting adults …
Monica
… but I don't get your shtick.  (VIC turns to face the audience and raises his eyebrows like Groucho Marx, MONICA interrupts him as he opens his mouth)  Don't you dare say it!  This is exactly what I mean, one minute you, you're this sweaty, uncouth pervert.  The one my parents warned me never to take candy from as a child.  Almost beast-like in your wanton desires, no offense meant, of course.
Vic
Oh, none taken.  (writing, speaks slowly)  Al-most beast-like in his wan-ton desires.  I can use that line.
Monica
But then you turn around and start spouting Socrates like you were something more than just a, a, a … Mr. Vincent, who are you and where do you get off …
Vic
What's it to ya, babe.  It would seem that in our quest for truth we must clarify the operant persona and not dichotomize it from the operant activity …
Monica
Aha!  Operant persona!  Almost beast-like in your operant persona.  That's the kind of talk I mean.  I remember this trip to the zoo …
Vic
Not germane …
Monica
And they had this dressed-up orangutan.  I mean, you state, and I quote, this is exactly your business.  Yet you would dichotomize your operant persona from your operant activity, thus violating …
Vic
All right, already!  Hoist on my own pecker, you might say.  So …
Monica
So where'd ya get all dem big-ass words?
Vic
(laughs)  Okay already!  There was this trial, for pornography and corrupting nuns and virgins and public indecency …
Molly
You were on trial?
Vic
Me?  Mr. Pure as the Driven Snow?
Molly
Yeah.
Vic
My boss was, some guy named Manny.  I was just a lowly camera-man, not worth indicting.  So Manny's lawyer wanted me to be a character witness and spout all this stuff on the stand about how this Manny was the reincarnation of Thomas Jefferson and Mother Theresa …
Molly
She wasn't dead yet.
Vic
You never had her in bed.  He had me read all this shit about prurient interest and contemporary community standards, sociology bullshit, Psychology Today and the collected works of Dr. Albert Ellis and Joyce Brothers.  It was fun.  I mean, I got paid for my time, hanging out in the library all week and picking up … hey, did you know that librarians are really hot?
Molly
That'll be our next documentary.  So did Manny get off?  I mean …
Vic
And a good straight line is such a terrible thing to waste.  Oh well, you should have seen me.  I was fucking magnificent.  Oscar caliber by all accounts.  Best performance in defense of perversion.  By the time I was done, the jury was tearing off their clothes and …
Monica
Vic!
Vic
Well, they wanted to, I bet.
Molly
Did Manny, uh, was he acquitted.
Vic
Would have been, swear to God.  But that dumb-ass lawyer, he pressed his luck, put Manny's star Suzie, on the stage, I mean the stand, more character testimony, you know …
Molly
And …
Vic
Yeah, well, the prosecutor elicited some of the details of her deep, uh, affection for Manny.  Also turned out that she was just 16.
Molly
And the jury was less than fully understanding.
Vic
Nicely put, my dear.
Monica
Tragic …
Vic
Indeed.  Good thing they didn't ask her about her deep affection for me.  Anyway, I had the keys to all the equipment, and Manny's — what should I call them — superiors weren't too eager to get too close until it was clear just whose rent was going to be fully subsidized by the state …
Monica
You have such a delicate touch …
Vic
… and I was able to boldly go forth where no pervert had ever gone before.
Monica
And the princess married the good prince, and the people were no longer oppressed, and they lived happily ever after.
Vic
For a while.  For a while.  Me and Connie.  It took the big boys maybe a year to get their shit together, before they … uh … got interested again.  We had some real fun.  We answered how the elephant got into Groucho's pajamas.  Why Napoleon kept his hand there.  How …
Molly
Connie?
Vic
Why Dolly Madison sewed …
Molly
Connie?  Who's Connie?
Vic
So where were we?  Oh yeah, the innocent maiden who wandered into the triple-x shop …
Molly
I just wanted to know …
Vic
Hey, this could turn out to be more fun than I thought, but …  (to Monica)  Hey, look, I gotta run.  You know the way out, but hey, take care of her.  Here, have some scotch (takes out a bottle of scotch and a glass), pour your friend a couple of stiff ones.  Heh-heh.  Yourself too.  You're both looking kind of sick.  I guess the pressure of studying and grades and all must get pretty intense, and the camera never stops.  But the camera never cares.
Vic exits, Molly begins sobbing again, Monica pours a glass of scotch, pushes it toward Molly, takes a big swallow straight from the bottle, grimaces, slams the bottle down.  Sound of projector.  End