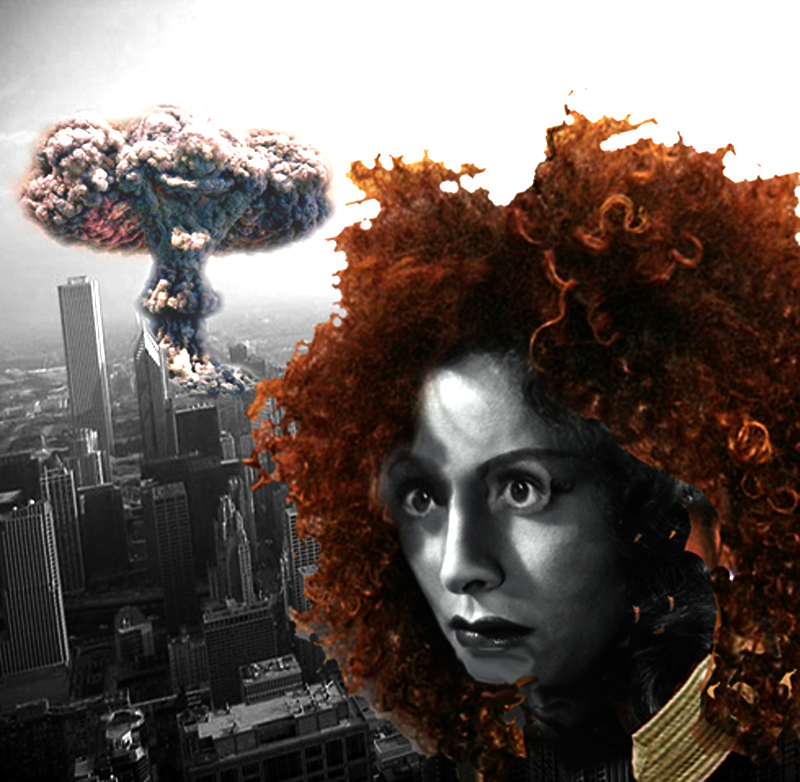 Althea and Lucille continue their conversation.
Althea
Once you did what?
Lucille
I chose to die, I charged into the guns. For real.
Althea
Uh, pardon my stating the obvious, but you seem to be alive.
Lucille
In Chicago a couple years ago.
Althea
Do you take me for a total retard? Kamikazes die, and Chicago died.
Lucille
You wanna hear it, or don't you? Good. To continue, we fancied ourselves kamikazes. Japanese for the divine wind that wrecked an invading fleet way back. The Chinese Armada or something. We liked the poetry of it. I'd volunteered because my friends had, and that was about all that mattered. I was terrible weak but still tough and stringy, put in a middle rank. The young'uns were up front, the weakest at the back.  Even if them in back couldn't make it into the killing zone, they'd still die soon enough from exhaustion or exposure. Long after the big rushes, sometimes you'd still hear the guns popping away, picking off them who had to stagger or even crawl into the firing zone. So anyway, we started to charge, and right away I could hear the guns. All over the place. I was a wreck, but all pumped up with adrenaline. Still, best I could do was a brisk walk. I made it into the firing zone, and I remember hoping that I'd get one right through the head. I mean, the worst thing was to get shot in the leg and fall into a ditch and get burned alive by the helicopters after it was all over. Know what I mean?
Althea
(smirks) Yeah, I hate it when that happens.
Lucille
But I didn't get hit. In fact, the guns in my sector weren't firing at all. You could see the gunners sitting there at their guns, but they weren't doing anything at all. Already dead, but I have no idea how that happened. Well, we kept going, right up to that wall, and there was some kind of long-range crossfire cutting into us for a while, but not too effective, and even that stopped. Bodies were piled right up to the wall, mostly children on the bottom, and that was kind of, uh, unsettling. I mean, we were supposed to be dead already, and nobody had ever figured out what to do if we ever got that far. Like the stupid dog that finally caught the car. But us folks coming up behind, what the hell, we just kept going cuz keep going straight ahead was all we knew, and I figured there had to be gunners on the other side to finish us off. But as I made it over the top, there was now this pile of crushed bodies on the other side too, so I walked down it like it was the Easter Parade. Thousands of us all together.
Althea
And you were free!
Lucille
Well, sort of. But free to do what? One minute we were in hell, next we were in this nice residential neighborhood, shade trees and all, and we could see some white folks running away, so we wandered around for a few blocks and cleaned out a couple of small grocery stores and broke into some houses, but we never got too far from the wall.  Like a housecat who suddenly finds the back door open. I guess we were expecting this mighty army of white people to suddenly descend on us and kill us all, them being such monsters. And I suppose the white folks were expecting us to come rushing through their streets with knives and clubs killing everybody we saw, us being such savages, you know. But mostly we were just dazed, wandering around like night of the living dead. Maybe some of us even began thinking about living, but what the hell did that mean? Nothing was making sense. I mean, this went on for a day and half, everybody confused and scared, but nothing happening, nothing at all, except for the weakest of us dropping dead and these helicopters flying overhead, doing nothing but watching.
Althea
I don't believe …
Lucille
Then, late that afternoon, there's this rumble, and we figure, this is the end. So I'm looking down some long avenue, and there's this big truck, a big semi, lumbering down the road, and it turns into this whole convoy of trucks, heading straight for us. When the lead truck got about 100 yards away, one of the copters dropped out of formation and you could see its Gatling guns swiveling to take a bead and we hear this click, strangely loud. Then quick as a flash, rockets shoot out of two other copters flanking either side of the road, and the copter that was taking aim turns into a ball of fire and hits the ground. Blam! And all the other copters just keep formation as these trucks pull up to us. What the fuck? Then these two great big white farmers, wearing overalls and checked shirts and mud stuck to their boots, biggest hayseeds you could imagine, get out and go to the back of the truck, and they come back to us, looking scared but determined, carrying these bushels of apples, set 'em down on the ground in front of us. And folks in all the other trucks start doing the same, all sorts of tomatoes and corn and everything, and our folks, a few run away panicked out of their minds, but the rest start passing the food back and stuffing what they can into their mouths, and y'know, getting sick all over the place because it'd been so long since they ate.. Nobody says a word. But we all know something beautiful is going down here. Almost religious. Me, I'm thinking, this doesn't make sense, but it's happening, and folks everywhere gotta hear about it.
Althea
Hear what? That white people are our friends?
Lucille
I'm not saying that. But these white people … who were they, how did they know to come to us, how did this all get organized? I mean, it wasn't supposed to be — that much I do know. Yet it was. It was totally mind-blowing. So this old man, he tells me I gotta travel, shows me how to hotwire a car, tells me about the steering wheel and brakes and siphoning gas out of tanks and stuff, cuz I had never driven a car, of course. But I pick up on it real quick, and by then it's getting pretty dark, and I drive off alone into the twilight, not knowing where I'm going or what I'm gonna do, but figuring I gotta do something. It turns into this dark and stormy night, and I'm driving faster and faster down this spooky country road, and there's no other cars out there, I don't know why. And … and … (sobs)
Althea
So you're driving down this country road. You're running away …
Lucille
Not running away. No! Thinking about what was going on back there, and who could I tell, and all confused and crying and terrified and feeling, I don't know, free in some way. Like I was flying. And wanting to get out of the car and start screaming something like "it's all different, you don't know, it's all been lies!" And then there's like this voice in my head, saying, "Don't look back," and I'm thinking what the fuck, when all of a sudden it gets all light and it's like this giant fist hits the car and I really am flying, me and the car, flying through the air like I was the fucking Dukes of Hazzard. The treetops all around me light up like they was torches and my car hits the road and bounces hard a couple of times but somehow I hold the road and keep driving on like I was driving through the canyons of hell. Finally I hit the brakes and turn around and get out of the car to look back, and the whole horizon is lit up real bright, and there's this huge glowing purplish cloud over where Chicago had been, and I knew what had happened, fell sobbing down onto the pavement like I was just going to lie down there and die.
Althea
But instead …
Lucille
But this voice, it seemed like, says to me, "tell the story, tell them that nothing happened," and I freak out, tell who, and what do you mean, nothing happened, they just blew up Chicago, ain't that something, though it's just me out of my mind talking to myself. But this nothing happened thing keeps echoing in my head, and then it starts making sense in a nonsense kind of way, all this stuff was supposed to happen, everyone knew it, and it didn't, and I didn't know what to make of it, but it was like I got this almost religious feeling, and mind you, I've never been religious a day in my life, this feeling that I had this duty to tell the story no matter how much I wanted to die right on the spot. So I got back in the car and drove and drove until dawn, then pulled over and slept all day behind some barn. For days, that's what I did, drove all night, siphoning gas out of cars when I had to, sleeping in the car by day, a pile of coats over my head, sticking to back roads and avoiding most of the traffic, wasn't too much of that anyway. Till I made it to the ruins of Brooklyn. By then I was a total zombie. I don't remember why I headed for Brooklyn, but once I was there, wrecked buildings all around, I had nothing left. I was sick, I was hungry.  I was dying. I just lay on the hood of my car, and waited. For a half a day. I still don't know how the revolutionary headquarters found me, or why. But they did, carried me on a stretcher through the tunnels, past the Ministry patrols, and I've been here since.
Althea
And since you were such a wreck they elected you head of the godalmighty Supreme Revolutionary Headquarters? Fearless leader? Doesn't add up.
Lucille
And why does anything have to add up? No. My nickname was the Witch Queen, I had this messianic energy, or I was plain crazy if you prefer, and I've never lost it, while everyone else had stopped believing and were just acting out their revolutionary rituals. And, I'm not sure how to put it, but Chicago had cleared my head. So, besides having hope, I wasn't too blind. Blinded, to be precise. I decided to play for time, even though my gut instinct, in some ways, is still that we have no time, everything is collapsing around us, and we have to do desperate deeds now. But them that did desperate deeds, brave revolutionary gestures, they're all dead. And those without hope hadn't the heart to stand in my path, especially after a few of them turned up floating face down. And I took the lead in stabilizing relations with the Ministry.
Althea
You did what?
Lucille
Stabilized relations with the Ministry. We had to. You really think we could just live on rats?
Althea
With our murderers!
Lucille
Yeah, with our murderers. It's a cruel deal. We direct workers to the Ministry's African Improvement Association to work on the bloody tower …
Althea
Tower?
Lucille
That's another story. We send workers to build the Ministry's tower over in Africa, and we get enough food to keep a certain percentage of the rest of us alive. That's Section 1.
Althea
And Section 2?
Lucille
Crueler yet. We keep charging the wall. We die. It's a glorious spectacle for all. Brutal repression versus crazed savages, usually around the networks' sweeps week. If you must know, more viewers tune in than for the damned Superbowl and World Series combined. But per subparagraph (h), secret subparagraph (h), not everyone sent to the tower ends up in the tower. Where do they go, you're dying to ask? Dunno. I don't wanna know, because what I don't know I can't betray. But they get diverted, so to speak, and they're out there somewhere in that big old world, trying to figure out how to spread my message. Everyone out there's got to hear it, not just us. Chicago. Nothing happened. For two days, anyway. Nothing happened. It's subversive. It's far more destructive than any of the flaming jive that my predecessors were hawking. Maybe that's why they had to blow it up. Call it politics, they can crush it. Call it religion, it has a certain elasticity. Whether it'll be enough, I probably won't live to find out. But it's hope. Nothing is more valuable than hope, and nothing is our hope.
Althea
You craven traitor! You cut a deal with the bloody Ministry? You'd betray our brothers and sisters into slavery for their pathetic handouts? In the name of the revolution? You're sick! You're mad!
Lucille
(stands) I'm not mad. Or not only mad. Everyone betrays everyone, I betray the revolution, the Ministry betrays its masters, the only ones who don't betray someone are the dead, and I'm not even so sure I can trust them. But know ye this, I am your messiah! Your fucking messiah! I tell you, you must believe. And what you must believe in is nothing. Nothing! Nothing!
Althea
I'll see you dead! (Althea stands up. Althea slaps Lucille. Lucille's head snaps around.)