You may note that our previous posting for Saint Petersburg Independents was March 2.  I think an explanation is due for the more than three-month gap since that post.
My primary work prior to April 15 had been directed towards gathering the 1,500 signatures (it turned out to be 1,630) to turn in on the steps of the St. Petersburg City Council building, a drive which was successful.  (see below)  April 15 was the day of a major Fight for 15 action in St. Petersburg and Tampa, and I had been invited to address the gathering in St. Petersburg on the 15th.  I did so.
The next day, I suffered a major heart attack, even as I was wrangling on the phone with my insurance company to get myself fully checked out for my deteriorating condition.  Through the brilliant work of my surgeon, I received a triple bypass open heart operation, following which I had to be brought back to life twice through CPR, and then have a balloon pump inserted in my heart for a few days, while spending five days on life support.  I am told it was a very close call.
While breathing through a tube, my muscles deteriorated drastically, leaving me so weakened that I couldn't raise my foot even two inches off the bed to move it over.  I needed an extended rehabilitation.  The good news is that I am now walking with a cane outdoors, and allowed to drive, and I am walking (creakily) unassisted inside the house.  It is expected that I will be functioning something like normally in a few months.
Part of "normally" for me is to be able to begin writing and communicating with the outside world.
I have revamped the site to take more seriously the banner "St. Petersburg Independents," (let us define "independence" for ourselves) covering Fight for 15 as well as 15 Now, and other issues that are relevant to our growing movement, such as Black Lives Matter, and the developing presidential race.  My spirit remains undaunted.
I have been sustained by the unflinching hope and love of my wife Rose, the myriad encouragements I have received on Facebook, along with the well wishes that I have genuinely felt in so many hearts.  I won't let you down.
The following is the article I would have written months ago had I been able, and I publish it here and now for the record.
Fight for 15 — Day of Action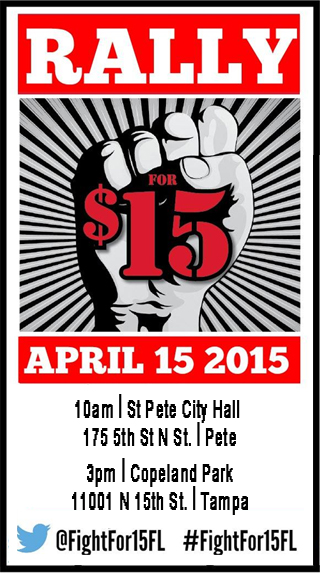 April 15, 2015 — ST. PETERSBURG.  On the morning of April 15, hundreds gathered on the steps of the St. Petersburg City Hall in support of Councilmember Darden Rice's Wage Theft Ordinance. The action served as a prelude to a mass action in Tampa/Temple Terrace where Fight for 15 took over E. Fowler Ave.
And we win one!
Among the speakers was 15 Now Tampa Bay's Secretary Jeff Roby, calling on the St. Pete City Council to respond to the 1,630 signatures 15 Now had gathered calling on the Council to pass a resolution calling on the Florida state legislature to repeal statute 218.077(2).
"Greetings from 15 Now. "  I went on to quote from the Florida state constitution, Article X, Section 24(a):  'All working Floridians are entitled to be paid a minimum wage that is sufficient to provide a decent and healthy life for them and their families.'
"$8.05 is somewhat less than that.  Fact is that if the City of St. Petersburg wanted to raise it here from $8.05 to $8.06, it would be illegal.  Today we are serving notice on Tallahassee that that this fight against 218.077(2) has begun in St. Pete with the petitions we are turning in on these very steps.  We know it's going to be a long, hard fight.  Many people aren't even aware that 218.077 exists.  So we have to make it a household word across the entire state.
"To that end, 15 now has been gathering signatures in our streets, parks and parking lots, 1,630 signatures to be exact.  The petition itself doesn't ask for much.  All we want is for our very own City Council to pass a simple resolution calling on Tallahassee to repeal 218.077(2).  Now!
"A lot of people ask, can we win this?  [Yes we can!]  The experts say it's impossible.  Tallahassee is such a political cesspool, and big money is arrayed against us.  But we aren't doing it alone.  Challenges like ours are popping up all over the country.  And as part of a statewide campaign, as part of a nationwide movement, we can achieve such a miracle.  See, we are the people who believe in miracles.
"On that note, we hand these signatures over to Councilmember Karl Nurse, who has graciously agreed to accept them on the Council's behalf.  Councilman…
Rose Roby handed him the box of petitions.  On accepting them, Nurse said, "Today I will introduce a resolution asking our City Council to take a stand for eliminating these laws.
Nurse was as good as his word.  On May 7, the St. Petersburg City Council passed our resolution on a 7–0 vote a resolution calling for the repeal of Statute 218.077(2), Florida's minimum wage preemption law.  So it begins.
— Jeff Roby 07/04/15