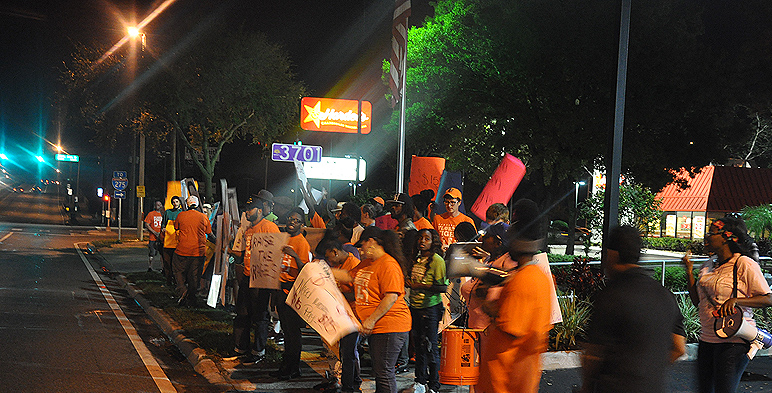 December 4, 2014 — ST. PETERSBURG. "It opens up a whole new front," said Rose Roby, chair of the St. Pete local of the Green Party of Florida and a leader of 15 Now Tampa Bay. "We've been putting the heat on the City Council here, and now Fight for 15 is putting the heat directly on the franchise owners who still think they can get away with paying their workers starvation wages."
At 6:00 a.m., some 80 workers, organizers and supporters started St. Petersburg's day by assembling at 38th Avenue N. and Highway 19, and chanting "Hold the burgers, hold the fries, make our wages supersized!" and "What do we want? 15! When do we want it? Now!" At intervals, they raised their hands calling out "Hands up, don't shoot!" recalling the murders by police of Michael Brown in Ferguson, Missouri, and Eric Garner in New York.
They were part of Fight for 15's wave of approximately 200 actions across the country (up from 150 actions this past September), which saw 500 workers and supporters arrested for the cause. Rather than blocking the street as they had done in Tampa on September 4, they took it inside, packing first the Burger King and then the next-door Hardees to address the workers and press their demands for 15 and a union.
Meanwhile, 15 Now Tampa Bay continues to gather signatures on the south side of St. Pete in support of their demand that the St. Petersburg City Council pass their resolution calling for the Council to call for "the Legislature of the State of Florida to repeal Statute 218.077(2), and immediately upon such repeal, … set a minimum wage of $15 an hour for all workers without exception and without delay in implementation." 218.077(2) is the Florida statute passed by the State Legislature which states that a city or county "may not establish, mandate, or otherwise require an employer to pay a minimum wage, other than a state or federal minimum wage."
15 Now has gathered over 800 signatures for the resolution to date. Four of eight councilmembers refuse to meet with 15 Now at all, and only one (Karl Nurse) has offered any actual support. The signature-gathering continues. "We are hitting them on two fronts," explained Roby. "15 Now is tackling the legislative front, while Fight for 15 has 'boots on the ground' putting pressure on individual employers to pay their workers enough for them to live a decent life."
"Propped up like a 'Blazing Saddles' movie set," explained Roby, "these fast food franchise owners are being used by corporate America as their first line of defense against any raise in the minimum wage. They shed crocodile tears for the so-called small businessman. But the fact is that these so-called little people that they pretending to be protecting need to cough up about $500,000 of their own cash and an equal amount in loans to even get their hands on a McDonald's franchise. These 'little people' are used as a front for corporate billionaires. The Fight for 15 protestors know they can afford it."