$15 / hr. and the forces in play
You might call it a small skirmish in the opening stages of what promises to be a long, hard war. It is hardly an equal fight, the opposing sides in no way symmetrical.
There were some 75 protestors, with predominantly Black and Latino faces, from organizations as diverse as Fight for 15, 15 Now, Green Party, Socialist Alternative, Awake Pinellas and the Orlando Light Brigade.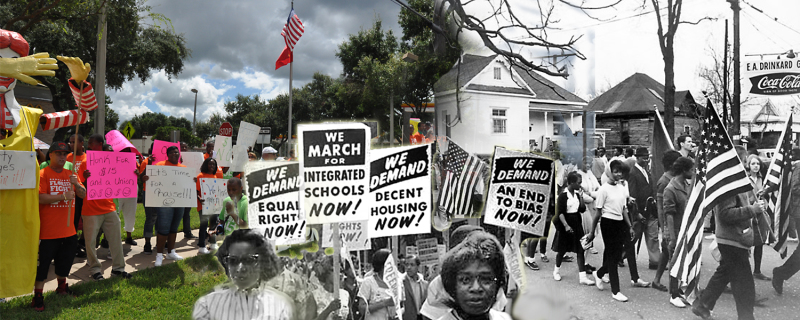 They formed up their skirmish line outside the McDonald's at 56th and Fowler in Temple Terrace just outside Tampa. Fifteen had made the trip down from Orlando, where the night before 18 unionists and community supporters had just formed the 15 Now Central Florida chapter. That morning they had been part of an 80-strong demonstration for 15 in Orlando.
The rules of engagement were that the protestors, with their bright Fight for 15 tee-shirts and a giant effigy of Ronald McDonald, could hold the sidewalks and the grassy space between the sidewalk and 56th Street. The McDonald's side off the sidewalk, the driveway, and the street were off-limits. A row of TV cameras, SEIU legal support, and Fight for 15 cheerleaders with bullhorns were lined up along the road as passing cars honked in solidarity.
"What do we want?" "15!" "When do we want it?" "Now!"
"We are the workers, the mighty, mighty workers, everywhere we go, people want to know, who we are, so we tell them, we are the workers, the mighty, mighty workers …
Cheers broke out as two workers inside the McDonald's came out and joined the throng.
As planned, the group moved into the street, cutting off most of the broad expanse of 56th Street, leaving only a single lane open to make right turns off Fowler. Horns honked in anger. Horns honked in support. The police were present, mostly friendly but firm, focused on keeping everything "within bounds." Nobody wanted another Ferguson today. At the point where the police wanted to clear the intersection, the word was given for the protestors to move out, back to the sidewalk, across the street, and down to a Burger King. There they blocked the driveway and for a while, they would "have it their way." This was a real blockade, with one crazily enraged Burger King manager trying to run people over and the police moving swiftly to chill him out.
This time around, when the police decided to clear the way, a few designated protestors held their ground. The police lifted them up and out of the way, issued summonses, but made no arrests. Fight for 15 had its visuals, the police had restored calm, and most people were satisfied. For the moment.
At some point, when thousands are on the march, when the stakes are higher, there will indeed be casualties. Our people are fighting for their lives. But for now, the need is to make joining the fight a safe environment, to build the numbers. The goal was to test their strength, and get headlines. In this they succeeded wildly.
No one expects the current equilibrium to continue indefinitely.
Miami and beyond
The numbers were bigger in Miami, and the scene was heavier as 150 protestors braved the rain to make their stand. "The rally spilled into the major 167th St thoroughfare," related Steve Showen, leader of the Green Party in Miami. "Protestors rallied and blocked traffic for the better part of an hour before police announced that those remaining in the street would be arrested. Clearly, organizers and the police understood beforehand how this was going to go down, and the role each was to play, without a violent confrontation as we have witnessed in Ferguson recently. Police were prepared to redirect the huge traffic flow, and dutifully hovered about without directly threatening demonstrators . Seven workers remained, sitting in the crosswalk linking arms and displaying a sign saying 'Supersize My Pay!' They were ceremoniously arrested and driven away, as the crowd chanted 'the whole world is watching!'"
These small and not-so-small actions echoed across the country, in some 150 cities and 33 locations overseas. 10 arrests in Atlanta, 3 in Denver, 10 in Los Angeles, 10 in Los Vegas, dozens in Detroit, 19 in New York, 50 in Chicago. Fight for 15 announced that 436 fast-food workers had been arrested around the country as of Thursday afternoon.
The stories aren't new.
Excerpts include:
There are reports of fast-food employees who finish their shifts only to return to homeless shelters because they can't afford to buy or rent a basic apartment for their families.
"Everything is covered in a layer of grime and grease, and always working around a hot broiler. A lot of yelling to move faster, and to always be doing something even when there is truly nothing to be done."
"I was frying chips and the oil bubbled up too high and I got burned on my face. It blistered during the hour, and I told my manager about it, and she said, 'Oh, you'll be okay.'
"I'm a single mother of three. My whole entire paycheck goes to my rent and it's still not enough to pay what I owe. Part of the reason I am in this situation is because Taco Bell isn't paying me for all the hours I work. Last week I clocked out and my check stub said 71 hours, but they only paid me for 43 hours. They tried to tell me I didn't work 71 hours because of the computer."
Then there's the heartbreaking story of Maria Fernandes, found dead in her car from gasoline fumes. She had parked in a convenience store parking lot in Elizabeth, N.J. … fumes were caused by a spilled gasoline can. Fernandes kept gas in her car to avoid running out of gas when traveling between jobs. She often slept in parking lots to get a few hours of rest.
Fortune magazine, laments that "workers have come up empty," but as always has the workers best interests at heart. "Instead of pushing for an across-the-board increase, the workers should embrace piecemeal wage legislation at the state and local levels across the country."
Meanwhile, off of Thursday, the 15 message is being blasted all across the country.
The Players — 15 Now

Major players in the 15 movement are 15 Now and Fight for 15. After a ripple of fast food strikes in New York City and elsewhere, one such action sparked the election of Kshama Sawant of Socialist Alternative in Seattle, the formation of 15 Now, and the passage by the Seattle City Council of a (limited) $15/hr. minimum wage. 15 Now, states:
"[T]he overwhelming majority of working people are still struggling or are even worse off than before. We demand social justice and a dignified life for all workers. The movement for a minimum wage of $15/hour is an expression of this enormous problem of inequality. The support for the fast food workers actions for $15 showed that the aspirations of Occupy to fight against poverty and inequality are alive and growing among millions."
Thus 15 Now sees itself as a continuation of the Occupy movement. 15 Now is spreading across the country, carried forward in large part by Socialist Alternative, a left organization whose 200 members in Seattle were instrumental to their success there, and in making 15 a national issue. And a winnable one.
The Players — Fight for 15

Thursday's actions, however, were led by Fight for 15, a project of the Service Employees International Union (SEIU). Their approach is a dynamic blend of traditional unionism and innovative tactics, combining the protest spirit of the 60's civil rights movement, today's social media, and the fighting guerrilla tactics of the 1930's before unionism became a business in the 1950's. SEIU, considered one of the more progressive and politically active unions in the U.S., has money and a strong cadre of trained organizers. That organization was manifest in Thursday's actions, in the careful planning, the highly-disciplined coordination in the streets, and the very visible legal support staff serving as a buffer between the protestors and the police.
Fight for 15 has a straightforward union pitch:
"Fast food workers are taking a stand against low pay … Fast-food workers have come together to fight for fair wages and the right to form a union without retaliation."
They are now adding homecare workers to the struggle, an important expansion of scope. 15 Now's support for Fight for 15 is without qualification.
But look for Fight for 15 on the internet (www.fightfor15.org) and the link takes you to Fast Food Forward at http://strikefastfood.org/ and its "Featured/Main Content" is "President Obama Gives Props to the Fight for $15" Go to the story and you get big pictures of Obama and the "article" reads in its entirety:
"On Labor Day of 2014 President Obama was in Milwaukee and gave a shout out to fast food workers fighting for $15 and the right to form a union without retaliation. Get involved in the nationwide Fight for $15. Tell McDonald's that you stand with striking workers now."
Yep, that's the whole story. How far can Fight for 15 go? Focusing on specific workplaces gives it strength and focus. But there are fears that it will self-limit itself from reaching the millions and millions of other workers before negotiations lead, if successful, to a new, even improved social equilibrium that brings the force of the movement to a halt. This is not cynicism. This is the story of American labor from its inception.
It's not simply the business-union model. While SEIU is politically involved, that involvement is funneled through the Democratic Party. At some point, as always, the Democratic Party will pass down the word, "enough is enough!" Time to funnel things into supporting Democratic Party candidates calling for, to be practical, $10.10/hr.
There is no denying that local Democrats are getting behind the $15 minimum. Bills and resolutions are being sponsored by Democrats around the country, and there is no reason to think their support is not sincere. The closer you get to the grassroots, the more you feel the heat from 15.
The Players — Socialist Alternative

Socialist Alternative, the organization of Kshama Sawant which began 15 Now in Seattle, states: "Unions and other social movement organizations should stop funding and supporting the Democratic and Republican Parties and instead organize independent left-wing, anti-corporate candidates and coalitions." After Occupy was crushed, writes Bryan Koulouris in their newspaper, "We called for 200 independent Occupy candidates in 2012, to give a sense of what was possible, to call on people to take a clear position against the Democrats, and to provoke debate with the 'anti-politics' elements in Occupy." They would build the independent party of the 99%.
They note, "In Chicago, for instance, a push to raise the city's minimum wage is gaining momentum. In March, a nonbinding resolution to raise the minimum wage to $15 an hour appeared on the primary ballot, and a staggering majority – over 87% – of Chicagoans were in support of it. Then, in May, a group of Chicago aldermen introduced a proposal to raise the minimum wage to $15 an hour."
The Players — Green Party of Florida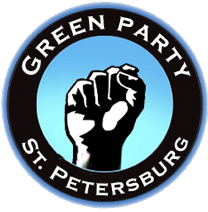 The GPFL is an independent electoral party. Its July 4 endorsement of 15 Now states, "In honor of our Independence Day, the Green Party of Florida (GPFL) stands 100% behind the fight for the $15 minimum wage. The Green Party 2012 presidential slate of Jill Stein and Cherri Honkala have written: 'Thank you, Seattle, for leading the way in this national fight for our economic lives! We write to express our gratitude and support for the $15 Now campaign … We must follow their lead by building a broad national movement in the fight for 15 Now. $15/hour must apply to all workers, young and old alike, documented and undocumented, without discrimination.' " Hardship for small businesses would be eased through subsidies from the State of Florida.
The GPFL is playing a major role, along with Socialist Alternative, in 15 Now Tampa Bay, which is planning an initial press conference for September 27 in St. Petersburg. Green Party organizers were instrumental in the founding of 15 Now Central Florida, based in Orlando, and the campaign is gaining support in Green Party locals around the state.
The St. Petersburg Green Party is calling on Greens from around the state to get involved. Become local contacts for 15 Now. Start chapters in their own counties. Likewise, state Green Parties around the country should be seizing this opportunity to get in on the ground floor of this emerging movement.
Time to get wild-eyed here
At the moment, 15 Now is the junior partner here. But its true strength is in the community, and as certain limits are reached, 15 Now is well-positioned to carry the ball forward. The victory in Seattle was ultimately won in the political arena, not by negotiating with individual employers but through passing legislation. The Democratic Party itself has already settled for asking $10.10. But they won't win it. That would take an independent, popular mobilization. The last thing the Democratic Party wants is, such a mobilization, because once set in motion, it might not be so easy to contain. It might not be so happy with the austerity that the Democrats are complicit in, when not leading it.

15 Now accepts no such limits. In 2012 Socialist Alternative endorsed the Green Party's presidential slate of Jill Stein and Cheri Honkola. As Koulouris notes, "More left candidates have come onto the scene this year at any time in recent memory, from Jorge Mujica in Chicago to Howie Hawkins in New York, and Dan Siegel in Oakland to Eugene Puryear in Washington, D.C."
The misery of 8 years of Bush has turned under Obama into 6 years of desperation, and 15 speaks to that desperation. Becoming visible as a social movement, a tipping point is reached. All that rage, all that desperation. With the flames of Ferguson lighting the sky, 15 becomes a lightning rod for all sorts of issues — not some wacky leftist scheme, but a cry for simple justice, as plain as the fight for Civil Rights in the 60's. 15 Now. Healthcare Now. Housing Now. Education Now. 15 is just a beginning.
If felt like justice
Last week, we saw some of the rage of Ferguson in the streets of Temple Terrace, Orlando and Miami. But there was also something strong and positive there as well. It was planned, directed. Overlaying the anger was a sense of solidarity and even warmth, from the honking horns as people drove by to the eyes of some of the police. There was a deep sense of our rightness. We were really speaking for the people. All the people. It felt like justice.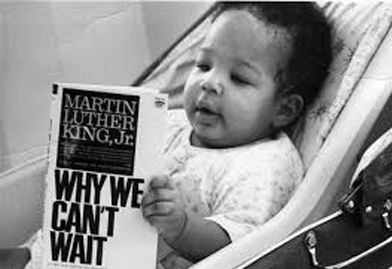 "The Green Party of Florida is excited to be part of this," said Rose Roby, chair of the St. Petersburg Green Party and a former restaurant line cook herself. "Sometimes we get some odd looks. 'Aren't you just an environmental party?' people ask. Well, I think of Martin Luther King, Jr., how he was asked why he had begun to speak out against the war in Vietnam. Peace and civil rights don't mix, some said. King replied, 'when I hear them, though I often understand the source of their concern, I am nevertheless greatly saddened, for such questions mean that the inquirers have not really known me, my commitment or my calling. Indeed, their questions suggest that they do not know the world in which they live.'
"So when they ask, why is the Green Party supporting this minimum wage stuff, I wonder whether they too know the world in which they live. The fight against global warming and the fight for 15 are both fights for justice. Our enemies in both are the same giant corporations and the two-party electoral system they rode in on."
SEIU and Fight for 15 have a lot of muscle on the ground. September 4 was a fantastic success for all of us. 15 Now and Socialist Alternative and the Green Party can carry this fight into the electoral arena. We can introduce resolutions to city councils and county commissions around the state, calling for the state to live up to Article X, Section 24(a) of our own state Constitution, which says that as public policy, 'All working Floridians are entitled to be paid a minimum wage that is sufficient to provide a decent and healthy life for them and their families.' We can demand the state repeal any and all state legislation that restricts the right of local governments to raise the minimum wage as their people see fit. That would be justice.
— Jeff Roby
September 9, 2014